These States Still Haven't Expanded Mail-In Voting Amid Coronavirus Pandemic
As the coronavirus pandemic continues to affect the 2020 election, all but three states now offer expanded mail-in voting options.
Mississippi, Tennessee and Texas are the only areas that have not taken any definitive action to amend their approach to absentee balloting amid the global health crisis, according to the grassroots anti-corruption group RepresentUs. Forty-seven states and the District of Columbia now allow some form of mail-in voting to all registered residents as a way to maintain public health.
"The need to be able to vote by mail is acute given the pandemic," said Josh Silver, the organization's director and co-founder. "Despite anything the president might say or his proxies might say, both parties are realizing they have to embrace absentee voting and safer in-person voting in order to have any hope of prevailing in the elections this year."
But the limited pushback to the expansion of mail-in voting options has come almost exclusively from the Republican Party. All three states that have yet to expand absentee ballot access are either run by Republican governors or state legislatures.
Their message largely follows that of President Donald Trump, who has alleged that voting by mail will result in a "rigged election." The president has repeatedly claimed—without evidence—that mailing ballots to voters is a recipe for theft and fraud.
In Mississippi, officials have rejected making mail-in voting more accessible even during the pandemic. Secretary of State Michael Watson has said voters could potentially seek absentee ballots due to COVID-19 under current state law but that it would be up to local election clerks to determine whether the request should be granted.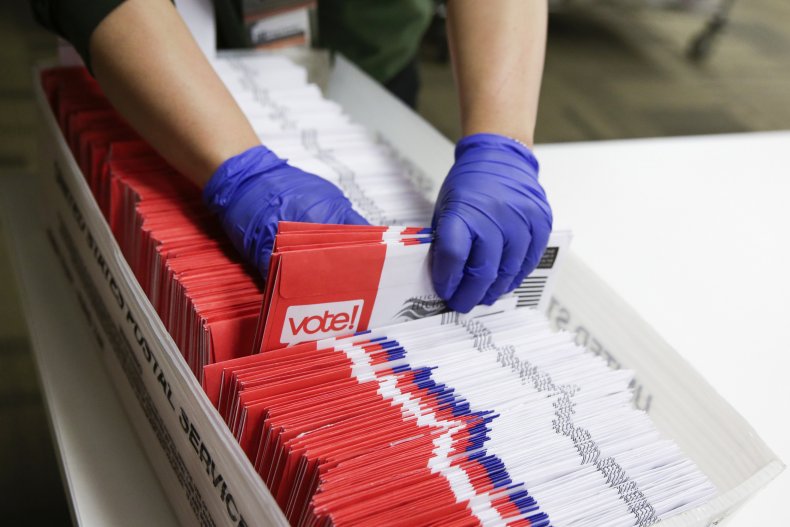 In Tennessee and Texas, efforts to expand access to absentee ballots in light of the coronavirus outbreak are facing a huge battle in the courts.
Tennessee officials are currently appealing a recent court decision that opened the door for vote-by-mail for the state's 4.1 million registered voters. The attorney general's office said in a statement that the judge's ruling "failed to appropriately consider the extensive safety measures of the COVID-19 election plan, and, more importantly, gave little weight to the unanimous expertise of state and county election officials that hastily expanding absentee voting is impracticable and risks disenfranchising Tennessee voters."
Last week, a federal appeals court in Texas blocked a lower court ruling that would have allowed people to mail their ballots to avoid being exposed to the coronavirus. The ruling came shortly after the state's Supreme Court shot down a similar case.
Texas Attorney General Ken Paxton, a Republican, applauded the court's decision. In a statement, he claimed that "allowing universal mail-in ballots, which are particularly vulnerable to fraud, would only lead to greater election fraud and disenfranchise lawful voters."
But research shows there is no connection between vote-by-mail and increased voter fraud. Plus, the attitude toward voting by mail nationwide is positive. A recent poll from the Pew Research Center found that more than 70 percent of Americans think any voter who wants to mail their ballot should be able to do so.
Correction: A previous version of this story listed Louisiana as a state that had not taken any definitive action to expand vote-by-mail measures amid the coronavirus pandemic. The state has extended mail-in absentee voting to those with serious medical conditions or those who are quarantined or taking care of someone quarantined but only for the July and August primaries, not the November election.