Four students were arrested on Wednesday in Hong Kong under the city's new national security law, which went into effect on July 1.
According to the South China Morning Post, the four students were members of a pro-independence group that recently announced its mission to turn Hong Kong into a republic.
During the recent press conference, Li Kwai-wah, senior superintendent of the Department for Safeguarding National Security under the city's police force, stated that the suspects' group recently announced the establishment of a body to build a "Republic of Hong Kong" and to encourage pro-independent political ideals, according to the Post.
The arrests of the suspects, who are between the ages of 16 and 21, occurred in the territories of Yuen Long, Sha Tin and Tuen Mun. Police in Hong Kong did not reveal the identities of the four students but noted that they were arrested on suspicion of organizing and inciting secession.
"Our sources and investigation show that the group recently announced on social media to set up an organization that advocates Hong Kong independence," Li Kwai-wah said at a recent press conference, according to the International Business Times, while adding that the suspects' computers, phones and documents were seized by officers.
The Post also reported that while police did not reveal the students' identities, pictures posted online showed Tony Chung Hon-lam, a member of the pro-independence group Studentlocalism. According to the Post, Studentlocalism was previously disbanded on June 30, just hours before the national security law was imposed, which criminalizes secession, subversion, terrorism and collusion with a foreign country to endanger national security in the city.
Despite the group being disbanded, it stated that its overseas divisions would continue to operate, but during the recent press conference, Li noted that overseas operations would still be prosecuted.
"If anyone who tells others that he advocates violating the national security law from abroad, even he does that from overseas, we have the jurisdiction to investigate these kind of cases," he added during the press conference.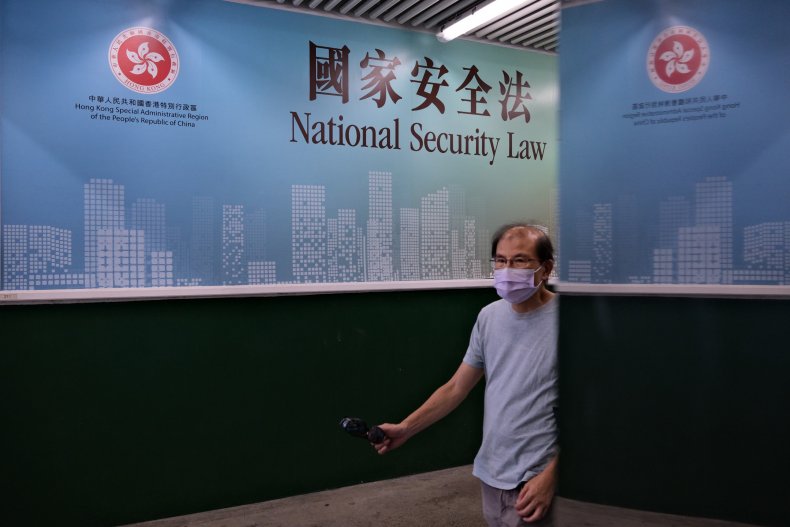 Following the arrests, Joshua Wong, a prominent Hong Kong rights activist wrote on Twitter, "Tonight's arrests will clearly send a chilling effect on #HK online speech."
"Tony was arrested for "inciting secession" after he wrote a FB [Facebook] post on #China's nationalism," Wong wrote in his Tweet.
Newsweek reached out to the Chinese Embassy in the U.S. for comment but did not receive a response in time for publication.