Four Times As Many Service Members and Vets Died By Suicide Since 9/11 Than in Combat
Approximately four times as many active duty personnel and veterans have died by suicide than in combat since September 11, 2001, according to a new study published Monday by the Costs of War Project.
The paper, written by Thomas Howard Suitt III, Ph.D, estimates that 30,177 service members and veterans of post-9/11 wars have died by suicide, compared to the 7,057 service members killed in action, about 4.28 times as many.
"The health, safety, and well-being of our military community is paramount to the readiness of the Total Force. Every death by suicide is a tragedy. Over time, suicide deaths have increased in the broader U.S. general population. Our Service members are not immune to trends that occur in society," a Pentagon spokesperson told Newsweek.
"Two of the most at-risk groups for suicide in the U.S. are males and younger individuals, and the military is heavily comprised of young males. DoD conducts statistical analyses, leveraging scientific best practices, to calculate suicide rates and determine trends over time. After accounting for age and sex, military suicide rates typically are comparable with the U.S. adult population," they continued.
"Our efforts are comprehensive and address the many aspects of life that impact suicide. The Department has made strides in our suicide prevention efforts. Yet, we recognize there is more work to be done to advance and adapt our efforts. We continue to enhance support to our entire military community by providing evidence-based policies and programs and encouraging positive help-seeking behaviors, eliminating stigma, and increasing visibility and access to critical resources. We owe this to our Service members and military families who do so much to defend our great Nation," the spokesperson concluded.
The Veterans Administration began keeping track of veteran suicides in 2005, though it has not released this data since 2018. Between 2005 and 2018, 89,100 veteran suicides were confirmed by the VA, however the majority of these deaths by suicide were not involved in post-9/11 conflicts, according to Suitt.
Suitt's estimate not only includes veteran suicides—which Suitt estimates as a minimum of 22,261 deaths—but active-duty personnel, National Guard service members and Reserve component service members.
The rate of death by suicide during the War on Terror is higher than any other time in history since World War II. Suitt points to a number of possible causes, including the public's declining approval of post-9/11 wars.
For example, while only 36 percent of Americans call the war in Afghanistan a mistake, according to a YouGov poll, just 39 percent say the war is "worth the cost," and 58 percent approve of withdrawing troops by September 11, 2021. Low approval ratings like these "must make the reality of fighting a war on behalf of an uncaring public difficult," Suitt wrote.
"The apparent disinterest among the public can fuel a feeling of purposelessness and a lack of belonging. The loss of stature and purpose color the experiences of many veterans returning home," Suitt continued.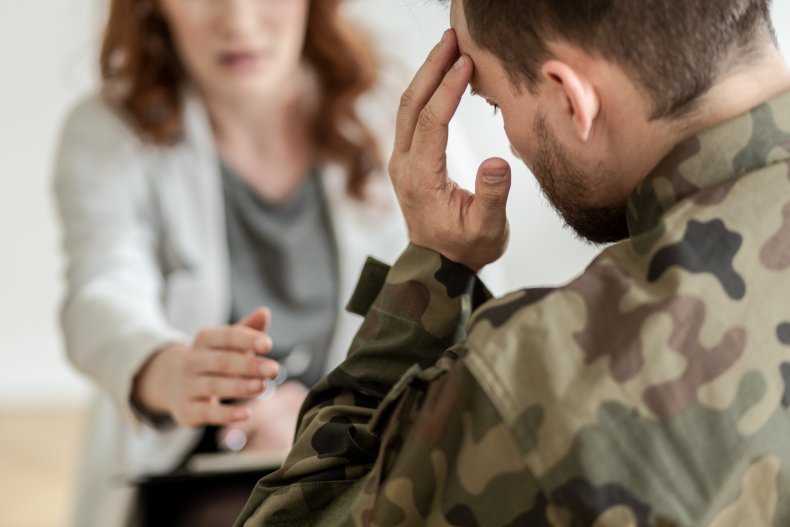 Other potential causes cited by Suitt include medical advances increasing the time soldiers serve in the military, the rise of improvised explosive devices (IEDs) and traumatic brain injuries (TBIs).
"TBIs are the 'signature injury' of the Iraq and Afghanistan conflicts, affecting between 8 and 20 percent of military personnel," Suitt wrote, stating that other studies have shown a high correlation of TBIs with a higher risk of suicide.
Though post-traumatic stress disorder (PTSD) is also a potential cause of suicide, Suitt notes that nondeployed troops have a higher risk of suicide, though it is not clear why that would be the case.
A U.S. Departments of Veterans Affairs study in 2019 showed that nondeployed veterans had a 61 percent higher suicide risk compared to the general U.S. population, where deployed vets' risk was 41 percent higher than the general population.
A 2015 study by JAMA Psychiatry also showed no link between combat deployment and suicide. Authors of that study speculated that other factors that could force someone out of the military could also be factors in deaths by suicide.
"The Department takes a comprehensive approach to suicide prevention at the individual, relationship, and community levels. We have targeted suicide prevention efforts that take into account the unique characteristics of our population to address risk factors and promote protective factors. Our public health approach, aligned with the CDC's seven evidence-informed suicide prevention strategies, focuses on activities that have been found to effectively impact risk and protective factors surrounding suicide by addressing the many underlying risk factors that increase the likelihood of suicide. The Department's approach also recognizes the need to enhance protective factors such as skills building to help reduce suicide risk for Service members by more effectively addressing stressful events," the Pentagon told Newsweek.
The Costs of War Project is housed both at the Brown University Watson Institute for International and Public Affairs and Boston University's Pardee Center for the Study of the Longer-Range Future. It began in 2011, and consists of a team of 35 scholars, legal experts and physicians, according to its website.
If you have thoughts of suicide, confidential help is available for free at the National Suicide Prevention Lifeline. Call 1-800-273-8255. The line is available 24 hours every day.