Four years ago, on June 12, 2016, 49 people were massacred at a LGBTQ nightclub in Orlando, in what was the most deadly mass shooting in U.S. history at the time.
The nightclub was targeted because of the people the patrons loved, and the victims were mostly black and brown. The shooting stole not only 49 lives; it stole a sense of safety and freedom for many LGBTQ people nationwide.
I grew up in a small town in Georgia, and for me, my safe space has been an LGBTQ nightclub. I dropped out of high school when I was 15 because I was called "dyke" or "faggot" regularly. I ended up starting college at 16 and was able to make friends with older people with cars who would drive us an hour or so to Atlanta to go to a particular Latinx LGBTQ nightclub. It was a place where I met other people who shared similar identities and stories, danced with someone of the same gender for the first time and bonded as a community with my chosen family. I'm still in touch with many people I met there.
To imagine a mass shooting at that nightclub is devastating. And for many people in Orlando, Pulse nightclub was their safe space.
In 2014, I ran a photo booth at the Orlando LGBTQ Pride Festival, and I often think of the happy people I photographed: Were any of them at Pulse on June 12, 2016? Were any of them murdered that night in their safe space?
In the days leading up to the shooting, I was recruiting people to march with me in a Pride parade to commemorate the Stonewall Riots. After the massacre, my heart was broken for the victims and their friends and family; for my Orlando friends; for our country, where mass shootings happen far too often; and for all the people who once felt that an LGBTQ nightclub was their safe place but no longer feel that way.
Yes, we held each other at vigils. Yes, we cried during moments of silence at nightclubs. Yes, we sang songs about love and resilience. And yes, we came out in strength.
I saw our resilience just six days later, at the Pride parade. And every year, we continue to show up—at Pride festivals, at LGBTQ businesses, at events to support the Latino community under attack by this administration and in other efforts to support equality and justice. We continue to fight because the 49 victims can't. We continue to show the world that our community is strong, tough, resilient and proud, and we have so much love to give this world.
Yet we also see how much this nation still has to do.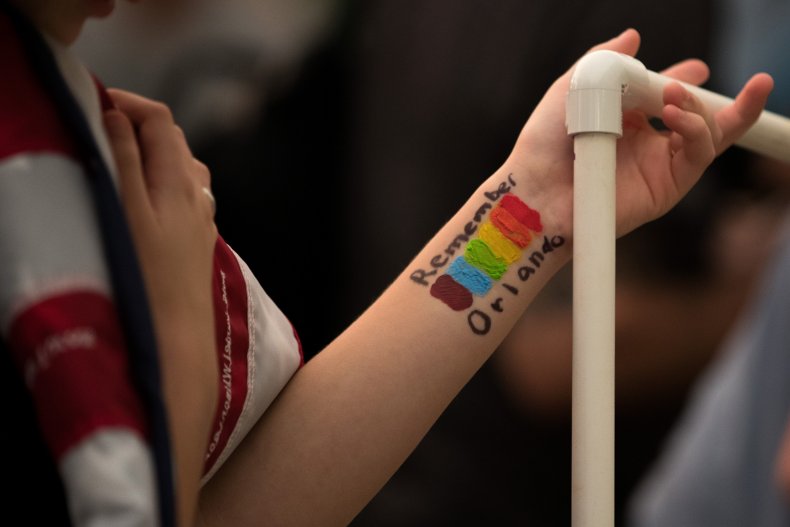 The day after the massacre, Orlando put out a desperate call for blood donation, and many people found themselves banned from donating blood for their friends and family who were victims of the shooting. When the city was desperate for blood donations, people lined up to donate but they were not able to because of a discriminatory FDA rule, rooted in hate and fear. The FDA policy has shifted somewhat due to the COVID-19 pandemic, but it hasn't been eliminated.
I would love to say that we've made big progress in the fight to prevent gun violence since the shooting at Pulse, but we haven't. In 2017, 58 people were massacred at a music festival in Las Vegas, and in 2018, 17 people, mostly teens, were massacred at a high school in Parkland, Florida. And according to the nonprofit Gun Violence Archive, there were more mass shootings across the U.S. in 2019—417—than there are days in a year. They included shootings in El Paso, Texas, and Dayton, Ohio, as well as Gilroy, California.
Now, we're remembering Pulse during a time where there are nationwide protests to end police violence against black people. These protests are inspiring, and yet we're still struggling to create space for black and brown LGBTQ people and hear their demands for justice and experiences with police violence.
I'm not telling you how to remember and honor the 49 Pulse victims. Some of us will cry with our chosen family, some of us will grieve in silence and some of us will lean into protests and activism. There is no handbook. That's OK. All I want you to know is I'm here. The community is here. We will fight on when you can't.
Lisa Changadveja is chief of staff at the grassroots progressive organization MoveOn and has worked on numerous Senate and presidential campaigns. Originally from Helen, Georgia, she now resides in Los Angeles.
The views expressed in this article are the author's own.