On September 28, 2014, tens of thousands of protesters demanding electoral freedom and self-determination took to the streets of Hong Kong. The Umbrella Movement—so called because demonstrators carried umbrellas to shield themselves from police pepper spray—would last 79 days and draw more than 100,000 people.
The pro-democracy civil disobedience demonstration, also referred to as "Occupy Central," began four years ago today, following almost a week of student protests against China's restrictive proposal on how the city's top officials were to be elected.
Although Occupy Hong Kong was organized by academic Benny Tai, many agree the movement was overtaken by 17-year-old pro-democracy activist Joshua Wong, who scaled the fence of Civic Square two nights before Occupy officially launched, followed by a sea of impassioned students determined to fight the mainland for the future of Hong Kong.
"The most symbolic and critical moment was when we climbed over the barrier to regain Civic Square," Wong told Newsweek. "If we didn't execute the Civic Square action, I don't think the Umbrella Movement would have happened."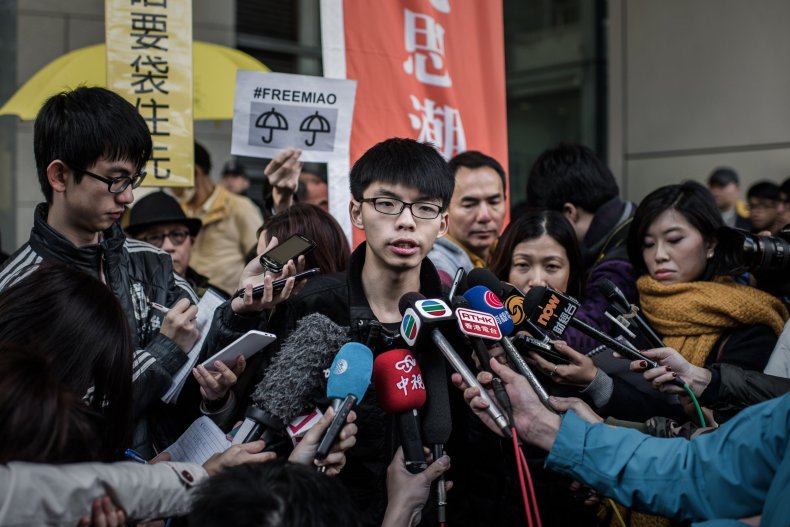 Today, Wong still faces ongoing trials that seek to punish him for being the face of the movement and for defying the Chinese Communist regime. He has already spent almost 100 days in jail in the past year.
Earlier this year, a dozen bipartisan U.S. lawmakers, including Republican Senator Marco Rubio, nominated Wong and his 2014 Umbrella Movement for the Nobel Peace Prize. Their intention was to recognize the group's effort in bringing political reform to the former British colony. If Wong wins in October, he would become the second-youngest Nobel laureate in the award's history after 2014's recipient, Pakistan's Malala Yousafzai, who was 14 years old when she won the honor.
After the British returned Hong Kong to China in 1997, Beijing promised the territory's citizens a degree of self-governance. The arrangement—dubbed "one country, two systems"—was supposed to guarantee Hong Kong universal suffrage. But two decades later, though the pseudo-democratic system allows citizens the right to vote, they can only do so from a list of candidates pre-approved by the mainland.
The importance of Hong Kong's financial hub—also the location of the Umbrella Movement—explains why China has moved to tighten its grip over the former British colony. Despite its small size, the territory facilitates a substantial flow of foreign investment into Beijing, ultimately serving as a crucial bridge between the mainland and the rest of the world. But while the Communist Party of China needs Hong Kong to sustain a sizable portion of its foreign investment, it maintains a zero tolerance approach toward the city's historical freedoms, concerned about the example it could set for mainland citizens.
"It's more like two countries, one-and-a-half systems. And that half will continue to grow smaller," Wong explained. "As we always say, today is Xinjiang and Tibet, tomorrow is Hong Kong. Then Taiwan. Beijing can continue to take the hard-line approach on Hong Kong, but they cannot ignore that people want democracy."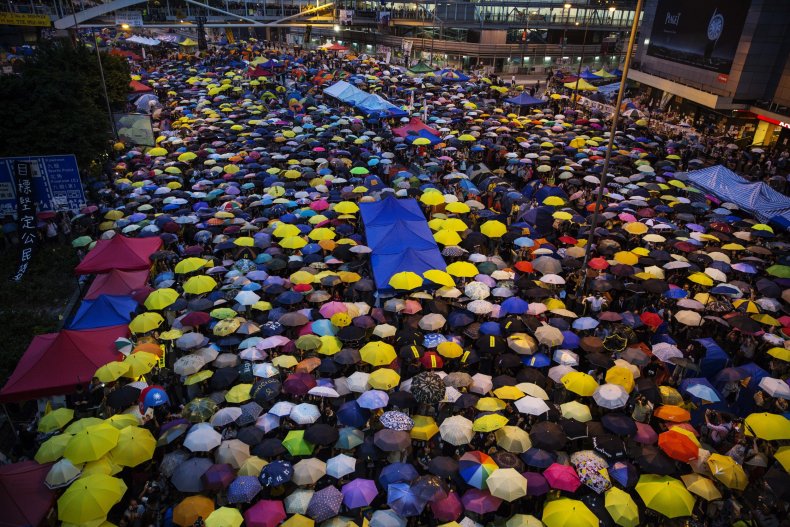 Since the Umbrella Movement ended, Wong has remained in politics by leading Hong Kong's youth in a seemingly hopeless battle for the territory's traditional freedoms against what he sees as Beijing's oppressive Communist regime. As Secretary-General of Demosistō (a pro-democracy party formed out of the activist groups behind the Umbrella Revolution), Wong still campaigns for democratic self-determination alongside Agnes Chow, a close friend from his high school activist years, and Nathan Law, the former secretary-general of the Hong Kong Federation of Students.
When Newsweek spoke to Wong in February, shortly after his Nobel nomination, hope for the success of the campaign was already dwindling. This week, Wong admitted progress has continued to slump, caused by increasingly harsher measures taken by the Communist Party in order to prevent future uprisings.
Earlier this year, election authorities banned Chow from contesting the Hong Kong Island seat in the May elections. Law was also disqualified from office after being elected to the position of legislative councillor last year on the grounds that he had used his oath-taking ceremony as a protest platform.
Meanwhile, Hong Kong's secretary for security dealt the harshest blow yet to pro-democracy leaders on Monday, when he announced that authorities had moved to officially ban the Hong Kong National Party, a small pro-independence political group. Members who continue to advocate for the group will now face up to three years in prison and fines of up to $12,000.
"[The ban is] in the interest of national security, public safety, public order and the protection of rights and freedoms of others," Lee said, noting that the party had encouraged "hatred and discrimination" among its citizens toward mainland China.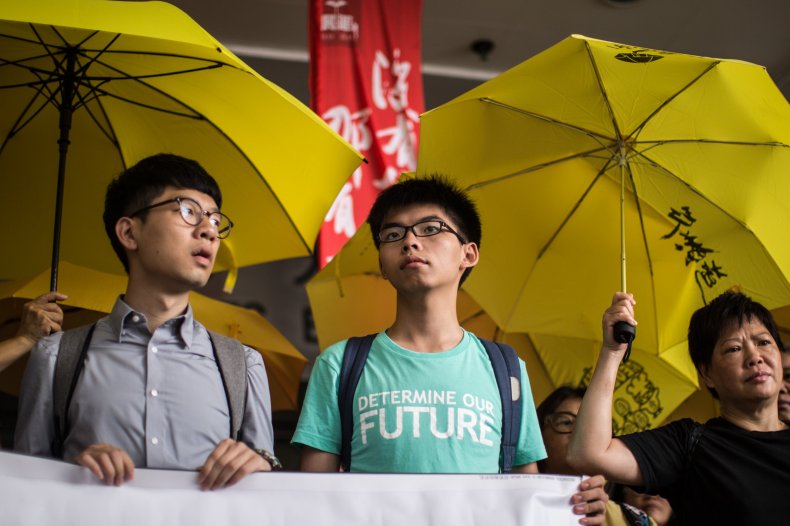 International human rights groups quickly denounced the decision and called for its reversal.
"Human rights in Hong Kong have been on the ropes in recent years, but this ban is a body blow to Hong Kong people's ability to express their views, join with like-minded people and run for office," Sophie Richardson, China director at Human Rights Watch, said in a statement to Newsweek. "Authorities in Hong Kong should immediately reverse this small-minded decision that has far-reaching implications."
Steve Tsang, a political scientist and director of the SOAS China Institute, told Newsweek that the irony was that it was exactly this kind of "hard-handed approach" from Hong Kong authorities that caused the radicalization of the territory's youth around the time of the Umbrella protests.
"Young people have been radicalized because they feel like they may just as well ask for the impossible since they will not be given what would be legitimate," Tsang said. "[The CPC] definitely wants to nip in the bud anything in Hong Kong that resembles a move in the direction toward independence. They also want to make sure the people in Hong Kong are all being taught a good lesson so they learn to behave as the government expects them to."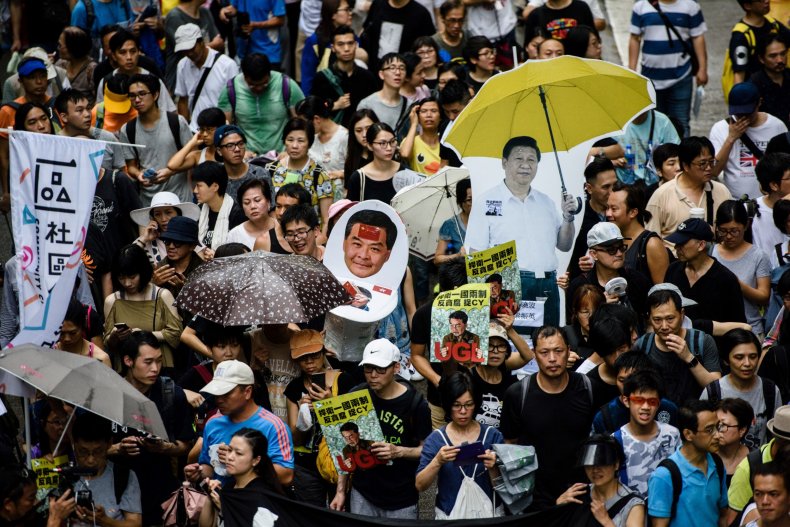 With no avenue into government, Wong admitted that Demosistō could soon be announcing that it would no longer be operating as a political party due to its inability to have members run for office. Instead, it might be forced to soon relabel itself as a political activist group that seeks to motivate the youth of Hong Kong to stand up against China.
"Now our main goal is to educate the generation younger than us, the ones who were born after 2000 or 2010, about the Umbrella Movement. Through our passion, we can create a legacy for Hong Kong," Wong said. "I just hope people can be the master of their own houses. The sense of belonging in HK motivates me to continue in this battle. Youngsters could still be the ones that have the power to change not only this city but the world.
"I would say that the Umbrella Movement might not have been the movement that forced the government to listen to us, but it served to radicalize people, especially youth, in Hong Kong. It showed the world that the youth want democracy. And that's what I hope people will remember."