Four Years from Brink of War, Can Pakistan in Crisis Avoid New India Clash?
Pakistan's envoy to the United States has expressed his country's willingness to engage with India in the interest of de-escalating their tense ties at a time when the Islamic Republic is facing an array of economic, political and security crises at home.
If peace continues to fail, especially over the contentious issue of Kashmir, he warned the consequences could be disastrous for both nuclear-armed South Asian rivals as well as the international community.
Speaking to Newsweek, Pakistani Ambassador to the U.S. Masood Khan warned that "the state of affairs is abysmal" in the India-administered share of Kashmir, a large Himalayan region that has been at the center of India-Pakistan tensions since the two modern nations were established by a bloody partition in the final days of the United Kingdom's colonial rule in 1947.
Divided between India and Pakistan, tensions over Kashmir served as the catalyst for three majors wars between the two nations. It nearly sparked another in February 2019, when a deadly suicide bombing in India-administered Kashmir by Islamist militants led to Indian airstrikes on Pakistani territory that New Delhi alleged served as jihadi camps. Ensuing clashes saw Pakistan shoot down an Indian fighter jet and briefly detain its pilot across the border.
While an all-out conflict was averted, tensions once again spiked in August of that year when India revoked Article 370, which had granted partial autonomy to the part of Kashmir it controls, known now as the Union Territory of Jammu and Kashmir. The move was followed by a crackdown on dissent in the disputed region where insurgents have staged regular attacks on Indian forces.
Khan, who served as president of the Pakistan-administered Azad Kashmir throughout these volatile developments, said that a "precarious situation" still exists along what's known as the Line of Control, which serves as a de facto boundary between the two countries, as long as diplomatic endeavors are not successful in resolving the decades-old dispute.
"There could be accidents, there could be miscalculation, and the sole point is Kashmir," Khan said. "It's about Kashmir. It's an unfinished agenda from the partition of India and Pakistan after the British left. So, what is diplomacy for if it doesn't invest time and energy for resolving such hot issues that affect the destiny of millions of people?"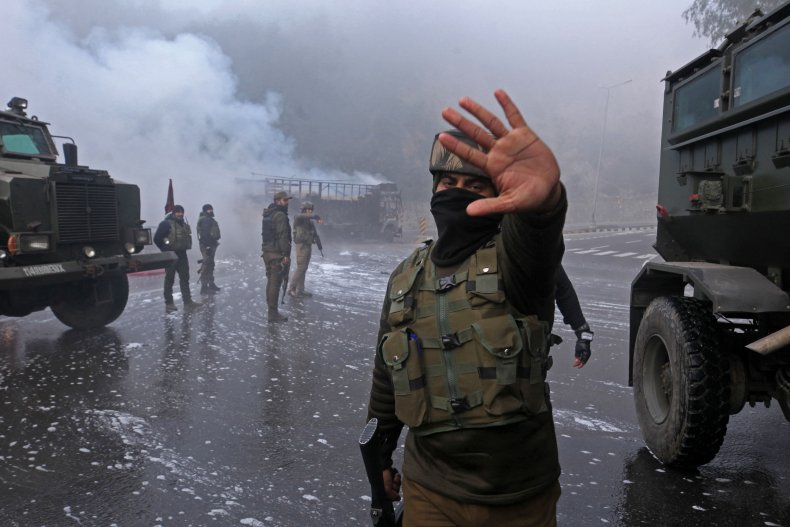 Pakistani leadership has also expressed a desire to smooth over tensions. Prime Minister Shahbaz Sharif made headlines across both India and Pakistan last month when he opened the door to peace talks in an interview with the Dubai-based Al Arabiya news outlet.
"It is up to us to live peacefully and make progress, or quarrel with each other and waste time and resources—that is up to us," Sharif said at the time. "Pakistan has learned its lesson. We had three wars with India, three, and the consequence of these wars, as a result, they only brought more misery, unemployment, poverty, and millions were demoted from their level of satisfaction to a lower level of satisfaction."
"We want to live in peace with India," he added, "provided we are able to resolve our genuine problems."
He then issued a direct message to his Indian counterpart Narendra Modi: "Let's sit down at the table and have serious and sincere talks to resolve our burning issues, like Kashmir, where flagrant violations of human rights are taking place day in and day out."
The offer was dismissed by Indian External Affairs Ministry spokesperson Arindam Bagchi, who said India's position remained that "we desire normal neighborly relations with Pakistan in a conducive atmosphere that is free of terror, hostility and violence."
Khan acknowledged that, before talks could be held, "there would be conditions" put forth by both sides.
Echoing Sharif, Khan said that, for Pakistan, this means "that the actions that were taken in August 2019, should be held in abeyance," a call he said has been echoed by those within Kashmir itself, where activists have accused New Delhi of instituting media lockdowns, conducting arbitrary arrests and attempting to change the demographics of the overwhelmingly majority-Muslim region of more than 12 million people by allowing non-residents to purchase properties there.
Khan recounted these allegations, describing Jammu and Kashmir as an effective "mass prison."
As such, he argued that, without addressing these matters ahead of time, "if we resumed talks, this would be an inadvertent legitimization of India's actions in 2019, so the hesitation stems from there."
India, for its part, has vehemently defended its efforts in Jammu and Kashmir as an effort to stamp out militancy New Delhi blames on Islamabad, while at the same time bringing badly needed development to local communities.
"Since the abrogation of Article 370 of Indian Constitution in 2019, lack of support from the international community and rejection of violence by local Kashmiris have forced Pakistan to re-strategize it's proxy war in Kashmir," sources in the Indian military establishment told Newsweek. "Pakistanis continue to make attempts to disrupt any political and peace initiatives in J&K."
These sources were convinced India's narrative would prevail, however, and argued that "enthusiastic participation by Kashmiris in all Indian governmental initiatives in large numbers is a welcome sign, and efforts are being made to make best use of this opportunity to bring further positive changes for the betterment of people in specific and Kashmiri society at large."
And yet, the Indian side also warned the region remained volatile, owing in part to internal challenges being faced across the border.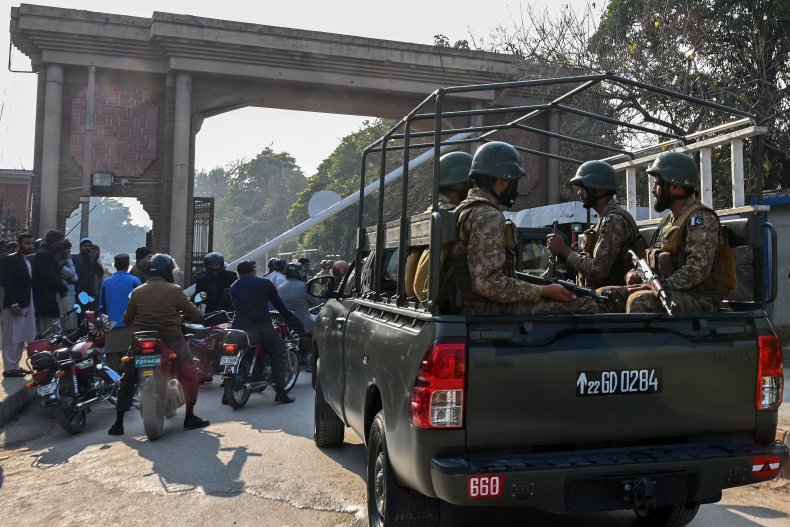 Over the course of the past year, Pakistan has faced political unrest in the wake of former Prime Minister Imran Khan's dramatic ousting last April, devastating floods that rocked the country in October, a deepening economic crisis threatening the availability of critical resources, and a spike in militant attacks mounted by groups such as the Tehrik-i-Taliban Pakistan (TPP) and Balochistan Liberation Army (BLA). In the most recent incident, a suicide blast initially claimed by TPP, before the group issued a denial, saw more than 100 people killed at a mosque within a secure police compound in Peshawar.
"The Pakistan government has always used the 'anti-India' agenda and played the 'Kashmir' card to divert the attention of its domestic population from their inabilities to manage internal issues," the Indian military establishment sources said. "Therefore, it is natural that the deteriorating socioeconomic and political situation in Pakistan will directly impact the magnitude of terror activities in the UT of J&K."
As for the situation along the Line of Control itself, the Indian military sources explained that "the present parameters are entirely contingent on holding of the understanding between Director Generals of Military Operation's (DGsMO) of both Indian and Pakistani Armies in February 2021."
That understanding, reached roughly two years after their standoff, followed months of deadly clashes along the Line of Control.
But here too, India claims that its counterparts in Pakistan have not lived up to their agreement, as "no dismantling of terrorist infrastructure has been observed, indicating Pakistan's continued obsession with Kashmir and continuation of its vigorous proxy war."
"While remaining committed to DGMO Understanding, Indian Army field formations have conducted sustained anti-infiltration operations and thwarted all attempts by inimical elements," the Indian military sources added. "Indian Army has remained fully prepared to respond to any escalation along the LC."
Newsweek has contacted the Indian Embassy in Washington, D.C and the Indian Ministry of External Affairs for comment.
Khan, however, was confident that his country will "bounce back" from its current hardships, citing ongoing efforts to secure an International Monetary Fund package as among the "positive signals" Pakistan has recently witnessed.
He also said these challenges did not serve as a "handicap" for the work of Pakistani envoys in Washington, D.C. and other capitals abroad. In fact, he said U.S. officials have said they are further investing in ties with Islamabad as a "standalone, broad-based relationship" not solely tied to other regional foreign policy issues such as Afghanistan, India and China.
And as Pakistan faced its own spike of insurgent attacks in the wake of the U.S. exit from Afghanistan, he denied any association with the militants with which India was contending across the border today.
On this matter, Khan urged Indian officials to "revise their narrative, because that narrative about Pakistan using terrorism as an instrument of war is hackneyed and anachronistic, because it dates back to the 1990s when there was asymmetric warfare."
"Since then, the movement is indigenous," he added. "India's headache is from an internal rebellion from Kashmir, not external support."
Acknowledging the gravity of the situation, however, Khan argued that, "if there are no opportunities for some sort of communication, they must be created, understanding the compulsions and imperatives that the two parties have."
But there appears to be little appetite among the international community for taking on the issue, especially as the West focused on countering Russia's war in Ukraine and increasingly invested in ties with India as a means to challenge the rise of China.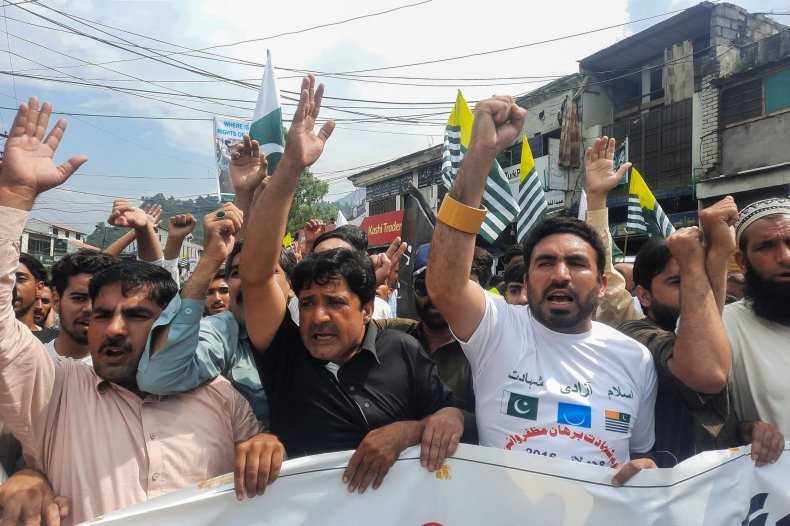 The lack of interest among major powers could largely be summed up by U.S. State Department spokesperson Ned Price's succinct response to a question in a press briefing last week as to whether or not Washington was planning to voice its position on the Kashmir issue and calls for the region's autonomy and self-determination.
"This is a question for India and Pakistan," Price said.
There was, however, one multinational institution under which the two powers had the chance to come together.
Shortly after New Delhi shot down Sharif's peace talks offer, news emerged last week that India had invited Pakistani Foreign Minister Bilawal Bhutto Zardari along with his counterparts from China, Iran, Kazakhstan, Kyrgyzstan, Russia, Tajikistan and Uzbekistan to attend a meeting of the nine-member Shanghai Cooperation Organization (SCO) to be held this May in the Indian west coast city of Goa.
Led largely by Beijing and Moscow, the SCO has set out to provide a venue for parties to overcome their differences in order to forge ties in an array of fields, and the coalition has managed in past years to host the first-ever joint military exercises involving Indian and Pakistani forces. Bhutto Zardari's trip would mark the first visit by a top Pakistani diplomat to India in nearly 12 years.
No official confirmation of Pakistan's participation in the upcoming meeting has yet emerged, but Khan saw an opportunity—if hostility could be put aside, that is.
"I think that this is good. We would be under one roof and in one conference hall, so there's a bit of proximity," Khan said. "But the point is that India must discard its condescension. Their attitude is very dismissive, and this does not help."
"You have to respect your neighbor," he added.