MH17 Investigators Make Public Appeal For Information Four Years On
Four years on from the shooting down of the Malaysia Airlines flight over Ukraine, investigators are making a public appeal for information, Reuters has reported.
It comes as the families of the victims made an emotional plea to the Russian people to demand answers from their leaders about the tragedy.
MH17 was shot down on July 17 2014 killing all 298 people on board, two-thirds of whom were Dutch, with the rest from 16 other countries.
A report completed in October 2015 concluded that the Boeing 777 was hit by a Russian-made Buk missile which was fired over territory held by pro-Russian separatists in the war-torn Donbas region of Ukraine.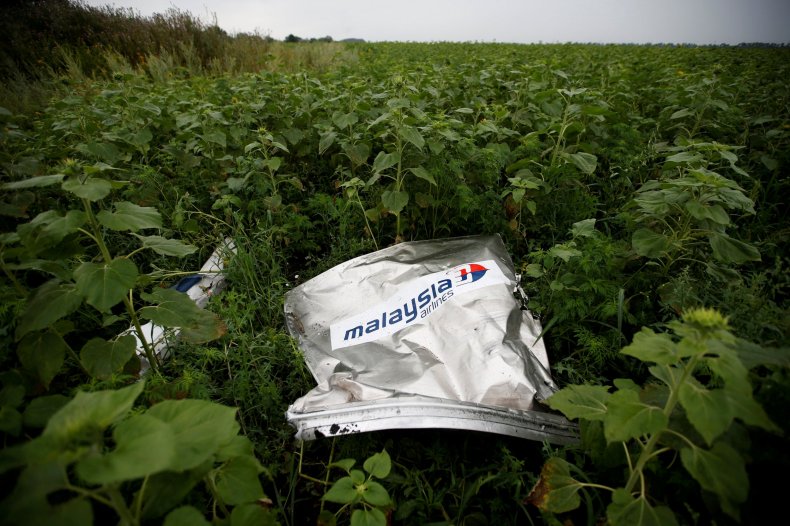 However as yet there have been no indictments. Any suspects will probably be tried in absentia in the Netherlands because Russia vetoed a U.N. Security Council resolution to block an international tribunal.
Around 100 suspects had been identified although their names have not been made public because Dutch law stopped prevented this ahead of legal proceedings.
The head of the Dutch investigation team, Fred Westerbeke, told the Russian newspaper Novaya Gazeta last October: "We will disclose everything when this investigation is over, and we will give the names at the trial".
The latest appeal for information comes after an emotional plea by the families of some of the Australian victims on board the flight.
Jon and Meryn O'Brien have written an open letter published in Novaya Gazeta this week on behalf of their 25-year-old son Jack who was among those killed.
In it, they say the FIFA World Cup about to get under way in Russia was under a "shadow" in light of the unsolved air tragedy and appealed to the Russian people.
They asked the Russian people to consider how families felt after the bombing of a Metrojet plane over Egypt in October 2015 in which most the 224 people on board were Russians.
"We understand the disbelief, the horror of your loved one's lives being taken violently without warning," the letter reads.
"If we ever met those families perhaps we could start a conversation, for we would already know a central truth about each other's lives.
"We are not against you. We hold the Russian state and its leaders as ultimately responsible for the deaths of our family members. All the credible evidence points in that direction," said the letter, which was signed by the relatives of nine victims who died.
A Russian journalist told the radio station Echo of Moscow, citing sources close to the investigation, that an interim report would "most likely" confirm the involvement of the Russian 53rd anti-aircraft missile brigade as responsible for transporting the Buk system to Ukraine that downed the plane.