Fourteen Killed as Canadian Junior Hockey Team's Bus Collides with Truck
Fourteen people were killed when a bus carrying a junior hockey team collided with a semi-trailer in Saskatchewan, Canadian media reported.
The Humboldt Broncos were travelling on Highway 35, north of Tisdale when their vehicle crashed at about 5pm local time Friday.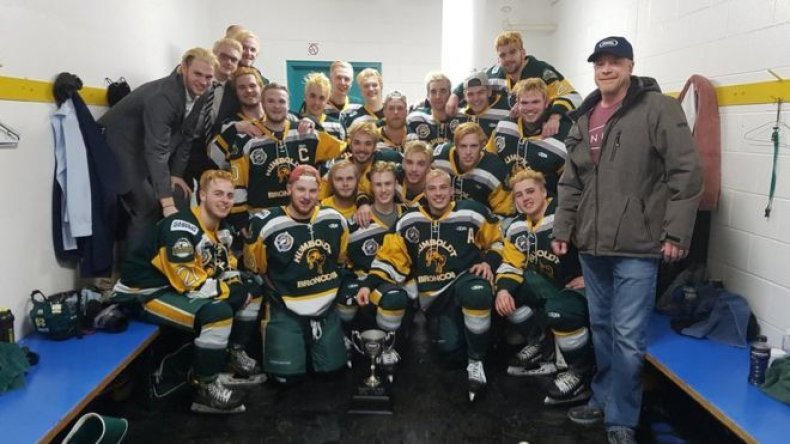 Fourteen other people on the bus were injured in the crash and taken to hospitals throughout the Tisdale area, about 186 miles north of Regina, The Canadian Press reported.
Three of those injured are in critical condition, officials said.
Canadian Prime Minister Justin Trudeau expressed his condolences to the parents of the crash victims in a tweet.
"I cannot imagine what these parents are going through, and my heart goes out to everyone affected by this terrible tragedy, in the Humboldt community and beyond," wrote Trudeau.
The team, which plays in the Saskatchewan Junior Hockey League, were en route to a play-off game against the Nipawin Hawks when the collision occurred.
The president of the Nipawin Hawks told Canadian media a semi-truck T-boned the players' bus.
"It's a horrible accident, my God," Darren Opp said. "It's very, very bad.
Online team lists show that the players are aged between 16 and 21.
Rob Muench, the mayor of Humboldt, said a crisis and counselling centre has been set up at the Humboldt Uniplex Convention Centre.
"We're asking people to come down if they need to talk to somebody or be with other people that are sharing their grief with them," Muench said. "It's been very traumatic since we heard first thing just shortly after supper tonight.
"The community has been hit very hard. You know, when you have a number of young hockey players involved in a serious accident like this, it's a very, very sad day for our city."