Read Bernie Sanders' Lips: Elizabeth Warren Will Raise Taxes
Elizabeth Warren is as good a politician as any: she charms and she takes 70,000 selfies, but she also pivots and deflects. In recent debates Warren has slipperily refused to admit that her Medicare for All plan would require a tax hike on middle-class families.
So when she again refused to answer the question, sticking to her line that overall costs would go down, other candidates answered for her. Pete Buttigieg said it. Amy Klobuchar said it. Beto O'Rourke said it. Even Bernie Sanders said it.
"As someone who wrote the damn bill," the Vermont senator cut in, "I do think it is appropriate to acknowledge that taxes will go up. They will go up significantly for the wealthy and for virtually everybody, the tax increase will be substantially less."
Warren still couldn't admit it in those words and defaulted to her favorite phrase: "costs will go down for hard working middle-class families." Next to her Buttiegieg just stood there shaking his head and Klobuchar summed up the bizarro world moment with, "At least Bernie is being honest here."
But despite Warren's inability to come to profess her tax sins, which seem like they will continue to haunt her in debates to come, she remained unflappable in the face of a constant barrage of attacks.
It was a new experience for the Massachusetts senator who has skipped through past debates in a rainbow of Teflon-coated jackets completely unscathed. But, with her almost unstoppable rise in the polls to the point she has overtaken the former veep, it's clear that fellow Democrats now see Warren as the frontrunner—and the one to beat.
But each attack just seemed to energize her more, and Warren came off looking strong, competent and the night's absolute winner. On the other hand, Biden did little to help himself and could have achieved the same results if he'd just stayed home.
Another winner was Bernie Sanders' heart. All eyes were on the oldest candidate in the field to see could he even stand, let alone yell, for three full hours just weeks after a heart attack. The answer was a resounding yes. To be honest, even before Sanders said he was "feeling great," I'd forgotten that I was supposed to be watching for signs showing otherwise.
Outside the top tier, South Bend, Indiana, Mayor Pete Buttigieg and Senator Amy Klobuchar were the ones who led the charge against Warren while Senators Cory Booker and Kamala Harris kept trying, and failing, to keep the focus on President Donald Trump.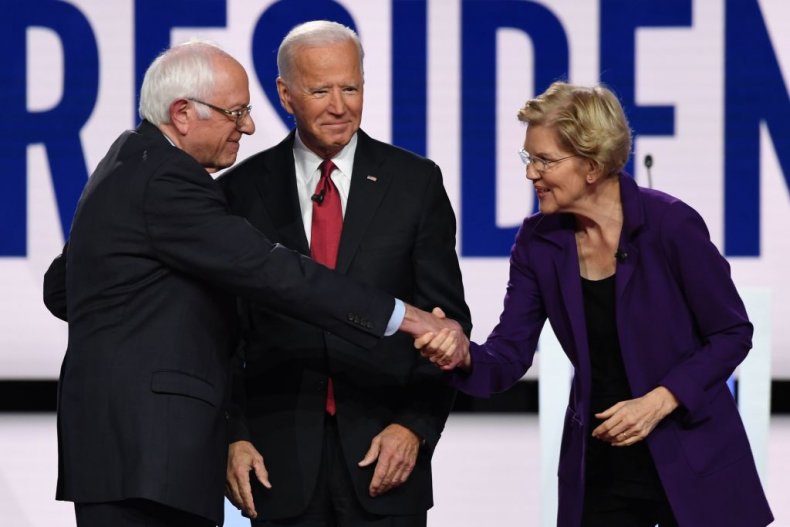 There were no opening remarks Tuesday night and, with impeachment taking over Capitol Hill, there was finally something other than health care to kick off the night, which made for a nice change. The universal stance: Donald Trump should be impeached.
Oh, and the Democrats had a billionaire on stage too. I don't need to tell you his name, it's really not worth remembering as he'll spend millions on ads for you to learn it another time.
But, aside from Biden and Gabbard, the biggest loser of the evening was climate change. Since the last debate, millions of people flooded into the streets in cities across the world to protest climate policies. Greta Thunberg went to Congress and addressed the United Nations. But Democrats who hope to be the next leader of the free world hardly bothered to raise the issue. RIP Earth.
Biden: Nothing to See Here
When asked about his son's involvement in foreign businesses, which was a giant invitation to explain how his son did nothing wrong and how his pushing of Ukraine to ouster corruption is the exact opposite of what President Donald Trump did, Biden absolutely failed.
"Look, my son did nothing wrong, I did nothing wrong, I carried out the policy of the US government in rooting out corruption," said Biden, trying to pivot back to focusing on Trump. "My son's statement speaks for itself."
When given another chance by CNN's Anderson Cooper to take another run at the issue, Biden repeated the line "My son's statement speaks for itself."
It was an arrogant approach to a really difficult issue for those outside the D.C. circle to understand that Biden should have workshopped into a simple answer that takes 30 seconds. Not to mention that Hunter's interview only happened on Tuesday, which means Biden expects voters to be closely following the news headlines all day while driving trucks, teaching children and treating patients. It wasn't a fair or reasonable expectation on viewers, and Biden needs a better answer lest this become the email controversy of 2020, because denials do not explain anything.
Kamala Raises Her Gavel
If you were to turn this evening into a drinking game, "as a former prosecutor" would have been on my bingo square.
Harris has been leaning heavily on her legal past as talk about impeachment has swirled. In fact, her first answer was basically, "I don't really think this impeachment is going to take a lot of time, as a former prosecutor I know a confession when I see it."
Later, Harris tried to push Warren into saying Trump should be banned from Twitter. There was an extended split screen and Harris seemed to want to die on a very tiny molehill. She pushed back strongly on Warren but on a useless topic, it was a wasted opportunity.
Taxes are the New Health Care
After the heated health care discussion we moved onto the economy, automation and taxes which led the candidates back to yelling at Warren, and it all felt like a meta summary of the evening and the candidates' positions.
While Julian Castro and Tulsi Gabbard both supported the fringe idea of Andrew Yang's Universal Basic Income (Castro said he's even be willing to pilot it).
Biden confused us all when he said, "I want to eliminate capital gains tax, I mean, raise capital gains tax."
Warren and Biden talked about taking on billionaires, approached that billionaire Tom Steyer seemed to support which drew both a side eye from Sanders and this sharp tweet from his team:
Then Klobuchar hit back at Warren, "Not even the billionaire wants to protect billionaires" to which Warren sharply responded that she does not have a "beef" with billionaires but they should, you know, give back a little.
And then Booker asked everyone to stop yelling and come sing kumbaya. "How we talk about each other matters. It didn't work in 2016 and it will be a disaster for us in 2020."
Despite the attacks, Warren still dominated the microphone, according to speaking time by Statista: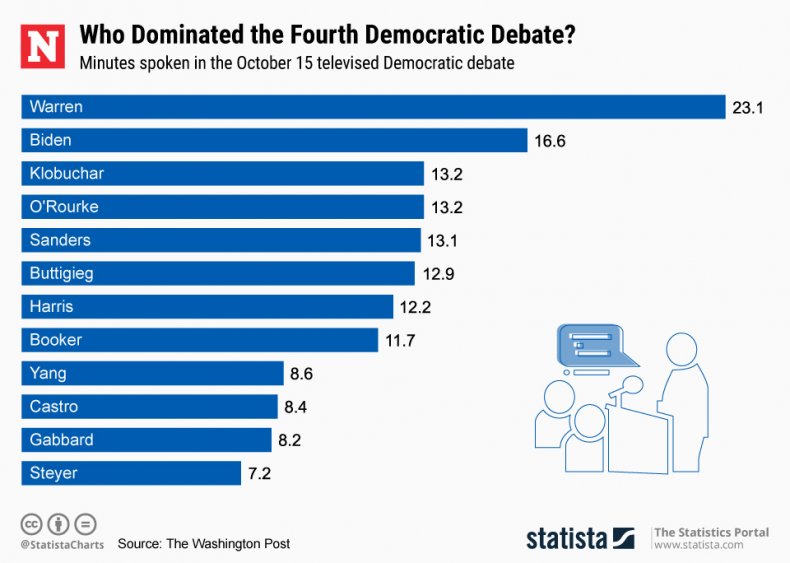 Billionaire Takes Up Climate Change
Okay, okay, I said we didn't really need to talk about Tom Steyer, but we have to give him props for being the first candidate of the night to bring up climate change, a whopping 90 minutes into the evening.
Despite not being the focus of earlier questions, these are nearly all experienced politicians who are artful at deflecting and pivoting from questions. If they really wanted to bring up climate change earlier they could have. And they should have.
Buttigieg v Beto v Booker
Aside from Buttigieg's anticipated attacks on Warren this evening, it was also expected he'd be going after Beto O'Rourke as well. But the Texas Congressman got a headstart. In his answer about gun control, O'Rourke urged his fellow candidates to "not be limited by the polls, the consultants" which was widely considered to be an attack on Buttigieg, who took it that way and immediately responded.
"I don't need lessons from you on courage, political or personal," said the South Bend, Indiana, mayor.
O'Rourke wasn't done though, and went back about Buttigieg's recent comments that a mandatory buyback is a distracting "shiny object." "That was a slap in the face" to survivors of gun violence, said O'Rourke.
When Booker, who also has a progressive gun control plan, was invited by the moderators into the discussion he seemed to forget his guitar for the campfire. "I again worry about how we talk to each other and about each other, he said, before adding fuel to the fire claiming there are more duck and hide drills than fire drills in schools. "We're surrendering our freedoms to fear in this country."
Biden Got Things Done
Toward the end of the night, Biden seemed to have had enough and claimed he was the only one on stage who had gotten big things done.
Understandably, numerous Senators on stage took offense, but Sanders hit back with the accurate line that Biden did get a lot of things done, like, the Iraq War.
It was a great line, and Warren followed up with how she, as a member of the Obama administration also got things done by launching the Consumer Financial Protection Bureau. Biden apparently wanted credit for that too.
"I got votes for that bill," he said about rallying votes in Congress. "I convinced people to vote for it. So let's get those things straight."
Warren paused, and much to the audience's disapproval simply responded, "I am deeply grateful to President Obama, who fought so hard."
It was a tense moment between the three pack leaders. Buttigieg, unsurprisingly, popped up with his own quip that if he had a dollar for all these sorts of arguments he could pay for free college for everyone too. It's a popular strategy, maybe he should try it.