The summer of 2018 was one for the history books—at least those that cover temperature records across the United States.
The meteorological summer runs from the start of June to the end of August and the temperatures during those months in 2018 made it the fourth hottest year on record. In the contiguous United States, the average temperature through the summer was 73.5 degrees Fahrenheit—2.1 degrees above the average temperature, according to the National Oceanic and Atmospheric Administration.
Many states saw sweltering conditions through the summer, some of which have continued into September. Much of the Mid-Atlantic region and parts of the Northeast were still under a heat advisory Thursday, according to the National Weather Service. Some schools were even letting students out early due to the heat.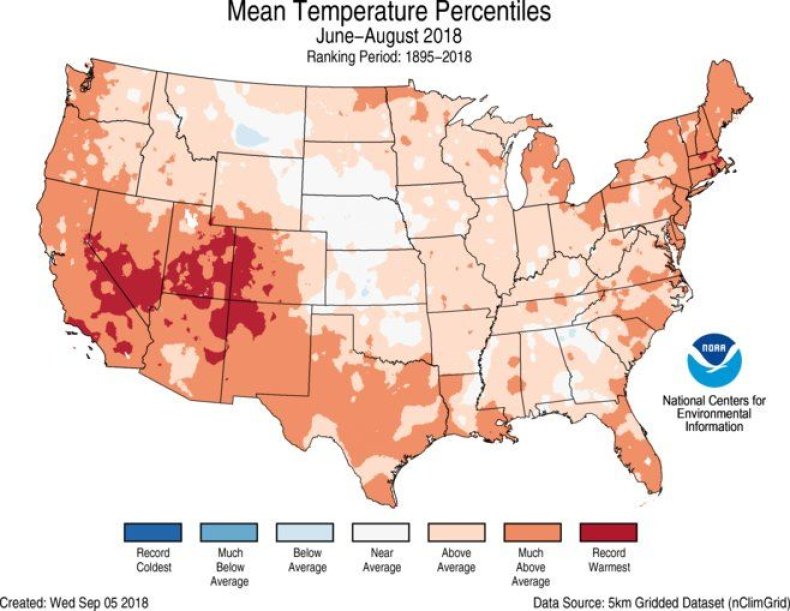 A map of the United States shared by NOAA shows that the mean temperature percentiles in some parts of the country reached points of record heat. California, Arizona, New Mexico and other states all saw record-breaking temperatures through the months of the meteorological summer.
Even parts of Massachusetts and Connecticut saw some record-breaking temperature means for the summer, the map shows. Those record-breaking temperatures are indicated by the color red on the map. Very few spots around the country saw temperatures below average, while some small patches of the country saw temperatures were near average.
The majority of the map is covered in a light orange or orange color, indicating that the mean temperature was above average in those areas.
This year's summer tied the summer of 1934 for fourth warmest in the past 124 years and helped push the temperature for the year to date up even further. As of Thursday when NOAA released the information, the average temperature for the year to date in the U.S. was 55.7 degrees Fahrenheit, which is 1.8 degrees above the normal average, making it the 10th warmest year-to-date on record, according to NOAA.
Precipitation over the month of August was just slightly above average, with 2.99 inches of rain, or .37 inches above the average for August. That makes it the 20th wettest August on record in part due to the East Coast and Great Plains where the slow-moving storms brought above-average precipitation and in some cases record-breaking precipitation., according to NOAA.
August may have come to a close but the heat is sticking around, at least through the end of the week in some areas, with the potential to drive up the average further.