Is Starbucks Open on July 5? Independence Day Observance Hours
Independence Day this year fell on a Sunday, so the federal holiday is officially observed on July 5 instead.
Select Starbucks venues and several other coffee shops were open on Independence Day and remain open on July 5. But some stores may be on modified hours. Customers should contact their local branch to confirm hours before visiting.
Starbucks July 5 hours
Several Starbucks shops are open on July 5. Daily hours of operations tend to run from around 5:30 a.m. to 8 p.m. local time.
A Starbucks spokesperson told CountryLiving.com in early June: "We are open on Independence Day in select store locations.
"Stores may occasionally adjust their hours based on business and customer needs, and customers can find specific store hours at Starbucks.com," the spokesperson said at the time.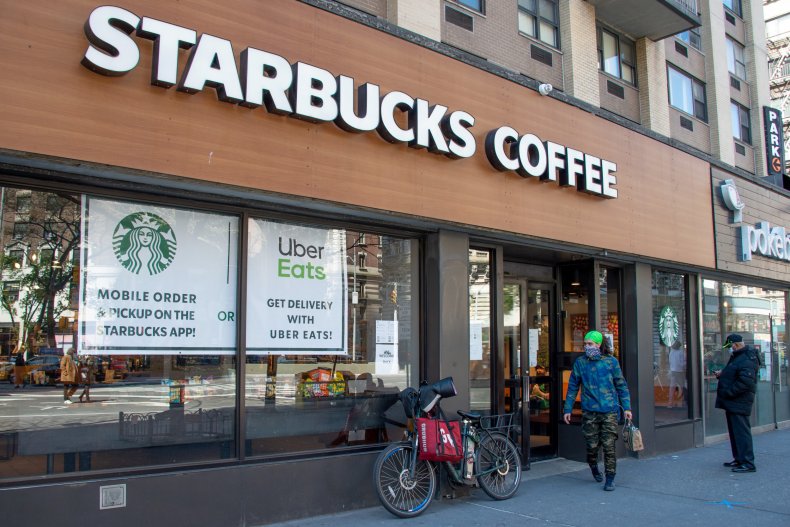 COVID-19 safety at Starbucks
The coffee chain has issued several COVID-19 safety measures, including an update on its face mask policy.
In a statement updated on June 29, the company said: "Starting July 5, fully-vaccinated partners who disclose their vaccination status will have the option to remove their facial covering while working, unless required by state and local jurisdictions."
Before beginning their work shifts, employees are required to complete "a pre-check, including taking their temperature, to ensure they are ready and able to work," the statement said.
The coffee chain also implemented "elevated cleaning and sanitizing protocols...cleaning high touch surface areas as frequently," the company stated.
Plexiglass POS shields and bar guards have also been installed at its venues.
July 5 hours at other coffee shops
Here are the hours of operation at some other coffee chains on July 5. Contact your local branch to confirm exact closing and opening times, as well as any COVID-19 safety protocols that may be in place, before traveling to any venues.
Dunkin' Donuts
Many Dunkin' Donuts venues are open on July 5 but store hours will vary by location.
In a statement to Heavy last year, the company said: "Dunkin' store hours vary by location. While many Dunkin' locations will be open on July 4th, we encourage our guests to check the Dunkin' Mobile App to confirm if their local store is open before visiting."
The coffee and donut chain has also issued COVID-19 safety guidelines amid the ongoing COVID-19 pandemic, a requirement for all guests to wear face coverings inside all Dunkin' Donuts venues from mid-August last year.
Other measures include hygiene training for staff and employee health checks using infrared thermometers.
The company noted: "In addition to drive-thru service, we added curbside pick-up, expanded delivery to thousands of Dunkin' locations, promoted mobile ordering through our app, and suggested payment by credit card versus cash."
Caribou Coffee
Several Caribou Coffee stores are open for business on July 5 but some may be on reduced hours. Normal daily hours are from around 5:00 or 5:30 a.m. to around 8 or 9 p.m. local time.
Au Bon Pain
Most Au Bon Pain venues are also operating on July 5 but exact timings vary by location. Contact your local shop to confirm the hours before visiting.
Tim Hortons
Many Tim Hortons stores are serving customers on July 5 but some may be on a reduced schedule depending on the branch. Its daily hours of operation are typically from around 6 a.m. to 10 p.m. local time.
According to Chew Boom, a food/drink news website, Tim Hortons' "Independence Day Fireworks Donut," which was offered in 2020, returned this year.
The donut features "the colors of the USA flag, red, white and blue, with its sprinkle and Fizzy Cluster toppings. These sugary clusters pop in your mouth as a festive surprise," the company said in a statement last year announcing the offer.
Chew Boom reported the Independence Day-themed donut is available through July 5.
Panera Bread
Many locations of the bakery-cafe chain are also open on July 5 but the hours differ by branch. Typical daily hours of operation are from around 6:30 a.m. to 8:30-10:30 p.m. local time.