4th of July Los Angeles Event Guide: 5 Fantastic Parades to Mark Independence Day
Fireworks, barbecues and parades will be some of the ways people plan to celebrate Independence Day next week. There are numerous other events in Los Angeles which will give people the chance to mark the Fourth of July in style.
For those who simply want to see bright colors in the night sky, there is no shortage of major fireworks displays in the city and its environs. Some of the key ones include displays at LA's Grand Park, the Hollywood Bowl and at Long Beach.
But there is also plenty of choice for those looking to make a day of it, and here are some of the main parades to look out for.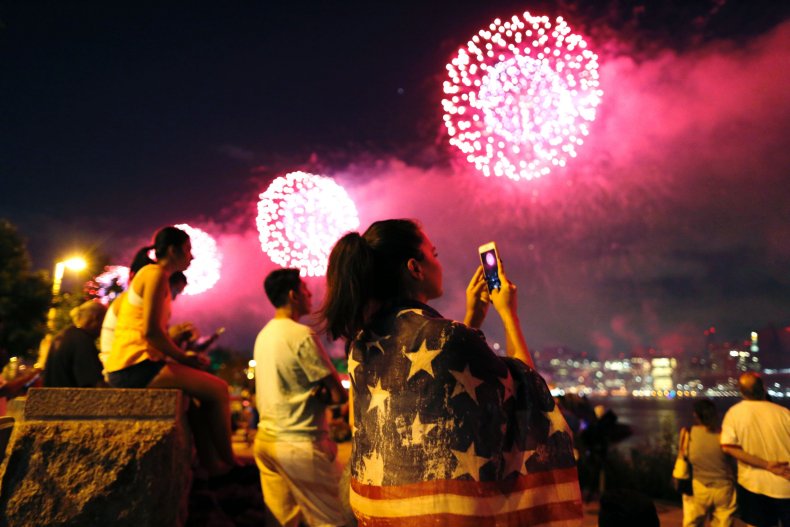 Pacific Palisades Fourth of July Parade
This will provide a beach vibe for revelers with the celebrations starting just before 2 p.m, with a group of patriotic skydivers getting things going.
Then people will be able to line Sunset Boulevard to enjoy the baton twirling and trombonists performing in a parade between Via de la Paz and Drummond, according to Time Out.
The proceedings will come to a climax with a fireworks display when it goes dark.
Huntington Beach Fourth of July Celebration
Touted by its website as the largest Independence Day parade west of the Mississippi River, the day's festivities start with a march down the streets of Huntington Beach at 10 a.m.
Bystanders will be able to watch bands, floats, local dignitaries, equestrian groups and various television celebrities. Following the parade, there will still be entertainment of the pier until 9 p.m., when the fireworks show begins.
Old Town Newhall Fourth of July Parade
This parade has history on its side as it dates back to 1932. Santa Clarita's Fourth of July event has been described as the biggest small-town parade in the country.
The parade is set to start on Main Street in Old Town Newhall near William S. Hart Park around 9 a.m and will finish on 16th St near Placerita Jr High.
Chair of the committee for the parade, Linda Storli, told radio station KHTS: "What I really want people to understand is that this is their parade, come and see it. If you see it one time with your kids, you will be a participant."
Ojai 4th of July Parade and Fireworks
This parade will start on Ojai Avenue, at Country Club Road at 10 a.m. Later in the day, there will be a live band, food trucks and games for the kids. Fireworks will start around 9:15 p.m. at Nordhoff High School.
2019 Electric Boat Parade at Channel Islands Harbor
For those who want something a bit more water-based, people can enjoy watching more than 50 patriotic themed electric boats which will cruise around the east and west channels of the Harbor.
There will also be other activities throughout the day which will end with the annual Fireworks by the Sea starting at 9 p.m which can be viewed from anywhere in the Harbor.