4th of July Cocktail Recipes: Patriotic Drinks and Spirits to Celebrate Holiday
The Fourth of July marks a time for barbecue, family fun, parades and fireworks, which is all a total hoot. But with plenty of states expected to experience hot and humid weather during the holiday, adult partygoers will likely be looking to quench their thirst. The best remedy? Fourth of July cocktails.
A chilled adult beverage can keep you cool while spending the day poolside with family or friends, and classy cocktails may be the key ingredient for turning a backyard shindig into a full-fledged party. Regardless of how you plan to beat the heat and enjoy the holiday, there's a cocktail waiting to help you get your celebrations started.
We compiled a list of a few fun cocktails to keep you cool and in a celebratory mood during the holiday below.
Strawberry Lemonade Punch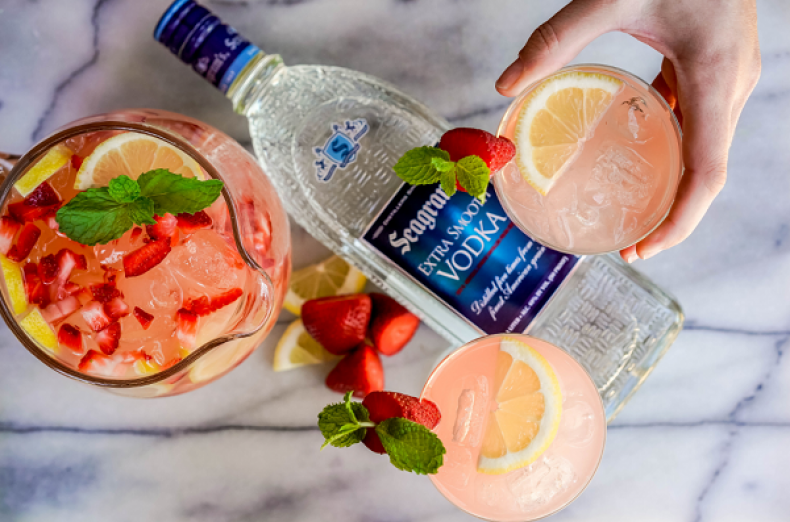 What's more American than pink lemonade? Pink lemonade spiked with vodka. This recipe, courtesy of cocktail enthusiast and Beautiful Booze curator Natalie Migliarini, calls for a lot of it too, a half bottle of Seagram's Extra Smooth vodka for a pitcher's worth of punch. In addition to the liquor, the recipe calls for 1/4 cup of mint syrup, 2 cups of pink lemonade, 1/2 cup of soda water, 1/2 cup chopped strawberries.
Directions: Add all ingredients to a pitcher over ice. Stir, then garnish with lemon slices and mint sprigs.
Highlands Highball
A simple and citrusy upgrade to the typical highball drink, this recipe calls for 1 1/2 ounce of Patrón Estate Release, 1 ounce of Lillet Blanc or Martini & Rossi dry vermouth, 2 ounces of Fever Tree Citrus Tonic.
Directions: Combine ingredients in an ice-filled Collins glass. Stir then garnish with an orange twist and mint sprig.
NOLET'S Silver Berry Fizz
A little bit sweet, a little bit tart and a whole lot of refreshing, this cocktail require 1 3/4 ounce of NOLET'S Silver Gin, 1/4 ounce of sweet and sour mix, 2 ounces of cranberry juice and ginger ale for topping.
Directions: Pour gin, sweet and sour and cranberry juice into a rocks glass full of ice. Top with ginger ale and stir. Garnish with raspberries.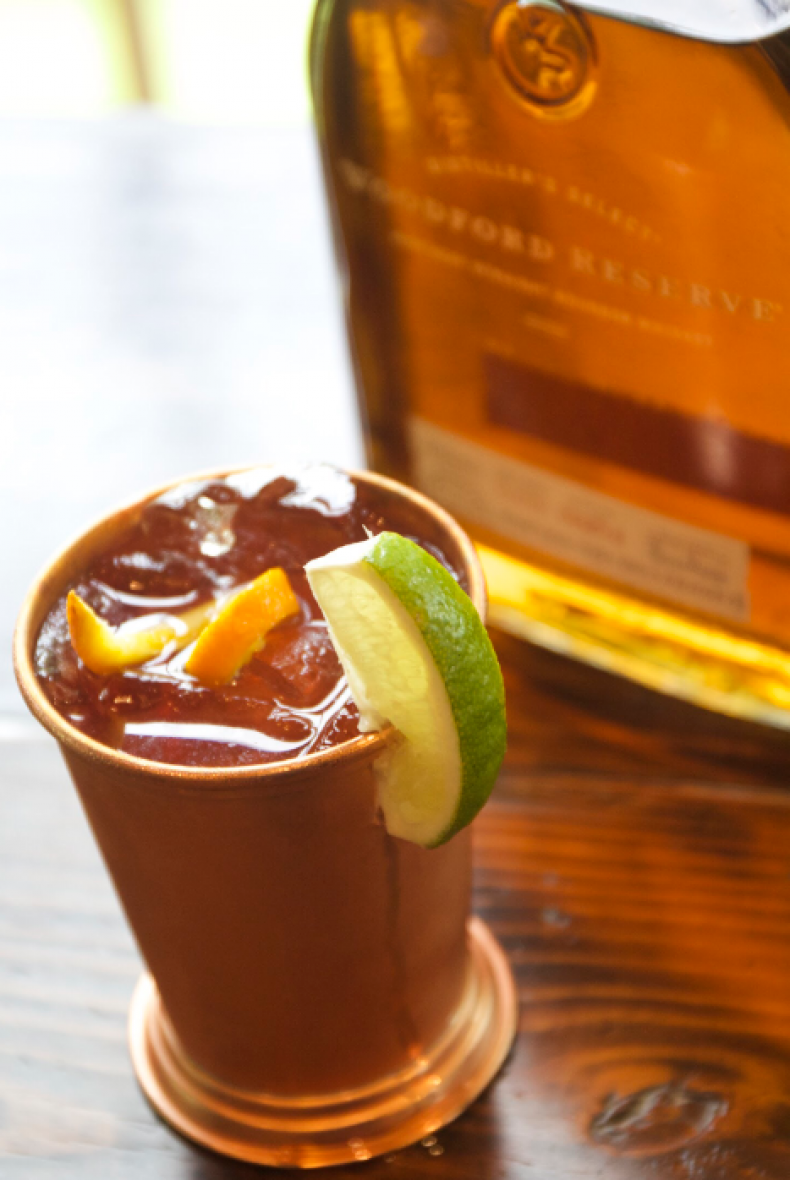 Woodford Reserve Eclipse
Just two days before the Fourth, the Earth experienced a total lunar eclipse on Tuesday. This drink will help bring out the best elements of the solar phenomenon while also celebrating the good times to come. Ingredients call for 1 1/4 ounce of Woodford Reserve Distiller's Select Bourbon. 1/4 ounce of Chambord liqueur, 1 ounce of cranberry juice, 1 ounce of raspberry juice, 1/2 ounce lime juice, 2 to 3 drops of Sorghum and club soda for topping.
Directions: Combine bourbon, Chambord, cranberry juice, raspberry juice, lime juice and sorghum in a shaker with ice. Shake vigorously and strain drink into a glass filled with ice. Top the drink with a splash of club soda and garnish with a speared black raspberry and lime twist.
TCB Julep
This cocktail is a remarkable play on the classic and delicious mint julep, except it gets a bit of a new edge thanks to 1 3/4 ounces of Sazerac Rye and 3/4 of Jägermeister. Additional ingredients include 1/4 of Wondermint Liqueur, 1/4 ounce of Giffard Peach Liqueur and 1/4 ounce of simple syrup.
Directions: Combine ingredients one-by-one in a rocks glass. Fill with pebbled ice and garnish with fresh mint.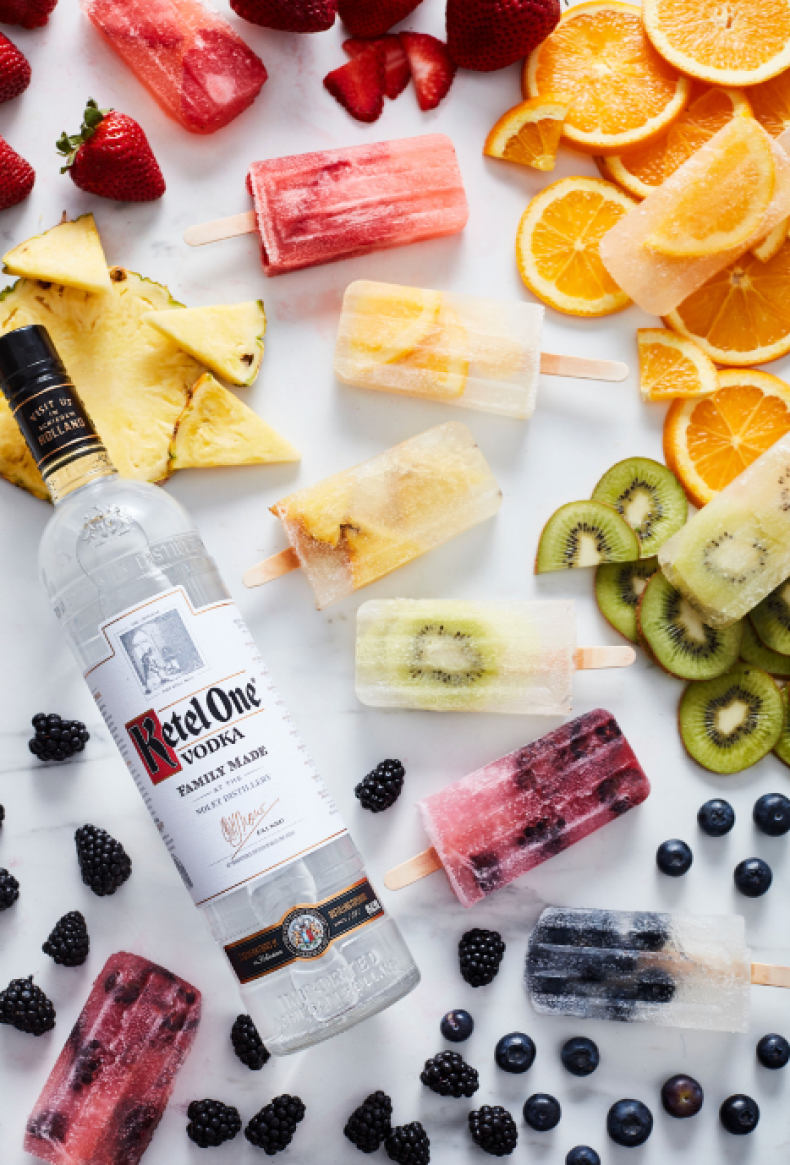 Ketel One PopTails
No matter how old you are, nothing is quite as cool in the dead of summer as an ice-cold popsicle, and Ketel One has a recipe that's made just for adults. Ingredients include 10 ounces of Ketel One Vodka, 24 ounces of lime club soda, juice of a lemon, 1/2 cup of strawberries, 1/2 cup of orange slices or peaches, 1/2 cup of pineapple chunks, 1/2 cup of blueberries, 1/2 cup of blackberries. A 10-count popsicle mold will also come in handy.
Directions: Pour all club soda, lemon juice and Ketel One Vodka into a pitcher and stir well. Place 1/2 cup of fruit into each mold—one mold strawberry only, one mold with orange only, etc—then pour the liquid mixture across popsicle mold equally. Place in freezer for four to six hours.