Fourth of July Fireworks Donors Are Registered Democrats, Contributed Heavily to Democratic Candidates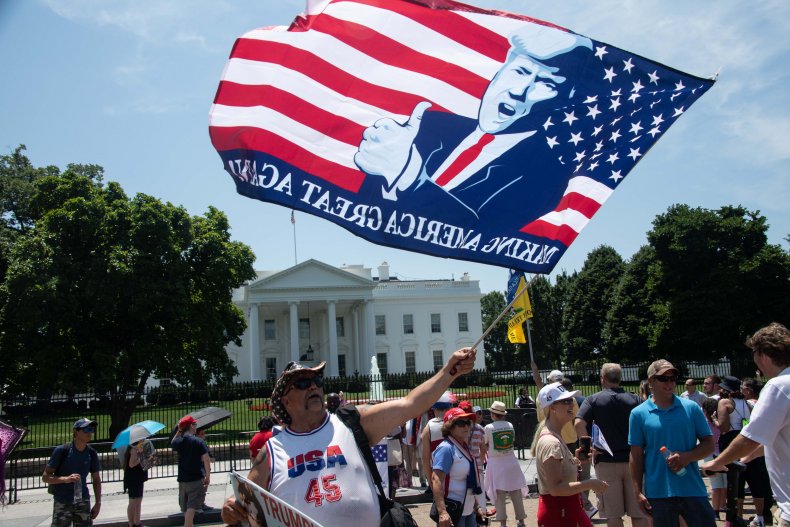 The founders of Phantom Fireworks, one of the two companies President Donald Trump announced would contribute pyrotechnics to his Fourth of July military parade, are registered Democrats and have donated heavily to Democratic candidates and committees, a Newsweek analysis of FEC contribution reports shows.
B.J. Alan Company, which transacts as Phantom Fireworks, was founded in 1977 by Bruce Zoldan, according to the company's website. He is the company's president and CEO, while his brother Alan serves as executive vice president and cousin Jerry Bostocky serves as vice president for sales. Together, the three have contributed over $110,000 to various federal campaigns since 2010, with the bulk of that, approximately $86,000, reserved for Democratic candidates. Bruce was responsible for 92 percent of these donations.
Bruce, Alan and Jerry are all registered Democrats, although Alan and Jerry did vote in Ohio's Republican primary in 2016.
Their business sits on a 17-acre complex near to the central business district of Youngstown, Ohio, and employs around 350 people during the industry's peak, seasonal months. Phantom is the largest consumer fireworks seller in the country, with 79 consumer retail showrooms set up in 15 states and over 1,500 temporary outlets open seasonally in 17 states.
Nearly all—99.8 percent—of the company's pyrotechnics are imported from China, according to Bill Weimer, Phantom's vice president and general counsel. Weimer told Newsweek that arrangements for donating to the military parade "started back in March."
In May, United States Trade Representative Robert Lighthizer announced that President Trump would impose tariffs on $300 billion worth of Chinese goods, effectively all of the remaining U.S. imports from China that had not been affected by the president's previous tariffs.
On Saturday, Phantom and other importers were granted a much-needed reprieve: as talks between the U.S. and China thawed on the sidelines of the G-20 summit in Japan, Trump announced he would hold off on imposing the new tariffs.
"In this case, there are literally no domestic manufacturers of consumer fireworks," Weimer said. "So the tariffs would serve no purpose other than to raise the price of fireworks... I believe that fireworks present an absolutely classic case to be exempted."
"There's no industry that is more quintessentially associated with Independence Day than fireworks," he added.
Phantom agreed to provide the display in conjunction with Fireworks by Grucci, another major industry player. Together, they will donate $750,000 in equipment and personnel to the president's controversial spectacle. Ethics experts have warned that if Trump seeks to turn the event into a campaign-style rally, even through impromptu remarks given during a speech, he could be responsible for reimbursing the Treasury Department.
Daniel Moritz-Rabson contributed to this report.