Fourth of July Fireworks at Mount Rushmore Will Return After 11 Year Hiatus
The National Park Service announced on Tuesday that Mount Rushmore will hold a fireworks celebration on the 4th of July for the first time in 11 years. The event hadn't occurred in over a decade due to fire concerns. This year's celebration will only commence if social and weather conditions permit.
The decision to hold an Independence Day celebration came about after an environmental assessment decided that fireworks wouldn't cause a significant impact on the South Dakota national memorial, iconic for having the faces of four former presidents carved into its granite cliffside.
The celebration, however, will occur only if pandemic reopening guidelines, weather, security and wildland fire conditions deem it safe. No details have yet been released about the July 4 event.
Republican South Dakota Governor Kristi Noem that despite previous concerns of fireworks potentially igniting forests near the monument, strong forest growth and safety advancements in pyrotechnics made her confident that the national park could hold the event without danger.
"We're excited that this will be happening at Mount Rushmore. We've been working on this for quite some time," Noem said. "We appreciate all the work President Trump and his team at the Department of the Interior have done to make this celebration possible again for the country."
Trump said in January that he would try to attend such an event were it held.
"President Trump and I believe that our nation's founding should be celebrated with the same pomp and parade that John Adams described in 1776, and having a fireworks display at Mount Rushmore once again will be an incredible spectacle for the American people to enjoy," Secretary of the Interior David Bernhardt said.
"Regardless of how many people will be there," Noem continued, "the fireworks will go off, and I can't think of a better way for us to celebrate America's birthday."
Newsweek has reached out to the NPS for comment. The service hadn't responded by the time of publication.
Thus far, South Dakota has had 2,245 confirmed coronavirus cases and 11 deaths, ranking among the 10 U.S. states with the lowest number of cases.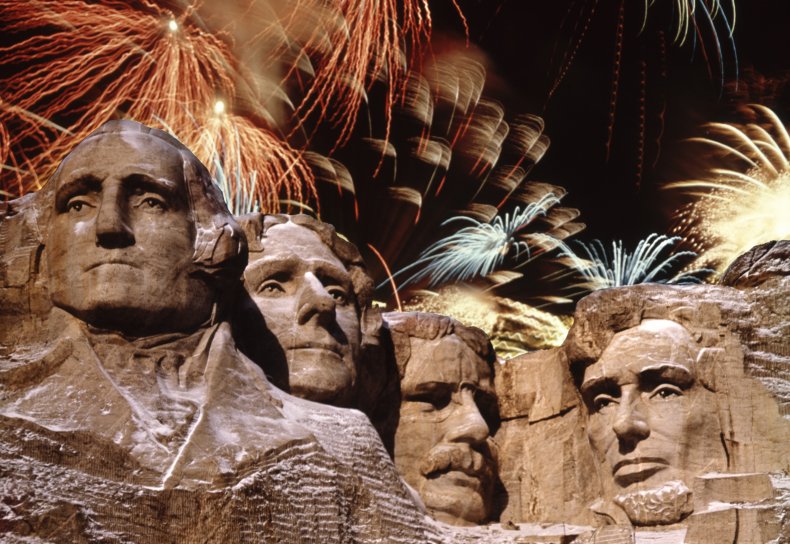 Initially, the NPS waived entrance fees for national parks to allow people to enjoy fresh air and exercise during the social distancing measures being instated during the coronavirus epidemic across the United States.
However, following guidance from the U.S. Centers for Disease Control, the NPS modified operations at 56 of the 62 national parks it oversees including closing public buildings, visitor centers, toilets, and popular hiking trails that wouldn't allow for proper social distancing.
Mount Rushmore, which attracts more than two million visitors annually, is still open to the public from 5:00 a.m. to 11:00 p.m. each day, but its Information Center is closed and all educational and interpretive programs are suspended indefinitely.
The iconic mountainside sculpture at the park bears the faces of Presidents George Washington, Thomas Jefferson, Theodore Roosevelt, and Abraham Lincoln.
South Dakota historian Doane Robinson, the person credited with coming up with the idea to carve sculptures into the mountainside, had initially wanted the sculpture to honor American West heroes, such as explorers Lewis and Clark, their guide Sacagawea, Native American chiefs Red Cloud and Crazy Horse and frontier showman Buffalo Bill Cody. However, the presidents were chosen for greater public appeal.