Fourth of July 'Shots Fired!': Panic Prompts 'Stampede' During Chicago Fireworks Show
"Chaos" unfolded at a Chicago Fourth of July fireworks display after three people were stabbed and a man was wrongly thought to have been hit by an active shooter, according to police.
A further 16 people were hospitalized as they tried to leave the annual fireworks display at the 3,300-foot-long Navy Pier on the shoreline of Lake Michigan on Thursday, Chicago Police Department spokesman Anthony Guglielmi said. None of the injuries sustained were life-threatening, police told The Chicago Tribune.
At around 10:10 p.m., a public display of gang signs prompted a fight to break out between three males, Chicago Police told the Chicago Sun-Times. A 15-year-old boy was stabbed in the armpit, while a 14-year-old was stabbed in the arm and rib. Both teenagers were taken to nearby Lurie Children's Hospital and were in stable conditions.
A 30-year-old man not involved in the altercation was stabbed in the face and arm, and rushed to Northwestern Memorial Hospital a short distance away, The Chicago Sun-Times reported. He was also in a stable condition.
The event descended into disorder after a man was injured by an overturned table, Chicago Police spokesperson Rocco Alito told reporters during a press conference. Someone then shouted "gun" or "shots fired," prompting revelers to "stampede," Alito added. A 60,000-strong crowd is believed to have subsequently tried to leave the area, The Chicago Sun-Times reported.
Alioto stressed no shots were fired. The man hurt by the table was also taken to Northwestern Hospital, police said according to NBC affiliate Chicago 5.
Prior to the popular event, Navy Pier set up a "secure zone" where staff checked the bags of those going onto the platform. Alioto described the measures as effective.
Rachel Schar, a 22-year-old server who works at the waterfront Harry Caray's Tavern restaurant, told The Chicago Tribune: "It was pure chaos. I literally thought I was going to die."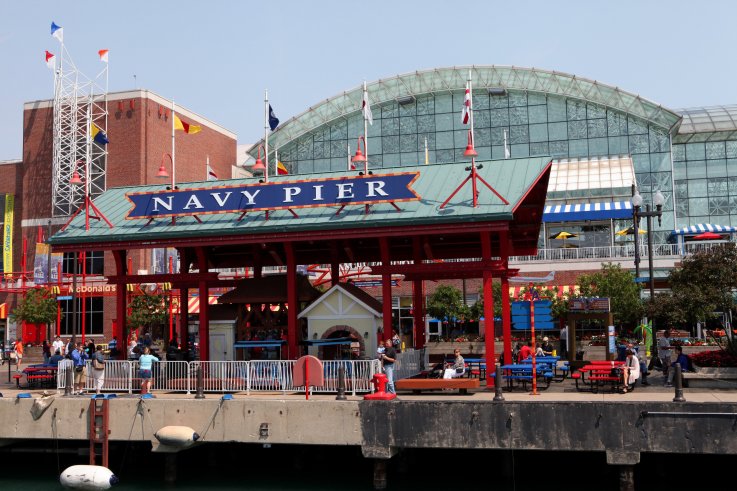 Nader Issa, a reporter from the Chicago Sun-Times on the scene, tweeted photos of the crowd in the area at the time. "Thousands are streaming out of Navy Pier, where there's a huge police response for reports of four people stabbed, per Chicago police radio," he wrote.
"Others were injured while crowds were running away. 'Chaos' has been used quite a few times on police radio," he said.
A Twitter user called Crystal Blitz, who said they were at Navy Pier to watch the fireworks, tweeted that they saw the stampede.
"I was so scared I thought it was a shooting event and my brother was infront my family," the user wrote. "It felt like I was gonna lose him, I was gonna die. People were gonna die, and I pray for the 3 people who got stabbed."
Another image shared by Issa shows two cousins visiting Chicago to celebrate Fourth of July embracing each other after being lost in the stampede.
It wasn't clear if anyone was arrested. Alito said the victims were being "uncooperative" with investigators.
Before the event, Chicago Police tweeted that thousands of people were expected to gather at Navy Pier.
"We will be out in force to ensure a safe and enjoyable celebration. Expect heavy traffic and crowds but we promise you'll enjoy the show," the force said.
Fourth of July 'Shots Fired!': Panic Prompts 'Stampede' During Chicago Fireworks Show | News