Fourth Justice Democrat Jamaal Bowman's Election Shows Progressives' Staying Power
Anti-establishment Democrats just notched another primary win.
This time it was in New York, where on Friday progressive political newcomer Jamaal Bowman officially trounced 16-term Representative Eliot Engel in the city's 16th congressional district.
The defeat was widely predicted after Bowman, a Black middle school principal from Yonkers, built a double-digit lead during election night on June 23. But the counting of mailed-in ballots delayed final results for weeks. When the race was called on Friday, Bowman was ahead of Engel by 15 points.
The victory makes Bowman the fourth candidate supported by the progressive PAC Justice Democrats to unseat an incumbent from the left—a sign that the once-fringe wing of the party has some staying power.
Newsweek subscription offers >
"We launched June 18, 2019 with the endorsement of the Justice Democrats and since then we've gotten support from all across the country and all across the world," Bowman said in a live video posted to his Twitter account after the race was called Friday.
"This is a progressive movement that is building coalitions across race, across class, across religion, across age, across our beautiful differences," Bowman added.
The "Medicare for All" and "Green New Deal" candidate was largely viewed as a long-shot candidate against Engel. But Bowman gained momentum in the final weeks of the primary amid the coronavirus pandemic and Black Lives Matter protests, and last-minute attempts from establishment Democrats like Andrew Cuomo and Hillary Clinton to rescue Engel's campaign proved futile.
Bowman's victory is a replication of the success of Representative Alexandria Ocasio-Cortez, who was the first progressive candidate backed by Justice Democrats to unseat a long-term Democratic incumbent. Ocasio-Cortez became the youngest woman ever elected to Congress after taking out Joe Crowley in a New York Democratic primary in 2018.
Newsweek subscription offers >
"This win proves that a Black man who survived poverty and police violence at 11 years old has the power to transform his community and country," Alexandra Rojas, executive director of Justice Democrats, said in a statement. "Jamaal is the fourth challenger backed by Justice Democrats to unseat an out-of-touch incumbent. He's one of the first candidates being swept into Congress by the movement in the streets right now, and he won't be the last."
Other candidates endorsed by the progressive PAC that have unseated Democratic incumbents are Representative Ayanna Pressley, who defeated 10-term incumbent Mark Capuano in 2018, and Marie Newman, who back in May defeated Congressman Dan Lipinski.
Bowman is essentially guaranteed a spot in Congress. He is the favorite to win in November in New York's 16th District, where Democrats outnumber Republicans four-to-one. No Republican has come forward to challenge Bowman and his only rival is Patrick McManus, who is running under the Conservative Party.
Justice Democrats warned Friday that "the future of the Democratic Party looks a lot more like AOC and Jamaal than Joe Biden."
"Biden knows that, and if he enters the White House in 2021, he won't be governing with the same Congress from 2009. The Squad is here to stay, and it's growing," Waleed Shahid, communications director of the group, said in a statement.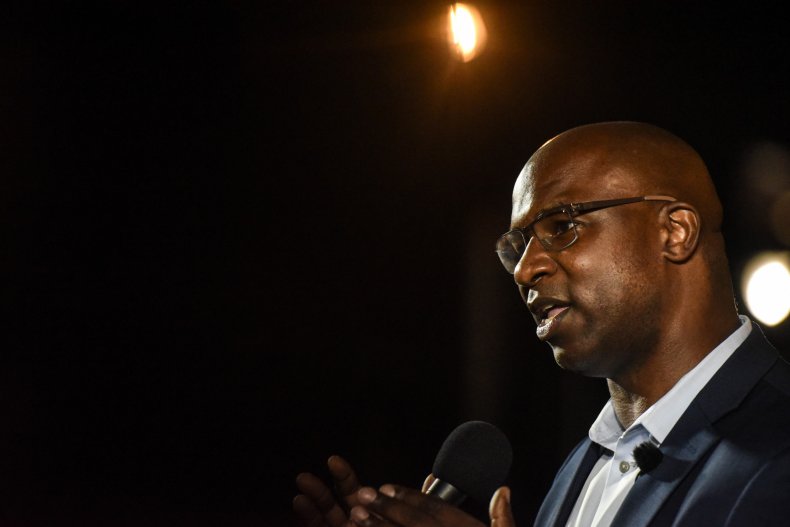 Fourth Justice Democrat Jamaal Bowman's Election Shows Progressives' Staying Power | U.S.