Fourth Stimulus Check: Over 80 Lawmakers Now Support Further Direct Payments to Americans
As the Internal Revenue Service gears up for the distribution of Child Tax Credit payments, Democratic lawmakers are hoping they'll send out another direct payment in the form of a fourth stimulus check.
On Monday, six members of the House Ways and Means Committee sent a letter to President Joe Biden urging him to include recurring direct payments in his American Families Plan. The White House hasn't backed a fourth check, yet, pointing to the cost of the relief, but said the administration would consider a plan put forth by Congress.
More direct payments have support from at least 80 Democrats in Congress, as well as Vice President Kamala Harris, who sponsored a bill for recurring payments last year as a senator. Although three letters have been sent to the White House since Biden took office, they haven't specified an amount. Representative Ilhan Omar, who spearheaded a letter signed by 56 House Democrats, pushed for $2,000 payments, though.
In Monday's letter, legislators called stimulus checks a "lifeline" for people who had their lives upended by the pandemic and said it was "imperative" that relief remains available. To ensure aid only ends when the economy improves, the six members of the House Ways and Means committee advocated for tying direct payments to economic conditions.
"The pandemic has served as a stark reminder that families and workers need certainty in a crisis," the letter said. "They deserve to know they can put food on the table and keep a roof over their heads."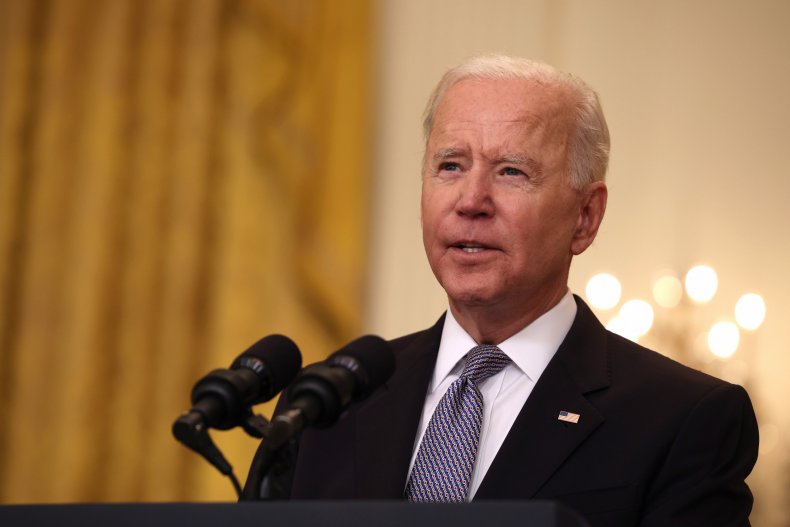 Signatories estimated that a fourth and fifth check could keep an additional 12 million people out of poverty and reduce those in poverty from 44 million to 16 million when additional payments are combined with measures from the American Rescue Plan.
The White House is considering using automatic stabilizers to trigger enhanced unemployment payments and they've spoken with the Economic Security Project about automatic stimulus checks.
"They understand that this is smart policy and good politics," Adam Ruben, director of the Economic Security Project, previously told Newsweek, in reference to the Biden administration. "Putting in place these kinds of triggers would smooth out the recovery and no one is left at the mercy of Washington gridlock in future recessions."
Unemployment, while not a perfect measure of the state of the economy, is often the indicator that's used as a proposed automatic stabilizer. If Congress were to pass legislation for automatic stabilizers, once unemployment dips below a pre-determined level, the IRS would start sending out direct payments.
The American Families Plan Biden announced in April would invest $1.8 trillion in education, child care and paid family leave. It faces an uphill battle in Congress and passing the package in the Senate would require Republican support unless Democrats use budget reconciliation. A means of passing legislation without the threat of the filibuster, reconciliation requires only 51 votes to pass, a threshold the Democratic caucus has if it's unified.
It's possible Democrats will pursue the measure for the American Families Plan, which may be why legislators are pushing for recurring payments to be included. However, reconciliation can only be used for specific pieces of legislation and only in certain circumstances.
At least 21 Senate Democrats are on board with recurring payments, but it's unclear if Democrats could even get their full caucus behind the proposal to pass the package through reconciliation.
If recurring checks were to be sent out, Ruben said payments should be at least $1,000 but the focus should be on the frequency, not the amount.
"Whether it's $1,000, $1,200 or $2,000, people spend that money ... it lasts people a couple of months at most," Ruben said. "The important thing is the regularity of it—that people know another one is coming and they can keep their heads above water."