Fourth Stimulus Check Update: $2,000/Month Payment Petition Author Shifts Focus to Parents
A petition for monthly stimulus checks continues to march towards its goal of 3 million signatures, but its author sees a push for making the expanded Child Tax Credit permanent a more likely outcome.
Stephanie Bonin, a Denver restaurant owner, created the Change.org petition for $2,000 monthly payments in the hopes of providing Americans stability during the pandemic. While she's confident the petition will reach its goal of 3 million signatures, the lack of interest to make the Child Tax Credit a long-lasting fixture confuses her.
"I'm surprised that it hasn't gone through the roof because we have a chance of making that permanent," Bonin previously told Newsweek. "Yes, it's not a monthly stimulus check with those words, but it's a monthly check to families with kids."
The passage of the American Rescue Plan in March expanded the Child Tax Credit from $2,000 per child to $3,600 for children under 6 years old, and $3,000 for children between the ages of 6 and 17 years old. It also altered how people could receive their money. Instead of one lump sum as a refund after a person files their tax return, eligible Americans could choose to receive half their allotted sum in monthly payments.
Under the relief package, payments were required to be sent out in July and continue through December. Americans will receive the second half of their credit after they file their tax return next year.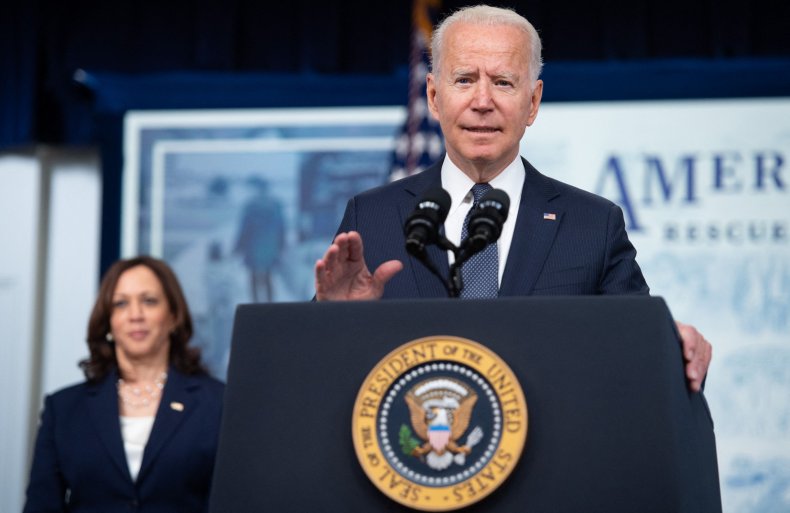 Keri Troehler-Duesing, a high school teacher and mother, started a petition on Change.org to make the payments permanent, calling them a "lifeline." While Bonin's petition has garnered more than 2.92 million signatures, Troehler-Duesing's push for long-lasting payments to parents only has generated 61,000 signatures.
Bonin shifted some of the focus of her campaign to the Child Tax Credit, sending several updates over the past few months about the importance of the payments. In a September update on the petition's website, Bonin said the fight is "now" to make the payments permanent and called it "illogical" that a policy that serves millions of people would be "erased."
With Congress considering budget legislation, Bonin urged people to let their representatives know they want the child tax credits to be permanent. As legislators battled over the budget as a potential for a government shutdown in October loomed, Bonin called for Child Tax Credit supporters to "turn up the pressure" to ensure the payments continue to arrive.
Legislation for recurring monthly payments is unlikely to pass the Senate, where Democrats have the slimmest majority possible. Republicans were hesitant about sending out the second and third stimulus checks—and with businesses reopening, they're even less likely to get on board with additional payments.
The White House hasn't committed to additional payments, but President Joe Biden has vocalized support for the Child Tax Credit. In April, Biden released the American Families Plan, which called for a four-year extension of the Child Tax Credit. As payments started going out in July, he again advocated for an extension of the payments because "people who are working hard and paying taxes deserve a break."
Although Biden's been pushing for the four-year extension, a senior administration official told reporters in July the goal is to make the expanded credit "ultimately permanent."
"I think that people have somewhat different legislative strategies," the official said. "[But] there's no disagreement on that the ultimate goal is for this to go on indefinitely."
Bonin acknowledged in an update that the Child Tax Credit payments don't reach as many people as the first three stimulus checks did. But she noted they're sent to "millions and make a huge impact."
"It seems a little bit like 'po-tay-to, po-mah-to' because the petition was asking for money we can count on," Bonin had told Newsweek. "We plan on X amount coming in for our paychecks and X amount going out for our bills and that's what a monthly check stimulates. We need to plan for monthly security."