Fourth Stimulus Check Update: Petition for Monthly $2K Gains 175,000 Supporters in Past Month
A petition for monthly stimulus checks of $2,000 has gained 175,000 supporters over the past month as the Delta variant continues to surge across the U.S., driving up COVID-19 cases in a new phase of the pandemic that has overwhelmed several states.
The Change.org petition, launched by Denver restaurant owner Stephanie Bonin last year, urges the U.S. Senate and House of Representatives to pass legislation that would provide families with a "$2,000 payment for adults and a $1,000 payment for kids immediately, and continuing regular checks for the duration of the crisis."
The petition has drawn over 2,795,300 signatures as of Saturday, with about 175,000 new signatures in the past month. It will become one of Change.org's most signed petitions if it reaches its goal of 3 million signatures. At its current pace, the petition could hit the benchmark by late August or early September.
More than 150 economists, including Jason Furman, former chair of the Council of Economic Advisers under the Obama administration, 50 members of the House and 21 senators have pushed for recurring direct aid. But the Biden administration has signaled that it's not a priority, focusing instead on advancing its infrastructure plan.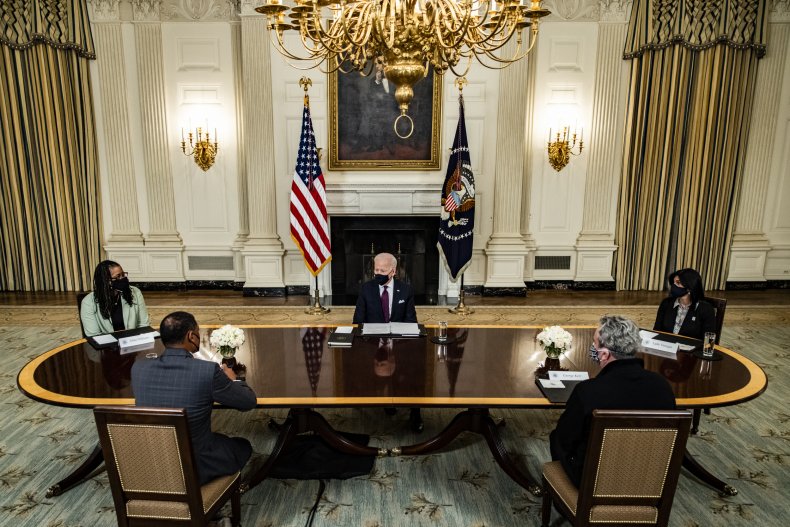 Fueled by the highly contagious Delta variant, COVID-19 cases and hospitalizations have surged in the U.S. this summer, particularly in southern states where vaccination rates are lagging.
The seven-day average of new infections jumped 26 percent and new deaths increased by 18 percent in the past week, according to data from Johns Hopkins University. The latest spike comes after infections consistently declined in the spring as most states rolled out vaccines to the general population.
Bonin told Newsweek in July that the stimulus petition continues to grow because "we're still in uncertain times."
"Our country is still deeply struggling," she wrote in the petition. "We need immediate checks and recurring payments so that we can keep our heads above water. Congress needs to make sure that we won't be financially ruined for doing our part to keep the country healthy."
In a letter sent March 30, 21 Senate Democrats, led by Senate Finance Chair Ron Wyden, urged President Joe Biden to support recurring direct payments until the pandemic ends.
The group included a broad range of Democrats, from moderates including Debbie Stabenow of Michigan and Michael Bennett of Colorado to progressives such as Cory Booker of New Jersey and Elizabeth Warren of Massachusetts, and six committee chairs across armed services, judiciary, budget, finance, banking and agriculture.
Despite the mounting pressure, further stimulus checks are unlikely to be sent out. Democrats have directed their attention to advancing a roughly $1 trillion bipartisan infrastructure deal and a $3.5 trillion budget bill, neither of which contain any direct payments.