Fourth Stimulus Check Update: Petition Signatures Continue Surging After 3M Target Hit
Signatures backing an online petition urging the federal government to provide Americans with $2,000 per month stimulus checks for the duration of the COVID-19 pandemic continue to surge after it passed its 3 million target just over a week ago.
More than 15,000 people signed the popular stimulus check petition on Change.org in the past week, and it remains to be one of the most popular petitions on the website. But lawmakers in Congress appear unlikely to provide additional direct payments. Stephanie Bonin, a restaurant owner in Colorado, first launched the petition in 2020 as the pandemic led to lockdowns and businesses shuttering across the country.
People from every state in the U.S. have signed the petition. It first crossed its target of reaching 3 million signatures on January 7. Since then it has gained more than 15,400 more supporters, as of the time of writing.
"I'm calling on Congress to support families with a $2,000 payment for adults and a $1,000 payment for kids immediately, and continuing regular checks for the duration of the crisis. Otherwise, laid-off workers, furloughed workers, the self-employed, and workers dealing with reduced hours will struggle to pay their rent or put food on the table," the petition explains.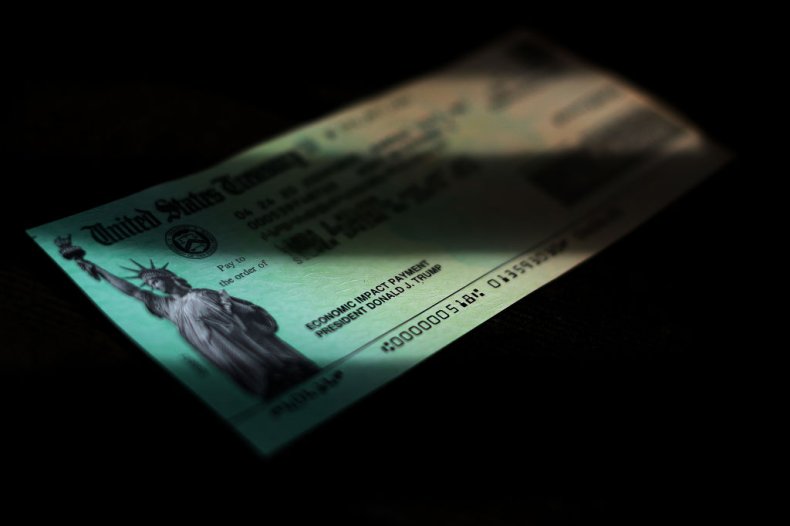 As of the week ending January 8, the number of initial unemployment claims stood at about 230,000, according to the Labor Department's report released on Thursday. That was an unexpected uptick from the previous week, with some analysts suggesting the surge in COVID-19 infections (due to the rapidly spreading Omicron variant) had an impact. However, the number of jobless claims has recovered substantially from the early days of the pandemic in 2020.
The December jobs report released by the Bureau of Labor Statistics showed that the unemployment rate fell to just 3.9 percent. That was a substantial decrease compared to November, when it stood at 4.2 percent. It's also close to the historic low of 3.5 percent the U.S. saw immediately prior to the COVID-19 lockdowns in the spring of 2020.
Democratic and Republican lawmakers supported an initial round of $1,200 direct payments going out to most Americans in March 2020. Those stimulus checks were followed-up in December 2020 by another bipartisan-backed $600 payment being sent out to the majority of U.S. citizens. Then last spring, after Democrats took full control of Congress and the White House, they approved an additional $1,400 stimulus payment without the backing of any GOP lawmakers.
While more than 80 lawmakers have publicly backed the idea of sending recurring monthly payments to Americans during the pandemic, that policy idea appears to have little hope of passing. There is currently no effort underway in Congress to provide additional stimulus checks or monthly payments. To the contrary, Republicans and moderate Democrats have said that the high level of government spending has been a key driver of rapid inflation.
Many economists and Democratic politicians dispute this assessment. They point to global supply chain issues, which have caused problems across the planet. Due to COVID-19, production of a range of goods has slowed or stalled around the world, causing significant shortages. At the same time, inflation rose to its highest level in four decades at the end of 2021—surging 7 percent.
Some economists and liberal lawmakers contend that more government spending is necessary to address the fallout from inflation. Meanwhile, conservatives and other economists argue that inflation has been driven by too much government spending. They warn that more spending could cause inflation to spiral out of control.
Regardless, many Americans—as evidenced by the petition—feel they need more government support as the pandemic continues to take its toll nationwide.