Fox News Anchor Confronts Pence Aide Over Trump's Belief That Ukraine, Not Russia, Interfered in 2016 U.S. Election
Fox News anchor Chris Wallace pressed Vice President Mike Pence's chief of staff on Sunday over concerns that President Donald Trump still believes the debunked conspiracy theory--which has been promoted by Russian President Vladimir Putin-- that Ukraine, and not Russia, interfered in the 2016 U.S. election.
"Does President Trump still believe that it was Ukraine, not Russia, that interfered in the 2016 election?" Wallace asked Marc Short on his weekend show Fox News Sunday.
Short responded by arguing that "it doesn't have to be an either or." He said: "it could be both."
Despite Short's argument, U.S. intelligence agencies and special counsel Robert Mueller all concluded that Russia was behind interference in the 2016 U.S. presidential election. Russian intelligence agencies worked largely to sow disinformation in an apparent effort to promote Trump's candidacy while disparaging his political opponent, former Democratic presidential candidate Hillary Clinton.
However, Putin and Russian media have repeatedly pushed an alternate narrative, arguing that Ukraine interfered in the U.S. election and conspired with Democrats. Even former Trump administration officials, as well as current State Department officials, have noted that this conspiracy theory doesn't hold water and is counter to the assessment of the U.S. intelligence community.
An article published by The Washington Post on Friday reported that administration officials have said that Trump said that Putin had informed him about the Ukraine theory, which he also pressured the Eastern European nation's President Volodymyr Zelensky to investigate. That pressure campaign was included as part of the articles of impeachment, which were passed against Trump largely along party lines last Wednesday. Nonetheless, Trump and Republican allies have continued to suggest the debunked theory is credible.
Short specifically dismissed the Post report as inaccurate. "It's actually incredibly misleading and misappropriate reporting," he argued.
"Forget the question of Russia," Wallace said in follow-up. "Does the president believe that Ukraine interfered in the 2016 election?" the journalist asked.
"He thinks we should at least investigate it," Short responded.
Wallace persisted in his line of questioning, noting that "every major U.S. intelligence agency says it was Russia that interfered in the election. During the House Intel committee hearings, a [former] member of the Trump National Security Council, Fiona Hill said this idea that Ukraine interfered in the election is Kremlin disinformation."
"So why does the president still think it's worth investigating whether Ukraine did something?" he asked.
"Why don't we try and find the bottom line of the answers," Short replied. "We're not questioning Russia's interference, Chris. I'm accepting that. But it doesn't mean that just because Russia interfered that others didn't as well," he added.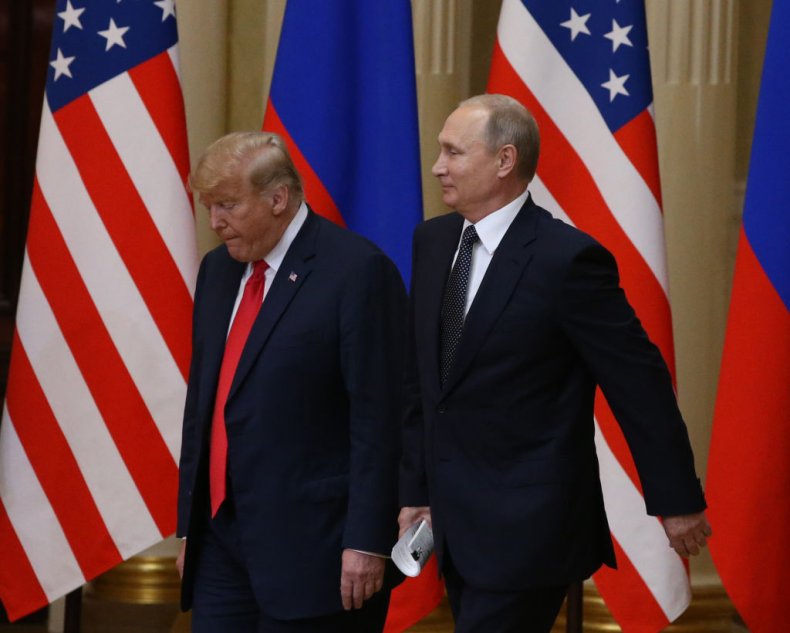 The anchor then re-asserted that this has been classified by administration officials as "Russian disinformation," also noting that reporting has said the president got the notion from a conversation he had with Putin. The Pence aide replied by dismissing the Post report again, suggesting it was inaccurate.
Newsweek has reached out to the White House press office for a response to concerns about the president's views on Russian election interference.
As Wallace noted, Hill, who resigned from the White House over the summer, testified in the impeachment inquiry that the debunked Ukraine theory was a "fictional narrative." She also admonished GOP lawmakers to not promote the Kremlin talking point.
"In the course of this investigation, I would ask that you please not promote politically driven falsehoods that so clearly advance Russian interests," the former national security council official stated. "I refuse to be part of an effort to legitimize an alternate narrative that the Ukrainian government is a U.S. adversary, and that Ukraine — not Russia —attacked us in 2016."
Despite Short's defense of Trump on Sunday, the president has on multiple occasions expressed skepticism about Russia's efforts to interfere in the 2016 election. A September report from The Washington Post reported that Trump actually told Russian Foreign Minister Sergei Lavrov and Russian Ambassador Sergey Kislyak during a 2017 meeting that he was "unconcerned about Moscow's interference in the 2016 U.S. presidential election because the United States did the same in other countries."
Some Republican lawmakers have voiced concern over Trump's apparent indifference to the Russian interference efforts. In a Saturday evening interview with CNN, GOP Congressman Adam Kinzinger of Illinois said that the president's dismissal of Moscow's actions could be "dangerous."
"I think it's a huge problem," Kinzinger said. "I think the big problem is this: when the faith in democracy is undermined, when you don't think your vote counts or when you think somebody else is influencing the outcome," he explained, "that's really dangerous."