Fox Anchor Claims Medicare-for-All Is Like 'Eugenics Movement Where There Was the Forced Sterilization of the Mentally Disabled'
Fox Business anchor Dagen McDowell bizarrely claimed Tuesday that the government providing universal health care to all Americans was comparable to the Eugenics movement, which led to the "forced sterilization of the mentally disabled."
McDowell's comments came during a discussion on the Fox News program Outnumbered, in which panelists discussed the Medicare-for-All proposal—or single-payer health care—put forward by Democratic presidential candidates Senator Bernie Sanders of Vermont and Senator Elizabeth Warren of Massachusetts. Several other leading Democratic candidates support variations of the universal health care plan.
"More government control over your health, we've been there," McDowell argued. "It's called the Eugenics movement, where there was the forced sterilization of the mentally disabled, up until 1979," the anchor claimed.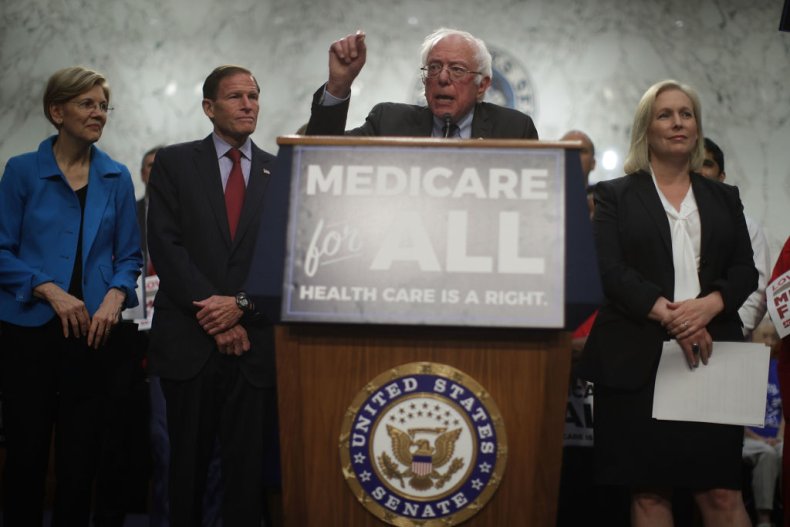 "Thinks about the power that you're handing to the federal government," she said, waving her finger.
Concluding the segment, Fox News co-anchor Melissa Francis chimed in, describing McDowell's assessment as a "terrifying note."
The Eugenics movement, which was often supported by racist and bigoted groups including the Nazis, was an attempt to selectively breed humanity by trying to remove genetic issues that were viewed as undesirable. Combining the beginnings of genetic science liberally with pseudo-science and anecdotal evidence, eugenicists attributed everything from mental illness and dwarfism to promiscuity and poverty to genetic defects as part of a philosophy that endorsed discrimination and, in some cases, violence. Despite its faulty premise, the belief system enjoyed significant popularity nationwide throughout the last century. As a result of the movement, some 20,000 people faced forced sterilization in California mental institutions between 1909 and 1979.
The Medicare-for-all plan proposed by Sanders and Warren does not advocate forced sterilization, nor forced medical procedures of any kind. The proposal simply aims to shift the way medical costs are covered, doing away with most private insurance plans—which are largely controlled by for-profit corporations—and shifting Americans onto government-funded insurance, paid for by tax dollars, instead.
Under the plan, all Americans would be guaranteed health care coverage, whereas 8.5 percent of the population went without any insurance in 2018, an increase from 7.9 percent the year before.
A standard criticism of Medicare-for-all, one that arises much more frequently than McDowell's eugenics comparison, is that it would be exorbitantly costly and reduce quality. Advocates counter these assertions with claims that the overall cost would actually be lower, pointing out that Americans currently pay more for health care than in any other developed country, often with inferior outcomes. The U.S. is also one of the only developed nations that does not provide universal health care to its citizens.
"Powerful people who say that Medicare for All is an 'impossible' idea usually stand to profit from defending our corrupt, corporate-run health care system," Sanders tweeted on Monday, defending his proposal.
As of September, a Kaiser Family Foundation health tracking poll found that 51 percent of Americans support Medicare-for-all, while 47 percent disapprove. Previous polls have shown that the proposal enjoys even wider support. A survey published by Hill.TV and the HarrisX polling company last October found that 70 percent of Americans supported the plan. A Reuters/IPSOS poll released in August 2018 found the same level of support, with even 52 percent of Republicans backing the policy.