Diamond and Silk Liken Democrats to Slave Owners During 'Fox and Friends' Interview
The conservative media stars Diamond and Silk appeared on Fox News's Fox & Friends Friday to discuss their hearing on Capitol Hill and likened Democrats to slave owners.
The women, whose real names are Lynnette Hardaway and Rochelle Richardson, came on the show to bat down allegations that they lied under oath. A Federal Election Commission filing said that the women received over $1,000 from the campaign of Donald Trump, for "field consulting," but the women said Thursday before Congress that the Trump campaign did not pay them.
Hardaway said that they were "not field consultants. We've never been paid by the Trump campaign."
The women said that the money was a reimbursement for flights that they took to join a "Women for Trump" tour and argued that they weren't field consultants per se and that the filing was misleading. The women said they had initially purchased the tickets themselves and never profited from the payment.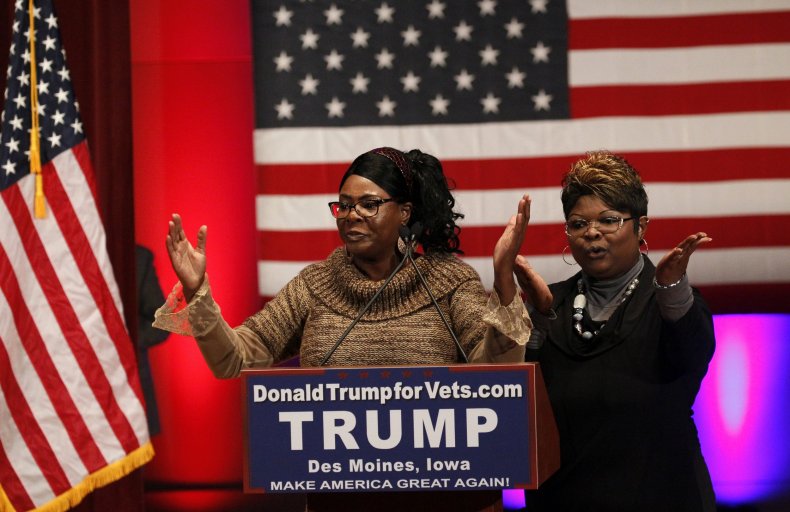 The pair then went on to liken Democrats to slave owners and objected to a line of questioning from Democratic lawmakers during the hearing.
"We are very thankful to the white Republicans that allowed us a seat at the table to speak our truth about what's going on, unlike the black men. And the reason why I say that is because we have been on the Democrat plantation," said Richardson also known as Silk. "We know what it's like over there. They are the ones that condition black people's minds to make us think that white Republicans don't want us to work, don't want us to have any money in our pocket, but it was a black man that was concerned about how much money Diamond and Silk was making and was appalled about us making money legally."
She appeared to be referencing Democratic Congressman Hakeem Jeffries of New York.
Some of the lawmakers asking them about the payments were black, as are Diamond and Silk.
The pair, who are sisters, appeared before Congress to discuss their allegation that Facebook had censored them over their boosterism for Trump and conservative values. They have said that beginning last year they weren't able to spread their videos on Facebook as easily or widely as they have before.
Facebook has said that they sent a message to the duo that read "your brand has been determined unsafe to the community," in error.
"We have communicated directly with Diamond And Silk about this issue. The message they received last week was inaccurate and not reflective of the way we communicate with our community and the people who run Pages on our platform," said Facebook in a statement to The Washington Post. "We have provided them with more information about our policies and the tools that are applicable to their Page and look forward to the opportunity to speak with them."