Fox Business Labels Paul Ryan as a 'RINO' After He Calls on Trump to Concede
Fox Business host Lou Dobbs referred to former House Speaker Paul Ryan as a Republican in Name Only (RINO) on Tuesday after Ryan said that President Donald Trump should concede the election.
Ryan, who joined the Fox Corporation board of directors in 2019, made the comments during a virtual meeting with the Bank of America's European Credit Union. Trump has refused to concede the election to President-elect Joe Biden, alleging widespread voter fraud. Trump's legal team filed lawsuits in some battleground states in an attempt to halt the ballot tabulation process. Most of that litigation was unsuccessful. Dobbs, a staunch Trump loyalist, has criticized Ryan's perceived disloyalty to the Republican Party.
Dobbs introduced Ryan's comments on Tuesday's installment of Lou Dobbs Tonight by describing him as "failed vice-presidential candidate, former Speaker of the House RINO Paul Ryan." Before detailing Ryan's remarks concerning Trump's concession, Dobbs described them as an "unsolicited analysis about this year's presidential election."
"I think maybe even more important is that these legal challenges to the outcome and the attacks on our voting system need to stop, in my opinion," Ryan said, according to Monday reporting by Politico. "The outcome will not be changed, and it will only serve to undermine our faith in our system of government, our faith in democracy."
"Are you kidding me?" Dobbs said after reading Ryan's statement. "A grown man talking like he's giving a sixth-grade civics address to the class." Dobbs added that Ryan's remarks helped explain why he "threw away" his election chances during the 2018 midterms.
Newsweek reached out to Ryan for comment.
Ryan chose not to run for re-election in his Wisconsin district in April 2018, expressing a desire to spend more time with his children after his retirement at the end of his term. Dobbs said at the time that Ryan should resign, claiming Ryan was "jeopardizing the entire slate of the House of Representatives as a lame-duck speaker."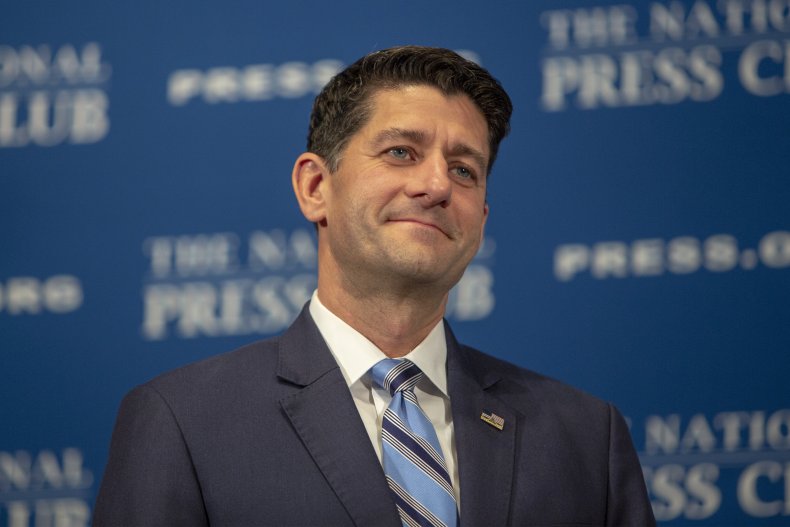 Ryan's remarks came the day after President-elect Joe Biden's transition teams were granted access to federal funding, workspace and meetings with officials by General Services Administration Administrator Emily Murphy. Murphy had been criticized for not ascertaining Biden as the likely winner of the election more quickly and holding off on allowing the transition to begin.
Utah Senator Mitt Romney, with whom Ryan had run for office in 2012, decried Trump's refusal to concede as "undemocratic."
"Having failed to make even a plausible case of widespread fraud or conspiracy before any court of law," Romney tweeted on Thursday, "the President has now resorted to overt pressure on state and local officials to subvert the will of the people and overturn the election. It is difficult to imagine a worse, more undemocratic action by a sitting American President."
Trump said in a Tuesday tweet that just because Biden's teams had been allowed to begin transition efforts, that did not mean he was conceding the election.
"Remember," Trump tweeted, "the GSA has been terrific, and Emily Murphy has done a great job, but the GSA does not determine who the next President of the United States will be."
According to the Associated Press, Biden received 51.1 percent of the popular vote to Trump's 47.2 percent in the 2020 presidential election.