Fox Business Guest Says Democrats 'Attempting to Replace' U.S. Conservatives With Undocumented Immigrants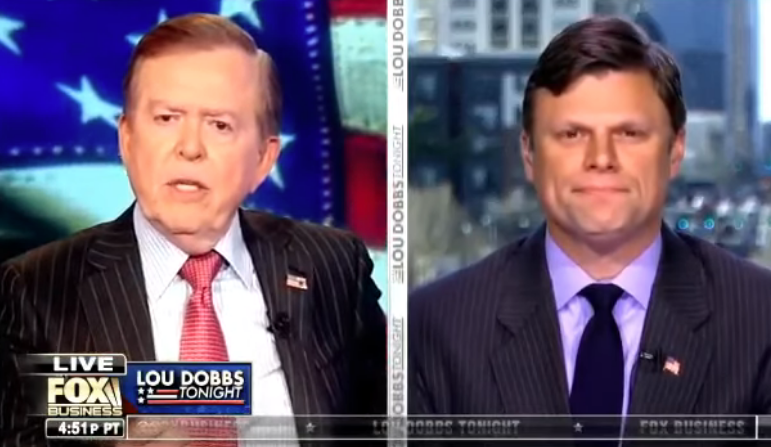 Fox Business Network host Lou Dobbs and a former Trump senior adviser complained Tuesday that Mexico is attempting to interfere in the 2020 elections by allowing undocumented immigrants to "invade" the country and vote.
Speaking on his namesake program Tuesday evening, Dobbs and former President Donald Trump and George W. Bush adviser Christian Whiton said the federal government isn't taking border security seriously enough, claiming the Department of Homeland Security and the Pentagon aren't doing their part to stop Central American migrants from crossing the U.S. southern border. Dobbs claimed immigration is "not a crisis for the Democratic Party" because liberal leaders believe the migrants will vote against Trump in 2020.
Whiton said Democrats are "attempting to replace us," suggesting white conservatives are having their votes overshadowed by waves of liberal-leaning undocumented migrants.
"It is not a crisis for the Democratic Party, it is the arrival of highly targeted, highly prized and appreciated future voters for the Democratic Party, in their judgment at least," Dobbs said on the Fox Business Network Tuesday. "[2020 voters should have] some concern over the extraordinary impact of illegal immigration, which might be construed as Mexican interference in our elections as they permit Mexican citizens and Central American citizens to cross illegally into the United States."
Acting U.S. Secretary of Homeland Security Kevin McAleenan recently urged Congress to give federal authorities the ability to detain families together, which he said could be accomplished with just "a few sentences of law." McAleenan also this week requested the legal authority to have unaccompanied children get "repatriated safely."
Dobbs touted Trump's approval rating among Hispanics, saying Latino voters frequently vote for Republicans on the local, federal and state level. A Marist/NPR/PBS Poll released in January, and shared by Trump himself, showed Trump's approval rating among Latinos at 50 percent, a 19 percent increase from the previous year.
However, the same survey also revealed 57 percent of registered Hispanic voters said they would "definitely" vote against Trump in 2020.
Whiton, a Senior Fellow at the Richard Nixon-founded Center for National Interest strategy group, told Dobbs he doesn't think DHS or the Pentagon are working hard enough to secure the U.S. border. He lamented ongoing foreign conflicts in Afghanistan and Syria while there is an "invasion" at the country's southern border.
"Particularly the Pentagon, which in many ways never really joined the Trump administration," Whiton said. "You have these generals who love their expeditionary operations, they're out in Syria, we've been in Afghanistan for 18 years, and we have a crisis on our own border, we have people invading our country and I would think that should be pretty high up—priority one, two, three, somewhere in there, and they seem completely oblivious."
Whiton took two shots at U.S. allies in Europe, complaining during the segment about immigration problems across the Atlantic and taking a shot at Britain, Germany and France for not supporting Trump's recently expanded Iranian sanctions.
"We've seen in this in Europe we're seeing it here. They're attempting to replace us with citizens that they think, or future citizens, that they think would be more amenable to voting for them," Whiton said.
Dobbs wondered how Democrats plan to take on "an already historic president" and asked, "has any incumbent president ever failed to win re-election with a record of achievement even close to that of President Trump?"
Dobbs and Whiton expressed their shock at recent reports that Mexican military troops "detained and disarmed" U.S. troops on American soil last week. "Wow," Dobbs exclaimed.
Whiton continued, "If you look actually at Latinos here legally, U.S. citizens, they're actually frankly, very similar to native-born Americans in their view of people ought to wait in line, there ought to be the rule of law, we cannot have open borders so I'm not sure this is going to work out the way the Democrats expect but that's what they're up to.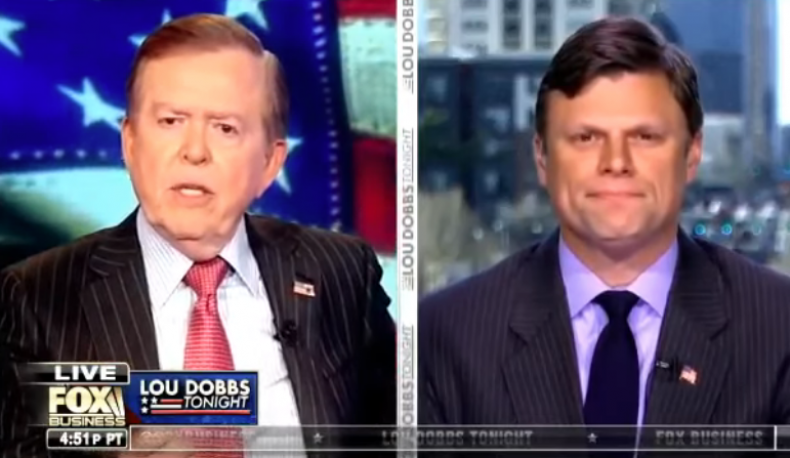 Dobbs, whose show is frequently watched by the president, tweeted Tuesday that Trump "is fulfilling his pledge—he said we're getting out of the Iran deal & cranking up sanctions. We stopped issuing waivers & that takes away $2B a month for the Iranian regime. This is a big step." Both he and Whiton applauded Trump's tougher stance in regards to punishing other countries which trade with Iran.
"If you're doing business with Iran, going from 1.2 to 1.7 million barrels a day down to just a couple hundred-thousand through smuggling that takes away $2 billion per month from the Iranian regime," Whiton said, before taking a swipe at several European allies. "So this is a pretty big deal, we're not getting any help from our friends in Europe: Britain, Germany and France working against us, but their companies are going to comply because they'd rather do business with us than Iran, and we might have to contend with some Chinese cheating, but this is a big step."