Fox Business Host Says Trump's China Tariffs Could Lead to Global Recession
Fox Business host Charles Payne attempted to be optimistic after the Dow Jones Industrial Average dropped fell over 700 points on Monday due to a massive sell-off in response to President Donald Trump's threat to add new tariffs to about $300 billion more of Chinese imports.
Appearing as a contributor on Fox News America's Newsroom on Monday, Payne cautioned viewers against selling prominent stock but also admitted that there "could" be a global recession if the president's threats were fully implemented. "I think most of what we're seeing is anxiety more than anything else," Payne said of the Wall Street sell-off.
The daily news show's co-host Sandra Smith pointed out to Payne, who hosts his own show on Fox Business, that multinational investment bank Morgan Stanley has warned of a "global recession," if Trump's threat to add 25 percent tariffs on the additional $300 billion of Chinese goods goes through. She questioned Payne about the banking giant's warning.
"It could, it could," Payne cautioned. "I mean, we'll see. A lot of people are hoping that maybe the backchannels [between U.S. and Chinese negotiators] are being used right now," the financial expert added.
Last week, the president threatened to escalate his trade war with China, which has now gone on for more than a year, by adding 10 percent tariffs on $300 billion more of Chinese imports on the first of next month. Trump's administration has already slapped 25 percent tariffs on some $250 billion of other Chinese products since last summer. The new tariffs would also increase to 25 percent over time, Trump warned, if China does not capitulate to U.S. demands in stalled trade talks.
Economists at Morgan Stanley warned on Monday that if Trump's threat were fully implemented and China were to respond in kind, a global recession would occur within nine months. "If the U.S. were to implement 25 percent tariffs on all imports from China for 4 to 6 months and China were to respond with countermeasures, we believe we would see the global economy entering recession in three quarters," their note said. The economists estimated that global economic growth could fall to a seven-year low by the end of 2019 if the situation escalates as Trump has threatened.
Additionally, experts told Newsweek last week that the cost of the trade war, if new tariffs are added, could be as much as $900 per individual household.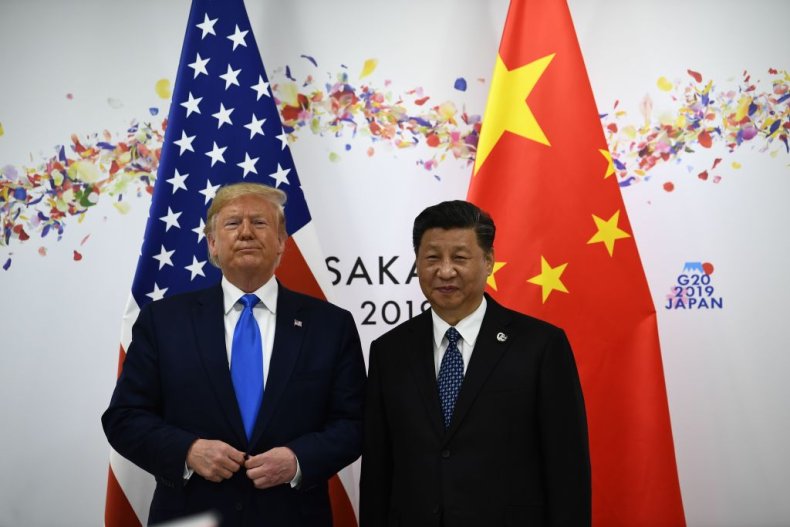 "What's really different about this next round of President Trump's tariffs is that they mostly hit goods bought by American consumers," Chad Brown, a trade policy expert at the Peterson Institute for International Economics (PIIE), said. "For the first time, this means higher costs of clothing, shoes, toys, and a lot of consumer-electronics."
The president has repeatedly claimed inaccurately that the cost of the trade war is being paid by the Chinese. Despite what Trump says, tariffs are paid by U.S. importers when the products arrive in the country. Those costs are then often passed on to consumers or businesses that purchase the products. Peter Navarro, Trump's director of trade and manufacturing policy, has made similar claims about the trade war's cost, despite data released by the administration's own Departments of Labor and Commerce showing how consumers have already begun paying higher prices.
The National Bureau of Economic Research published a report this spring, which examined data surrounding the impact of Trump's tariffs. That analysis found that the costs of the new import taxes were nearly entirely paid by U.S. consumers and importers.