Fox Business Host Agrees With Elizabeth Warren's Wall Street Take: 'Who Doesn't Kind of Think That's Right?'
Fox Business host Charles Payne says 2020 Democratic presidential candidate Elizabeth Warren's policy plans to regulate Wall Street have wide appeal among voters.
"She says a bank teller who takes a few twenties from a bank will face serious jail time [while] no one at Wells Fargo, including the CEO—who stole millions from Americans—did any time at all," Payne said during a segment on Fox News America's Newsroom on Thursday. "Who doesn't kind of think that's right?" he asked.
"You know, maybe the CEO of Bank of America should've gotten in more trouble instead of [getting] a bonus," Payne, who hosts Making Money with Charles Payne on Fox Business while also regularly contributing to Fox News, continued. The financial expert added that "Wall Street and Big Business are gonna have to figure out a way to push back" against Warren's "populist" message.
Earlier in the show, while laying out some of Warren's proposals, Payne claimed that the message Warren was sending to voters "cuts across income lines, it cuts across race, it cuts across a whole lot of things."
Warren, already a leading contender for the Democratic nomination, has been rising in the polls in recent weeks: An average of national polls compiled by Real Clear Politics currently has the Massachusetts senator in third place, after former Vice President Joe Biden and Vermont Senator Bernie Sanders. However, some of those individual polls put Warren ahead of Sanders: A recent Economist/YouGov survey showing her tied with Biden for first place with 26 percent support.
Warren and Sanders are widely seen as the party's most progressive candidates. But while Warren has firmly identified herself as a capitalist, Sanders refers to himself as a democratic socialist. To Warren, capitalism is something that needs to be regulated so it works for all Americans, not just the wealthiest and big businesses.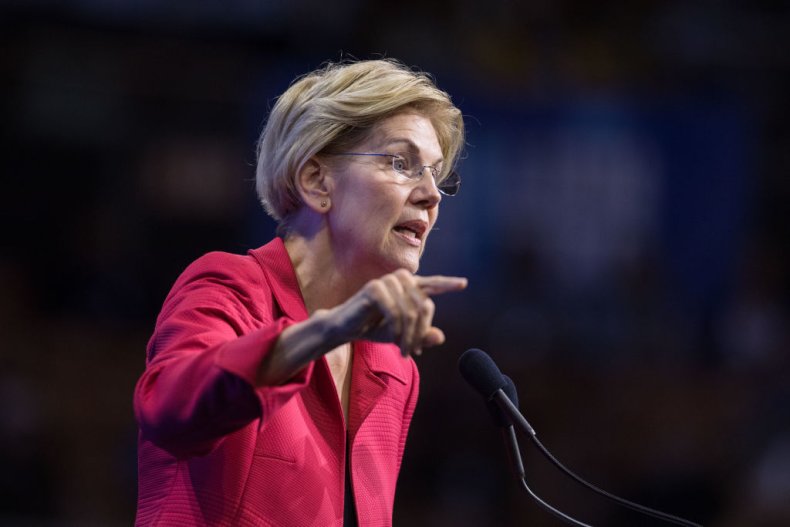 Among numerous other proposals aimed at addressing nationwide inequality, Warren has raised implementing an annual 2 percent wealth tax on earnings above $50 million, rising to 3 percent for wealth above $1 billion. Her campaign says such a policy would reap an impressive $3 trillion, though critics argue that wealthy Americans would simply find loopholes and move their money outside the country to offshore accounts.
Like Sanders, Warren aims to use the money from increasing taxes on the wealthy to fund programs like Medicare-for-all, forgive a significant chunk of student debt and make higher education free—or much more affordable, at least—for all Americans.
On Thursday, she unveiled a new proposal that would significantly expand social security—including an immediate increase of $200 a month to all recipients. To fund the plan, Warren has called for higher taxes on payroll and investment incomes for some of the nation's wealthiest.
Fox Business Host Agrees With Elizabeth Warren's Wall Street Take: 'Who Doesn't Kind of Think That's Right?' | U.S.