Fox Business Host Lou Dobbs Tells South Carolina Residents to Vote Against Lindsey Graham
Fox Business host Lou Dobbs spoke out against Senator Lindsey Graham's re-election in South Carolina, almost a week before the Republican lawmaker's competitive election.
The Tonight With Lou Dobbs host criticized the Senate Judiciary Committee chairman for "not subpoenaing the left-wing heads of the censorships Twitter and Facebook until after the election." It comes as Graham told reporters on Friday that the executives of the two largest social media platforms will testify on allegations of anti-conservative bias after the November 3 election.
"I don't know why anyone in the great state of South Carolina would ever vote for Lindsey Graham. It's just outrageous," Dobbs said. "This is the guy who keeps saying, 'Stay tuned.' He said he would get to the bottom of Obamagate with the Judiciary Committee, which has been a year and a half, actually longer, of absolute inert response to these pressing issues of our day."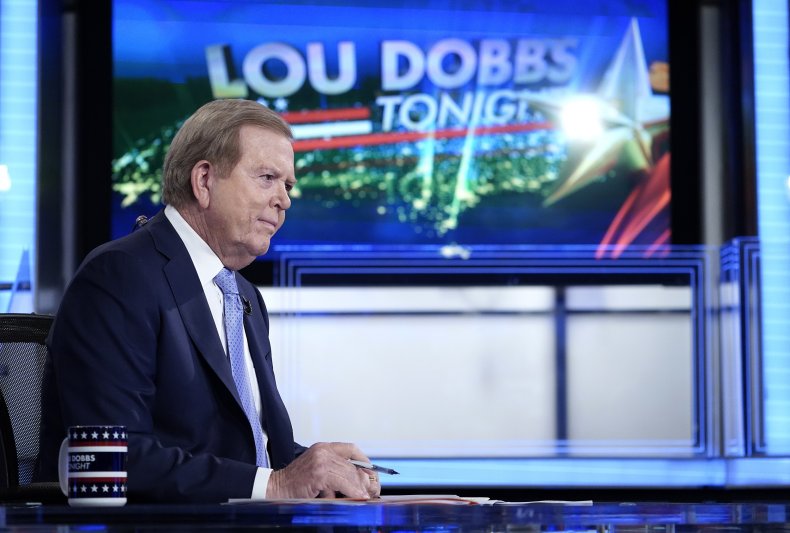 "Obamagate" is referring to the baseless conspiracy theory that former President Barack Obama spied on Donald Trump's 2016 campaign, which later morphed into allegations that the Obama administration masterminded the investigation into Russia's interference in the election.
Dobbs quoted Trump's criticism of Graham, who is one of the president's most vocal supporters, during the 2016 election.
Trump called the senator, running against him for the presidency at the time, "one of the dumbest human beings I've ever seen" and "a nut job." Dobbs said that the president's words still apply today.
"Graham has betrayed President Trump at almost every turn," he said. "He has betrayed the American people and his oath of office. He's done absolutely nothing to investigate Obamagate except to tell everyone 'stay tuned,' time and time again... Senator Graham needs to be tuned out in South Carolina."
The host's rant went viral on social media, gaining over 3 million views after airing on Friday night.
Graham's hotly contested Senate race against Democratic candidate Jaime Harrison has been considered a toss-up for a few months, with polling percentages getting narrower. This month, polls by Morning Consult and Data for Progress show Harrison in the lead by just 1-2 points, while a Siena College/New York Times poll shows the Democrat trailing behind Graham by 6-points.
The two candidates have gone head-to-head in fundraising throughout the Senate race. Earlier this month, Harrison's campaign announced that he raised a record $57 million from July to September, the highest quarterly fundraising total for any Senate candidate in U.S. history, while Graham raised $28 million in the third quarter. Graham has repeatedly suggested that his opponent's source of funds should be investigated.
Anti-Trump conservative group The Lincoln Project praised Dobbs' comments on Twitter.
"The Lincoln Project rarely agrees with Lou Dobbs, but today we join in his sentiments that South Carolinians should not re-elect the spineless, do-nothing dead weight Senator Lindsey Graham," the group wrote in a statement.
Newsweek reached out to Graham's campaign for comment Saturday.
The Senate Judiciary Committee voted to subpoena Facebook CEO Mark Zuckerberg and Twitter CEO Jack Dorsey a week after both platforms limited sharing of a controversial article that made claims against Democratic presidential nominee Joe Biden's son, Hunter Biden, and flagging it as spreading disinformation.
Democrats boycotted the hearing in protest of the committee's recent vote on the Supreme Court nomination of Amy Coney Barrett.