Fox Business Host Maria Bartiromo Leaving Twitter for Parler Over Platform's Censorship
Fox Business News host Maria Bartiromo announced on Thursday evening that she was leaving Twitter and joining Parler over the former social media platform's censorship policies.
"This is the same group who abused power in 2016. I will be leaving soon and going to Parler," Bartiromo wrote in a tweet. "Please open an account on @parler right away."
Bartiromo's comments come shortly after she had multiple tweets flagged by the social media platform for being "misleading about an election or other civic processes."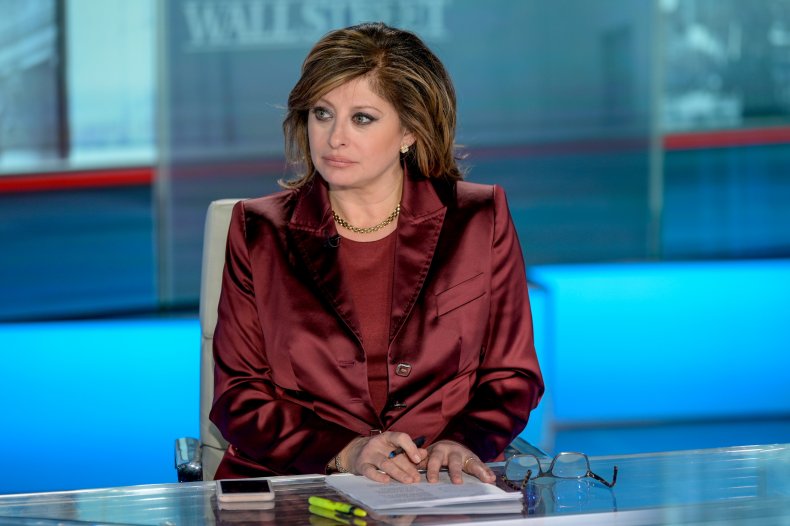 On Wednesday night, she shared an article published by The Federalist that had a headline which read, "Yes, Democrats Are Trying To Steal The Election in Michigan, Wisconsin, And Pennsylvania."
The host of Fox Business network's Mornings with Maria had another tweet flagged by Twitter on Thursday morning.
"4am dump/Wisconsin 65,000 votes 100% for Biden 4am dump/Michigan 138,499 votes 100% 4Biden," she wrote in the tweet. "AZ poll workers forcing voters to use sharpies thereby invalidated ballots. Trump leading in GA, NC, PA, WI, MI & they stop counting" before the vote fairy visits overnight..."
Newsweek reached out to Fox News for comment but did not receive a response in time for publication.
Parler is a new social media platform which allows users to, "Speak freely and express yourself openly, without fear of being 'deplatformed' for your views," according to its website.
Parler's CEO John Matze spoke with Bartiromo on Thursday and criticized Twitter and Facebook for their biased "editorialization" amid the 2020 presidential election.
"Once you start content curation and you start fact-checking, you're introducing bias and I don't think that there's any perfect group without bias, so in terms of being a platform for transparency and free speech, they've gone way too far," Matze said while appearing on Morning with Maria. "And in this election, we need more transparency and it's really important."
Matze also said that Parler allows users to talk "and get things out and be transparent without fact-checkers, without editorial bullies trying to tell you what to think."
In addition to Bartiromo, President Donald Trump has also had several tweets flagged by Twitter in the past several days.
Since Election Day, the incumbent Republican president has had seven out of 18 tweets flagged by Twitter, with the social media platform saying that, "some or all of the content shared in this tweet is disputed and might be misleading about an election or other civic process."
Shortly after announcing she was planning to leave Twitter, Bartiromo shared another tweet which featured an article from The Gateway Pundit, citing Bloomberg's recent report that Twitter will no longer give Trump special privileges on the platform if he is no longer the president in January.