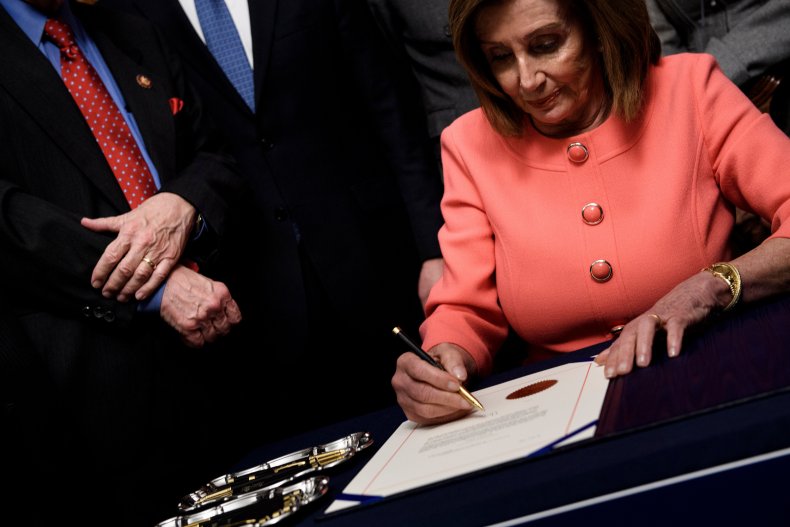 Fox Business host Maria Bartiromo published a tweet Thursday saying that the pens House Speaker Nancy Pelosi used to sign the articles of impeachment "look like bullet cases."
"These are the pens Nancy Pelosi used to sign the articles & she gave them out to colleagues. Wow they look like bullet cases," Bartiromo wrote with a picture of the pens, which has since been deleted.
Pelosi signed two separate articles, which were approved by the House of Representatives against President Donald Trump: one for obstruction of Congress and one for abuse of power. The articles stem from accusations that the president asked Ukraine officials to investigate former Vice President Joe Biden and his son Hunter. Trump is the third president in U.S. history to be impeached.
Bartiromo was not the only person to point out the House Speaker's pens throughout the signing process--others also touched on the fact that Pelosi handed them out to so many different people.
Distributing pens in Washington is not uncommon, but many felt that the act usually happens as a celebration when Pelosi handed them out during a much-more serious event.
"Nancy Pelosi's souvenir pens served up on silver platters to sign the sham articles of impeachment...She was so somber as she gave them away to people like prizes," White House Press Secretary Stephanie Grisham criticized in a tweet Wednesday.
Despite the attention surrounding the look of the pens and how they were distributed, both Trump and Pelosi have previously done similar things.
In 2017 after Trump signed the Republican tax bill into law, he offered the pens he used to members of the media. "I have some beautiful pens over here and because all of these folks are either continuing to work down the road or getting ready to leave, and I'm sure they'll be working very hard also, I think I'm probably going to hand some of them to the press," the president said after signing the legislation.
This past November, Pelosi used multiple pens and handed them out to her colleagues after she signed the Hong Kong Human Rights and Democracy Act. A video of the signing was posted to Twitter by CNN reporter Haley Byrd, in which Pelosi can be seen using a number of pens to sign the bills and proceeding to hand them out.
Fox News did not reply to a request for comment from Newsweek.