A co-host on President Donald Trump's favorite morning news program said Wednesday the attorney for former Trump "fixer" Michael Cohen was trying to smear the president as retribution for Trump's defeating Hillary Clinton in the 2016 election.
Fox & Friends's Brian Kilmeade, who has previously both praised and challenged Trump, was referring to Michael Cohen's attorney Lanny Davis and his previous work for President Bill Clinton.
It was Davis who handed over to CNN an audio recording Cohen had made of Trump allegedly discussing a payment to former Playboy model Karen McDougal to silence her claim of an affair with Trump between 2006 and 2007.
"And Lanny Davis is best friends with Hillary Clinton, probably took the loss harder than anyone else, is just relishing in the fact that he can take some type of shot at the president," Kilmeade said on the Fox News show. "Not that he's not a fine lawyer, very experienced, but he's making Michael Cohen seem to be Mother Teresa. And it is, just the beginning of, I guess, Lanny Davis's attempt to pay back Hillary Clinton or try to pay back Donald Trump for beating Hillary Clinton."
Following the recording's release Tuesday evening, Davis spoke to CNN and said Trump and his attorney Rudy Giuliani "fear" Cohen because he knows the "truth."
"What is this about? This is about honesty versus false disparagement of Michael Cohen. Why is Giuliani out falsely disparaging Michael Cohen—because they fear him," Davis said.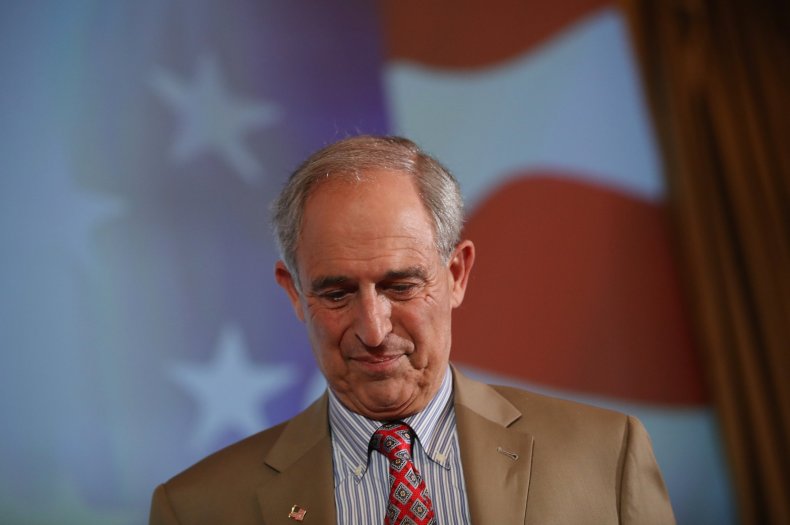 Davis also explained why he was working for Cohen and said it was Trump who proposed paying cash for McDougal's story. The $150,000 payment was made by American Media Inc. the publisher of the National Enquirer, in August 2016. The company's chairman, David Pecker, is a longtime friend of Trump's.
"What do they fear, Chris? Why am I representing him? Davis asked. "They fear that he has the truth about Donald Trump. He will someday speak the truth about Donald Trump. The truth is that when Donald Trump said 'cash,' which Rudy Giuliani knows that only drug dealers and mobsters talk about cash, it was, you heard Michael Cohen...say what? 'No, no, no, no.'"
Cohen recorded Trump in September 2016, and the tape is one of 12 that were seized by federal investigators following a raid on Cohen's hotel room, residence and office in April. Legal experts have explained it was not illegal for Cohen to record his client, but it may have violated lawyer-client ethics.
Cohen has not yet been charged by the federal government, but his actions and words in recent weeks have indicated he might be willing to work with prosecutors who are investigating his businesses and the payments made to McDougal and adult film star Stormy Daniels.
Trump responded to the recording with a tweet Tuesday morning.
"What kind of a lawyer would tape a client? So sad! Is this a first, never heard of it before? Why was the tape so abruptly terminated (cut) while I was presumably saying positive things? I hear there are other clients and many reporters that are taped - can this be so? Too bad!" the president said.