Pressed for Specifics, Sanders Fumbles at Michigan Town Hall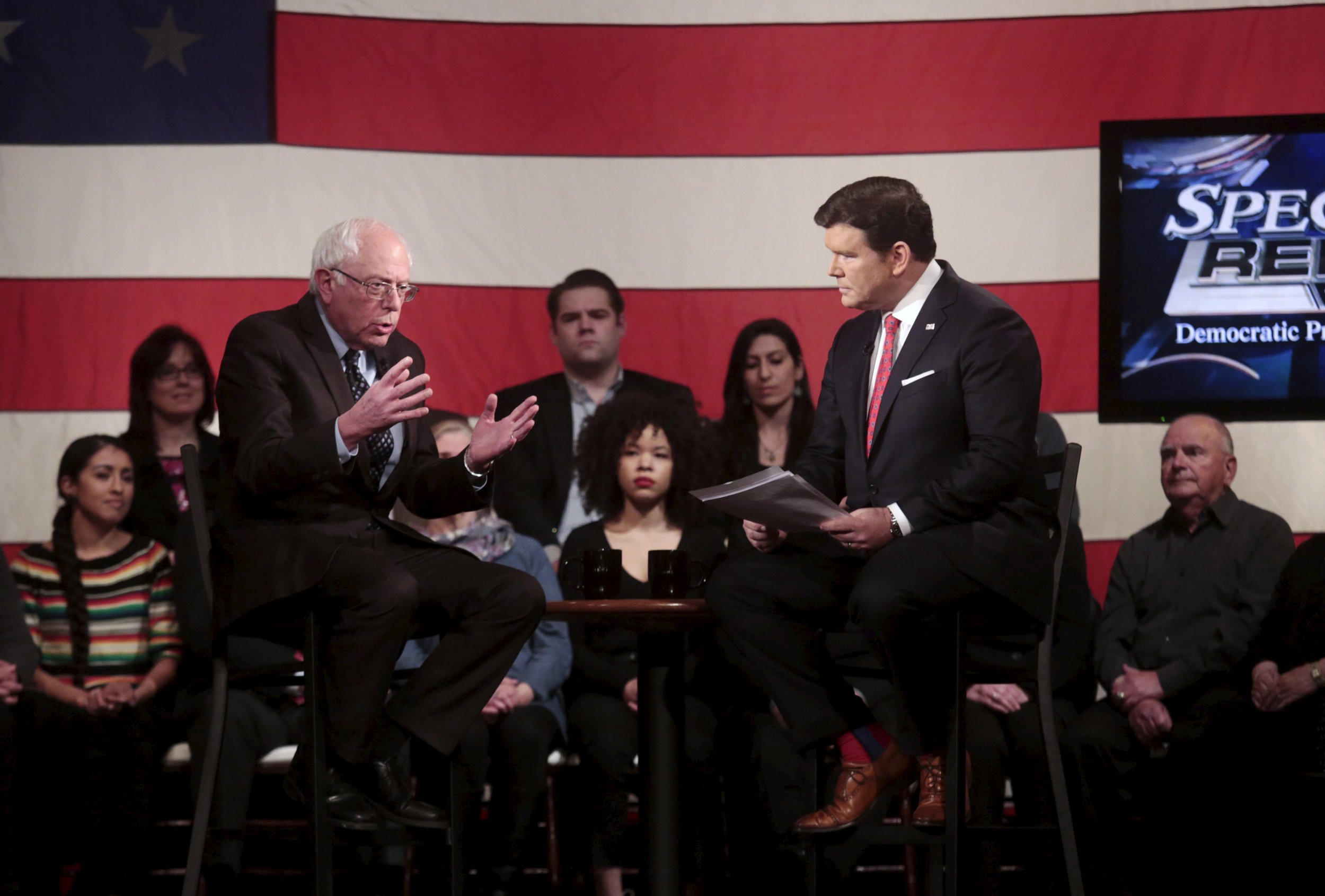 Vermont Senator Bernie Sanders is very good at detailing what he is against -- income inequality, Wall Street greed and money in politics, to start. But the dark horse Democratic candidate still struggles with how he will counteract those problems, as skeptical Michigan voters laid bare on Monday night.
At a Fox News town hall in Detroit, Sanders fielded question after question from audience members who wanted to hear how he planned to carry out some of his ambitious policy proposals -- a tougher barrage than he often faces in news interviews or the debate state. The senator, who is trailing former Secretary of State Hillary Clinton in the contest for primary delegates, didn't offer them much in the way of tangible answers.
Pressed by a Michigan doctor on how he plans to navigate the transition between the 2010 Affordable Care Act and a single-payer universal healthcare system he favors, Sanders replied that what he wanted to do is expand Medicare to all Americans. When that didn't satisfy his questioner, who wanted to know how he would conduct yet another health care overhaul, the senator' retorted: "that's what Secretary Clinton is trying to frighten people about."
When a college student, raised questions about how the senator would enact his policies with a conservative Republican Congress. Sanders repeated his talking point about sweeping in a political revolution. "What we need are millions of people ... to come together and demand that we have a government in this country that represents all of us and not wealthy contributors."
Fox News host Bret Baier followed up: "How do you convince the Republican Congress to do exactly opposite of what they believe?"
"If I become president it will mean … massive voter turnout," Sanders rationalized, "If that happens the Republicans will not continue to control the United States Senate, they'll have a lot less seats in the House." But as the senator well knows, there's plenty of levers for obstruction and delay in Congress, even for a minority party.
Where Sanders opted to gloss over the process questions, Clinton eagerly embraced them. At one point, the Democratic frontrunner told the crowd she had a plan to rein in higher education costs, and was briefly startled when someone in the audience shouted, "What is it?"
It only took a moment, however, for Clinton to dive into the specifics, once Baier indicated she had time. "I call it the new college compact," Clinton began, detailing how she wanted to bring costs and spending down to help ensure debt-free public education. "When Senator Sanders says free college with no pressure on the universities and colleges to lower their costs, I think that will only make it more expensive," she said.
Clinton also faced some tough questioning, though hers came from the host. Baier opted against any Benghazi questions, but he did probe Clinton's support for American military action in Libya in 2011 and the subsequent power vacuum there, which has allowed ISIS and other extremists to gain a foothold in the country. Clinton argued that if the United States and its European and Arab allies hadn't intervened when they did, "we would be looking at something much more resembling Syria now." But she also conceded that the U.S. government could be doing more to help resurrect Libya.
Baier also lobbed a series of questions about Clinton's long-running email saga, which has raised questions about her handling of classified material while secretary of state. She's still struggling to offer coherent answers. But her latest explanation made a little clearer how she believes it's more about bureaucratic infighting than national security. "I echo Colin Powell in this, release it," Clinton said, referring to another former secretary of state whose emails have been retroactively classified. "Others will see how absurd it is" to classify the material.
The issue will continue to dog her, though less in her Democratic primary with Sanders, where voters aren't terribly concerned about her emails. On Monday night, they were much more interested in how exactly the candidates planned to deliver on their promises. At this point, Clinton has a decided edge on that front.