Fox & Friends Tells 'Miss Congresswoman' Alexandria Ocasio-Cortez to Redistribute Her Own Salary, Capping Salary Among Staffers Is 'Socialism and Communism On Display'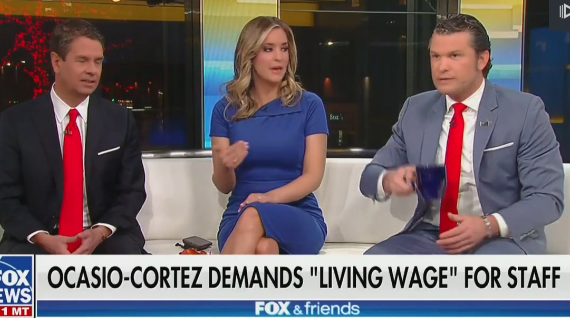 Fox & Friends hosts combined two of their favorite targets Sunday, socialism and Alexandria Ocasio-Cortez, ridiculing her decision to "redistribute" her office's finances to provide staffers livable wages.
The Fox News Sunday morning show co-hosts — Griff Jenkins, Pete Hegseth and Katie Pavlich — all took shots at the New York Democrat's recent announcement that "leadership starts with our choices," and that she is choosing to pay everyone on her staff at least $52,000 a year. While many Democrats applauded this seemingly selfless decision, the Fox News crew suggested she "redistribute" some of her own $174,000 salary to her office staffers instead of moving money down from her higher-level staffers.
In order to accomplish moving some of this pay down to entry-level staffers, Ocasio-Cortez has requested to cap her higher-level staff salaries at $80,000, which is much less than the $154,000 median salary for Washington office chiefs of staff.
Fox News' Hegseth immediately took the side of the wealthier workers on Ocasio-Cortez's staff, complaining she is putting "communism" into full view in 2019 Washington D.C.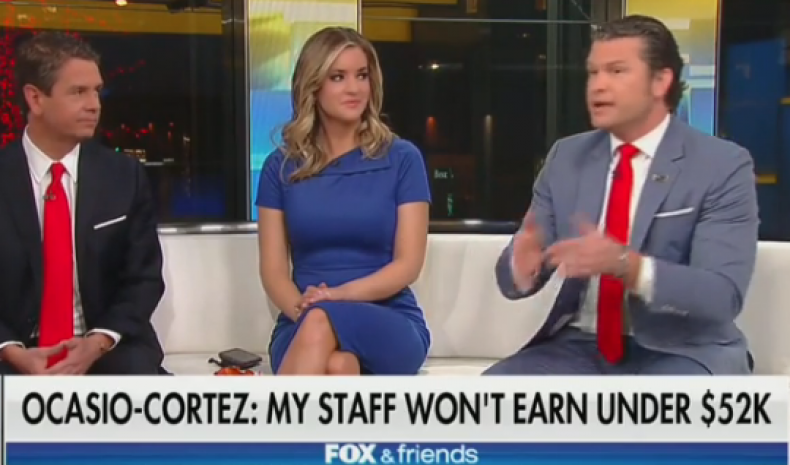 "Every Capitol Hill office has a limited amount of money to pay their staff so you have to decide how to allocate it," Hegseth began. "She said 'everyone in my office will pay a living wage, so I'm going to pay $15 an hour,' which means your entry-level intern is making $52,000 while your chief of staff, who has a very important role in a congressional office, now is capped...so everyone is between 52 and 80 — it's actually socialism and communism on display."
Fox & Friends co-host Pavlich chimed in to remind viewers Ocasio-Cortez is only being generous with taxpayer money.
"I'm fine with her moving money around in her office," Pavlich said. "But let's not forget where that comes from. They are not making that money in her office. They're not running a business and making a profit. That money comes from taxpayers and was given to her office, and she can move it around."
In December, Ocasio-Cortez shook up Washington D.C. politics after announcing all the interns in her office would make $15 an hour plus benefits — a rare choice for young Capitol Hill workers. "We think that if a person is working, they should make enough to live," said Corbin Trent, Ocasio-Cortez's communications director, in a statement to Roll Call.
Hegseth then took another shot at the Democratic Socialist freshman representative's own salary, labeling her "Miss Congresswoman."
"She makes $174,000 as a congresswoman. She should probably redistribute some of that will you share some of that money, Miss Congresswoman, with the rest of your staff who is not making as much as you?," Hegseth said.