Fox News Host Claims Robert Mueller Doesn't Know What's in His Own Report
Fox & Friends co-host Brian Kilmeade claimed special counsel Robert Mueller likely has no idea what the details are of his own 400-plus page report in an attempt to dismiss testimony he's set to give Congress next month.
Kilmeade joined Fox & Friends co-hosts Steve Doocy and Jedediah Bila in preemptively defending President Donald Trump from potentially damning testimony from Mueller after House Democrats announced Tuesday he will testify under subpoena on July 17. The Wednesday morning Fox News crew played a clip of Republican Senator Lindsey Graham saying the Mueller testimony will backfire on Democrats before Kilmeade chimed in to say Mueller hired people to write the report and will need to study the team's findings before he speaks to the House Judiciary and Intelligence committees.
The Fox & Friends hosts along with several top Trump allies say Republican lawmakers will finally get a chance to question Mueller on whether or not the entire investigation was a top-level Democratic Party "conspiracy" from the start.
"Yes, well we'll see. One thing is pretty clear," Kilmeade began Wednesday morning. "They're gonna ask Robert Mueller, too. How did it make you feel when the president of the United States said that you're compromised or how did it make you feel when the president of the United States kept attacking the process? What did you think about the rumors he was going to fire you?
"The other thing I have a sense of, and he's got until July 17 to bone up on it, I don't think he knows the details of the report," Kilmeade added.
"He better, his name is on it," a seemingly baffled Doocy shot back.
"He's like the King of England on this," Kilmeade continued, making the case that Mueller's hired staffers and surrogates actually created the report bearing his name. "He assigns the people, they're gonna say why are most of them Democratically affiliated? Aren't you concerned about the perception if you hire people like that to do this job? Do you understand why some feel there was an agenda in there?"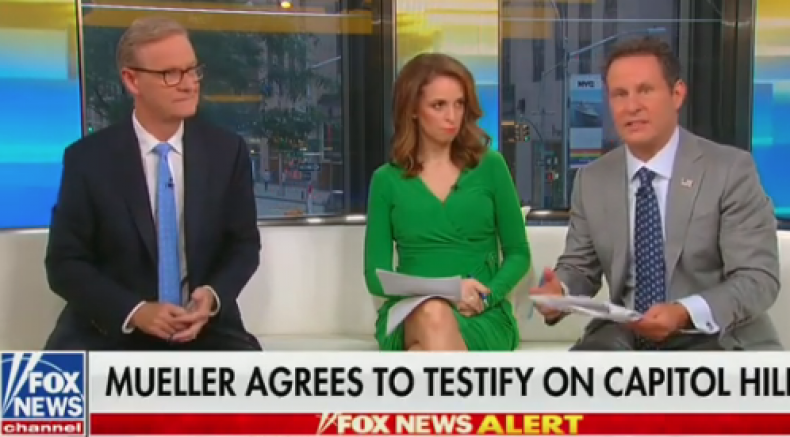 Fox & Friends co-host Bila later added: "If he doesn't know [the report] now, I'm pretty sure he's sitting with a highlighter going over it because he's gonna want to make this his moment."
"The bottom line is, after all of your looking and all the time you had and all the money you spent, did Trump collude with the Russians? No. Do you stand by your report? Yes," said South Carolina GOP Senator Graham to Fox News' Sean Hannity Monday night. "It is 'case-closed' for me. They can do anything they want to in the House, and I think it will blow up in their face."
Attorney and Fox News contributor Alan Dershowitz appeared on Laura Ingraham's show Monday night to suggest Mueller's own words on who started the Russia investigation—suggesting the Christopher Steele dossier and the surveillance warrants—may be something Democrats don't want to hear said publicly.
"He can't refuse to answer questions about the FISA application," Dershowitz told Ingraham Monday night, referencing a court request to place surveillance on Trump's 2016 campaign.
"Those are the kind of questions that I think Republicans will be very well prepared to ask," Dershowitz continued. "Those are the kind of questions which are currently under investigation by the inspector general whose report we are waiting for. But those are not in any way precluded. So I think that they will regret having called him."
"I sense this ping pong could go the other direction," Kilmeade concluded on Fox News Wednesday morning.