Fox News Hosts Say Nancy Pelosi Outplayed Donald Trump Over Border Wall, Government Shutdown: 'What A Stunning Turn of Events'
Fox & Friends hosts commented on the "stunning turn of events" as Donald Trump appears to be backing off his demands for $5 billion in border wall funding amid a potential government shutdown.
"Just last week the president of the United States was in the Oval Office with Chuck and Nancy and he said, 'I would be proud to shut down the government,'" host Steve Doocy said on Wednesday morning. "And now it's like, 'You know what, we're looking in other departments for the money.'"
During that intense Oval Office discussion between Trump, House Minority Leader Nancy Pelosi and Senate Minority Leader Chuck Schumer, the president said that it would be worth shutting down the government if he did not receive $5 billion to build his long-promised border wall between the United States and Mexico. Democrats agreed to give Trump $1.3 billion for border fencing and barriers, but the president insisted he wouldn't budge.
"I will be the one to shut it down," Trump said during the televised meeting. "I'm not going to blame you for it."
But as Friday's deadline for Congress to pass a spending bill came nearer, the White House signaled that the president may be more open to negotiation with lawmakers. On Tuesday, White House press secretary Sarah Huckabee Sanders told Fox News that the Trump administration had found an alternative way to get border wall funding.
"At the end of the day, we don't want to shut down the government, we want to shut down the border," Sanders said.
Now, Trump is asking all federal agencies to find extra money that can be used to build the border wall.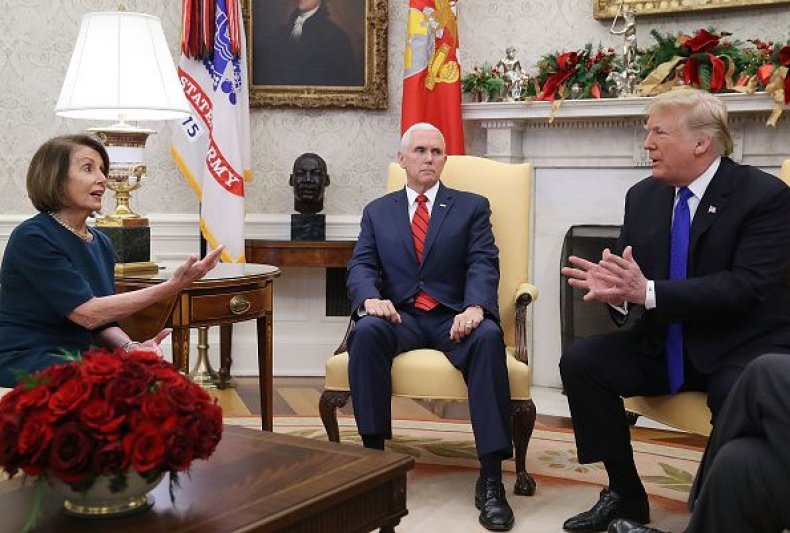 If an agreement isn't reached between the president and lawmakers by Friday, Congress can pass an emergency continuing resolution to keep all federal agencies up and running. But if that turns out to be the case, Doocey noted, Trump may not get the $1.3 billion in border wall funding offered by the Democrats.
"He loses and the Democrats will win everything they want," Doocey said. When asked if this reversal is seen as a win for Pelosi, who will become the next House Speaker in January, Doocey responded, "Yes, she was right."
Trump has still not indicated if he will compromise with lawmakers to keep the government operating. But on Wednesday morning, he tweeted that "one way or another" the wall will get built.