Fox & Friends Host Says He Doesn't Understand Donald Trump's Russia Witch Hunt Tweet
On the morning of President Donald Trump's meeting with his Russian counterpart Vladimir Putin, Fox & Friends host Brian Kilmeade said that he did not understand one of Trump's tweets.
Fox & Friends, a show Trump appears to tune into many mornings, is known for its boosterism of the president. Kilmeade, however, questioned a tweet from the president about the relationship between the United States and Russia.
"Our relationship with Russia has NEVER been worse thanks to many years of U.S. foolishness and stupidity and now, the Rigged Witch Hunt!" Trump tweeted ahead of his meeting with Putin.
Later Monday, Kilmeade called the tweet into question.
"I like the president's tweets," said Kilmeade. "But what I don't understand is this tweet … it's really not our foolishness and stupidity. They might not like the things we're doing—but would you really say foolishness and stupidity is a correct characterization?"
The question was posed to one of the show's guests, former Speaker of the House Newt Gingrich.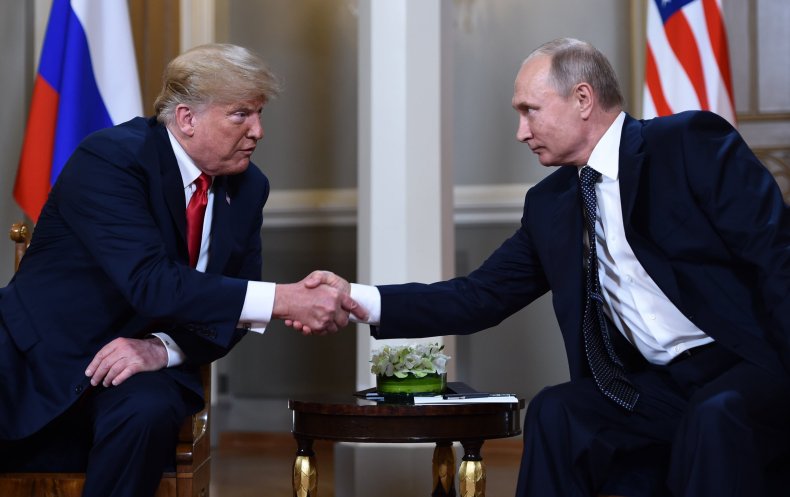 "I'm not going to try to rewrite the president's tweets," said Gingrich. "I think there's been a lot of weakness."
Gingrich went on to speak about Putin, a former KGB agent, saying that he "deeply deeply dislikes the United States and feels very bitter that we won the Cold War and then had the audacity to say we won it."
Trump's meeting with Putin has been viewed as controversial. The Justice Department announced indictments against 12 Russian agents Friday for hacking the Democratic National Convention and the presidential campaign of Hillary Clinton.
The indictments came from the ongoing investigation of Russian meddling in the presidential election led by special counsel Robert Mueller. Trump has often disparaged the Russia investigation.
Trump on Friday promised to tackle the issue of Russian meddling in the election with Putin during his meeting in Finland, but did not project high hopes that anything definitive would come from it.
"I will absolutely, firmly ask the question," said Trump. "I don't think you'll have any 'Gee, I did it, I did it, you got me.' There won't be a Perry Mason here, I don't think, but you never know what happens, right?"
Friday's indictments bring the total criminal charges stemming from Mueller's investigation up to 191 counts, according to Time. That includes counts against people involved with Trump's campaign such as former his campaign manager, Paul Manafort and his former national security adviser Michael Flynn.