Trump, 'Fox & Friends' Hosts Mock Low Attendance at Impeachment Rallies: 'Womp, Womp'
Sunday's Fox & Friends mocked the attendance levels at several rallies this weekend calling for the impeachment of President Donald Trump, with the president himself giving the Fox News hosts a shout-out and quoting a Pennsylvania counter-protester who called Trump "the greatest president since Ronald Reagan."
The Sunday morning Fox News crew didn't have to wonder too long about how Trump was spending Father's Day after he quoted host Jedediah Bila ridiculing Saturday's Impeach Trump day protests in several U.S. cities and towns.
Bila, who offered the thoughtful critique of "womp, womp" about the rally attendance numbers, weighed in on a brief segment congratulating the news media for "admitting" there was low turnout at anti-Trump rallies in New York City, Boston, Los Angeles, Portland and Bethlehem, Pennsylvania.
Co-host Ed Henry claimed anti-Trump protesters had long pinned this weekend as the time to finally rally for wider impeachment support, but that Saturday events "fell flat." The Fox & Friends hosts highlighted several news outlet headlines which described the more than 140 nationwide anti-Trump protests this weekend as poorly or moderately attended.
Newsweek subscription offers >
"A couple of headlines for you, you know the media would love to fawn over these," added co-host Pete Hegseth, who just hours before, Trump personally offered "congratulations" to for his recent engagement to Jennifer Cunningham. "There's hardly anyone there, I can barely see it. There's more pavement than people."
Among the headlines pointed out was The Los Angeles Daily News, writing, "Pro-impeachment rallies are scattered across Southern California, all relatively small and calm." The Oregonian newspaper wrote, "'Impeach Trump' rally in downtown Portland draws small crowd." And Lehighvalleylive.com highlighted a quote from a counter-protester calling Trump the "greatest president since Ronald Reagan," which the president himself replied to via Twitter Sunday morning.
"Yesterday was the Radical Left Democrats big Impeachment day. They worked so hard to make it something really big and special but had one problem - almost nobody showed up," Trump tweeted the morning of Father's Day.
"'The Media admits low turnout for anti-Trump rallies." @FoxNews "All around the Country people are saying enough. Democrat voters want to hear the politicians talking about issues. This is a huge distraction and will only help Donald Trump get elected." @JedediahBila "Greatest President since Ronald Reagan" said a counter-protester. LehighValleyLive."
As the Lehigh Valley news outlet reported, there were dozens of anti-Trump protesters calling for impeachment in Bethlehem Saturday and only the one counter-protester.
"My biggest concern as a former Republican is that our country was and is under, as Mueller put it, a serious systematic attack and they never stopped. It's continued," local rally organizer Bill Bekkenhuis, 65, of Bethlehem, told Lehighvalleylive.com "The second thing is he is taking a wrecking ball to not just the unwritten traditions and norms of democracy, but the actual institutions themselves, you know, like the rule of law."
Hegseth went on to mock billionaire Tom Steyer for spending millions trying to rally support for impeachment "and your culmination weekend is a couple of folks with signs?"
The Sunday Fox & Friends segment noted a poll released last week from Quinnipiac University showing only 33 percent of registered voters agreed Congress should begin the impeach process, while 61 percent said Congress should not.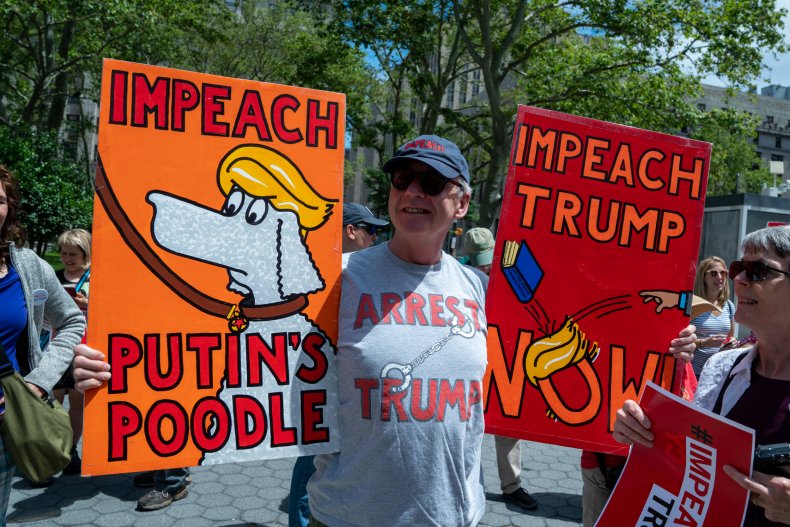 "Impeachment is a great discussion among politicians but voters across the country, they're just not interested and I think they're exhausted from this story, they want to talk about issues and Democratic voters don't want Democratic politicians focused on this."
Henry concluded the segment by highlighting an Axios discussion with Obama voters-turned-Trump voters who all "could care less" about Special Counsel Robert Mueller's report in favor of hearing about trade and tariffs. Hegseth offered his own anecdote about speaking with voters at "diners."
"When you get talking to even Democrats and liberals, even they're over it. There's a lot of smoke and mirrors, a lot of heat, but not a lot of light, like a lot of yelling about it from folks on Capitol Hill who say they want to do that, presidential candidates say 'hey I want to do it,' [but voters don't]" Hegseth said, before acknowledging he doesn't know what the phrase "a lot of heat but not a lot of light" means "but it sounded good."
Trump, 'Fox & Friends' Hosts Mock Low Attendance at Impeachment Rallies: 'Womp, Womp' | U.S.