On Monday, the hosts of the Fox News morning program Fox & Friends—a favorite of President Donald Trump—defended the president against recent stories involving Russia. This, of course, came amid special counsel Robert Mueller's ongoing probe into whether Trump or his campaign conspired with Russia.
Over the weekend, the The New York Times reported that the FBI had opened an inquiry into whether Trump was working on behalf Russia after he fired FBI Director James Comey in May 2017. Soon after, The Washington Post reported that Trump had taken the interpreter's notes from a meeting Trump had had with Russian President Vladimir Putin and instructed the interpreter not to share details of the meeting. "Trump has concealed details of his face-to-face encounters with Putin from senior officials in administration," The Post headline read.
Fox & Friends host Steve Doocy brushed that report aside.
"As it turns out, the president simply didn't like leaks," he said, via a clip posted to Mediaite. "Remember, the president had only been in office a couple of weeks, The Washington Post had on its front pages all the details of his private conversation with the Australian prime minister, where he hung up about 35 minutes later—35 minutes early. So clearly, the president didn't like leaks. And to reiterate what a lot of people have said about this story since then: This is not a conventional president."
Host Ainsley Earhardt interjected that White House press secretary Sarah Huckabee Sanders said it was an absurd idea that Trump would have concealed information about the Putin meeting from his administration.
"Yeah, it is," host Brian Kilmeade said, agreeing with Sanders. "And it also has a pattern. The president met with President Xi [Jinping] in private at Mar-a-Lago. The president met with Kim Jong Un in private in Singapore. That's the way he does things."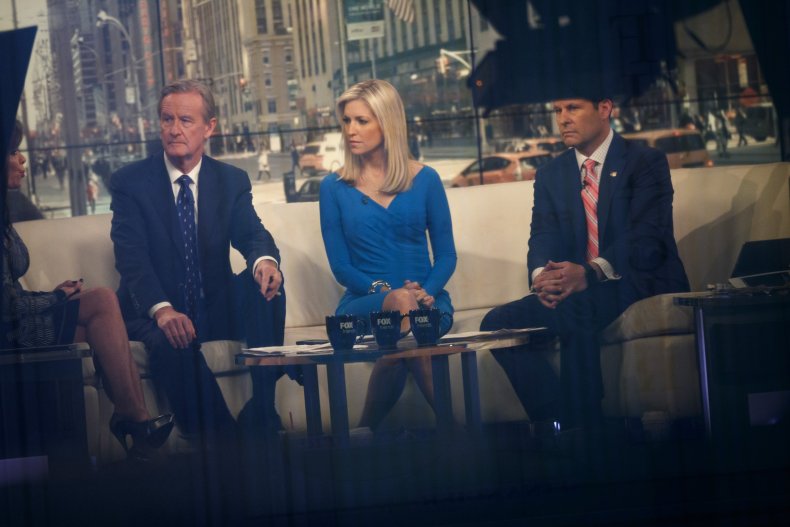 Over the weekend, Trump called into the Fox News show hosted by Jeanine Pirro, who has been a devoted ally of the president. She asked him if he worked for Russia and he didn't answer directly, saying instead, "I think it's the most insulting thing I've ever been asked," which reportedly irked some in the administration, who thought he should have directly denied it.
Trump issued a more straightforward denial about being a Russian asset on Monday while talking with reporters.
"I never worked for Russia," he said. "And you know that answer better than anybody. I never worked for Russia. Not only did I never work for Russia, I think it's a disgrace that you even asked that question because it's a whole big fat hoax. It's just a hoax."