'Fox & Friends' Host Ainsley Earhardt Praises Trump for Carrying Wads of Cash: 'I'm Glad… It Reminds Me of My Dad'
Fox & Friends host Ainsley Earhardt on Wednesday praised Donald Trump for carrying cash after a Reuters photographer captured an image of the president walking aboard Air Force One earlier this week with what appeared to be a wad of bills in his back suit pocket.
When asked by reporters on Wednesday night about the image and whether he regularly carries cash in his back pocket, Trump said, "I do! I do!" and pulled out a wad of notes from his pocket as proof. The president explained that he doesn't use a wallet because he seldom uses credit cards anymore so he carries cash for hotel tipping purposes.
"I don't carry a wallet, because I haven't had to use a credit card in a long time," he said. "I do like leaving tips to the hotel. I like to carry a little something. I like to give tips to the hotel. I'm telling you, maybe a president's not supposed to do it, but I like to leave a tip for the hotel, etc., etc."
"Oh, that's funny. So the jacket was blowing up?" Trump added. "Boy, that's a good picture. Hey, I'd like a piece of that picture.​"​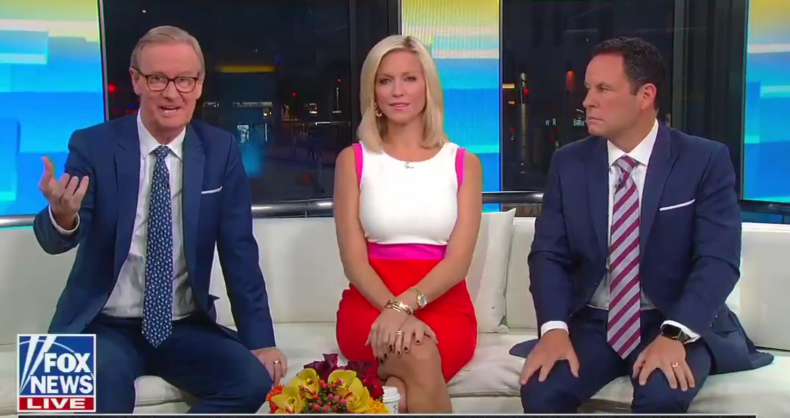 Early the next morning, the hosts of Fox & Friends discussed the incident live on air.
"The president was asked on Air Force One, 'Hey Mr. President, do you keep money in your back pocket?' and he reached into his back pocket and pulled out a great big wad of bills," co-host Steve Doocy said. "And they said, 'When was the last time you've ever had to pay for anything.' And he goes, 'It's been a while, but I do like to leave tips in hotels,' which is what we were talking about the other day."
Earhardt took the opportunity to offer some praise to the president for carrying cash. "Nice. Yes, we were saying that many people don't know, you're supposed to leave a tip for the cleaning people," she said.
"Especially when you're president," Doocy interrupted.
"Most underappreciated people in the hospitality business," co-host Brian Kilmeade added.
"You know what, our generation, a lot of people don't use cash, you use cards," Earhardt continued. "So I'm glad the president does that. It reminds me of my dad. My dad always had cash."
She added: "He always does have cash."
Although Fox News is the president's preferred cable network, Trump has lashed out at the channel in recent months over their political polls and some of their pundits. "Fox is a lot different than it used to be. I can tell you that," the president told reporters in New Jersey last month. "Fox has changed, and my worst polls have always been from Fox. There's something going on at Fox. I'll tell you right now. And I'm not happy with it."