Fox News Host Says Transgender Asylum Seeker 'Showed Up With AIDS' at US Border
Fox & Friends co-host Brian Kilmeade stoked Mexican border immigration fears on Wednesday's show, claiming an El Salvador asylum seeker, who officials say tested positive for HIV while in U.S. custody before dying of unknown causes, "showed up with AIDS."
Kilmeade was referencing the Saturday death of Johana "Joa" Medina León, 25, a transgender Salvadoran who was seeking asylum and was detained on April 11 by U.S. Immigration and Customs Enforcement after processing at the Paso Del Norte border crossing. On May 28, Medina León requested an HIV test and tested positive. According to ICE, that same Tuesday her case was reviewed, she was paroled and she was taken to an El Paso, Texas, hospital after complaining of chest pains. She died four days later but officials have not released a cause of death.
Testing HIV positive is recognized as a potential basis for seeking asylum and civil rights activists reported she was denied repeated requests for medication.
ICE issued a statement saying it provided Medina León with "comprehensive medical care" after her repeated requests for medical attention upon arriving in the U.S.
But Kilmeade's claim that Medina León arrived at the border "with AIDS" is unfounded. HIV is the virus that can lead to the development of the condition AIDS, but being HIV positive does not mean that person has AIDS.
Kilmeade's AIDS comment came as he told Congress to stop the flow of migrants to the U.S. border with Mexico.
"How remarkably un-self-aware [sic] Congress is," Kilmeade said. "They caused this mess. They have not fixed the three or four things necessary to change the laws, to shut it off and they are sitting there against the President on tariffs? When he's using everything possible? Put the wall aside. Everything possible to stem the horrific crisis going on in our border. Somebody died yesterday, showed up with AIDS, died there."
On May 18, it was found Medina León had a credible fear of returning to El Salvador, which is a crucial early step in the asylum process. The El Paso Times reported her uncle and a trans leader in Juárez were notified of her death at the hospital on Saturday.
On Wednesday, Fox & Friends guest co-host Katie Pavlich complained the White House won't back South Carolina Senator Lindsey Graham's border bill which seeks to close legal loopholes the Republican say migrants have used to circumvent immigration laws for decades. But Kilmeade placed the blame squarely on Senate Majority Leader Mitch McConnell.
"The White House isn't pushing it but so should Mitch McConnell," Kilmeade said. "Hey Mitch, pretend it's Brett Kavanaugh," he said, referencing the controversial tactics the Kentucky Republican used to push the conservative Supreme Court justice through confirmation.
Medina León died Saturday, the first day of LGBTQ Pride month. Her death came just days after activists marked the death of Roxsana Hernandez, a 33-year-old Honduran transgender woman who died of an AIDS-related disease while in ICE custody.
She had previously been held at the Otero County Processing Center in Chaparral, New Mexico, just north of El Paso, is a privately run detention center that immigrant and civil rights groups say has a record of "inhumane" conditions—something ICE has repeatedly denied.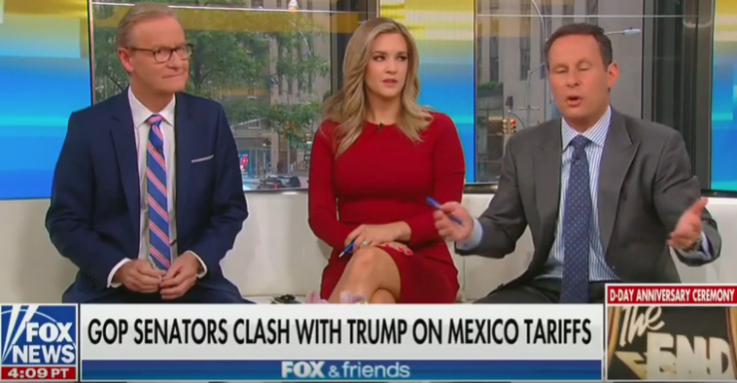 "This is yet another unfortunate example of an alien who enters the United States with an untreated, unscreened medical condition," ICE El Paso field office director Corey A. Price said in a statement.
"The continuing drumbeat of migrant deaths in ICE custody is an entirely predictable outcome of our nation's practice of mass detention in inhumane and inappropriate conditions," ACLU of New Mexico Staff Attorney Kristin Greer Love said in a statement.
Fox News Host Says Transgender Asylum Seeker 'Showed Up With AIDS' at US Border | U.S.