'Fox & Friends' Host Claims Christians Are 'Most Persecuted Religion on the Planet' After New York Hanukkah Stabbing
Fox News personality Rachel Campos-Duffy focused on the status of Christianity as "the most persecuted religion on the planet" during a Monday discussion about Saturday's Hanukkah stabbing in Monsey, New York.
Campos-Duffy made the remarks on the latest edition of Fox and Friends, as the panel discussed the attack while framing it as part of a "war on religion" that targets "Christians around the world." Secretary of State Mike Pompeo noted the "increased anti-Semitism around the world" and mentioned other forms of religious persecution around the world, but Campos-Duffy seemed to primarily focus on the plight of Christians.
"We've seen over Christmas, you know, some horrific attacks on Christians—by the way, the most persecuted religion on the planet right now," said Campos-Duffy. "Beheadings, a village attacked and seven killed there, as well as the kidnapping of the young teenage Christian girl. Why are we seeing this rise in attacks, specifically for Christians?"
"It's difficult to know precisely what the cause of these increases are. We can begin to identify them. They're different in different places," said Pompeo, who noted that governments "have a responsibility" to stop persecution of people of different religions.
"I've talked at some length about China and how it's persecuting over a billion Muslims in Xinjiang province," added Pompeo. "Leaders all around the world have a responsibility to protect their citizens and permit them to practice their faith, and so there are lots of different reasons for this."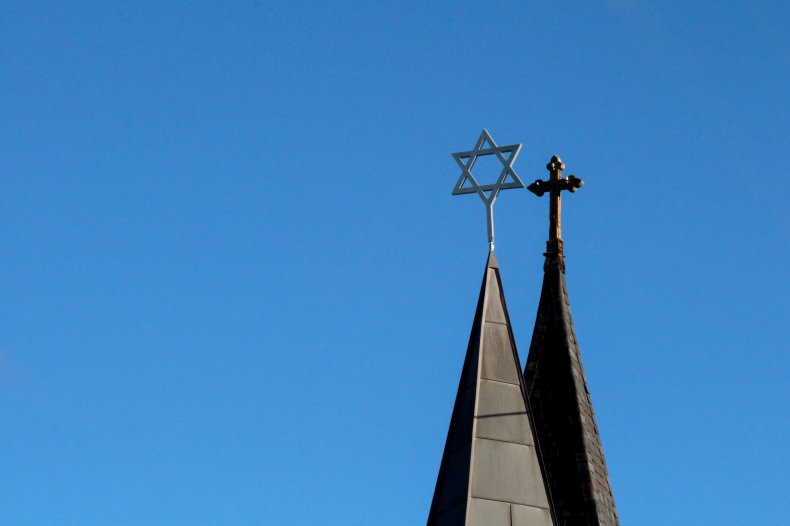 Suspect Grafton Thomas was arrested Saturday after allegedly breaking into a Rabbi's home to viciously stab five Jews during a Hanukkah celebration. On Monday, he was charged with federal hate crimes after earlier being charged with attempted murder. The attack was the latest of a number of anti-Semitic attacks in the U.S., with at least eight New York incidents being reported to police since December 13.
Christians are subjected to a significant amount of persecution in some parts of the world, primarily in countries where Christians represent a religious minority. In a number of countries, religious minorities are persecuted by the government. They are also sometimes targeted by terrorist groups like ISIS, who executed 11 Christian prisoners in Nigeria on Christmas Day.
However, in the United States the situation is notably different. Government persecution of any religion is unconstitutional, and statistics suggest that Christians are one of the least persecuted groups in terms of attacks by the public. In 2018, Jews were far and away the group most targeted, with Muslims being the second-most attacked.
Saturday's Hanukkah attacker allegedly had specifically anti-Semitic motivations. Although Fox and Friends framed the attack as part of what they said is an overall "war on religion," the relationship between Saturday's attack and Christian persecution occurring largely outside of the U.S. is unclear.
Newsweek reached out to Fox News for comment but did not receive a response in time for publication.