'These Aren't Our Kids': 'Fox & Friends' Host Baffled at American Outrage Over Immigrant Child Separations
Amidst the controversy surrounding President Donald Trump's immigration policy, Fox & Friends co-host Brian Kilmeade wondered why Americans are so outraged, saying "these aren't our kids."
"Like it or not, these aren't our kids. Show them some compassion, but it's not like he's doing this to the people of Idaho or Texas. These are people from another country and now people are saying that they are more important than people in our country who are paying taxed and have needs as well," Kilmeade said on Friday morning's segment.
Kilmeade pressed further, saying it wasn't the president's idea to have people leave their homes in Central America and attempt to cross the United States-Mexico border illegally. He added that Trump is remaining tough on immigration laws to "send a message" to other countries that they can't take advantage of the system.
"We just can't let everybody in that wants to be here," Kilmeade said.
The show's co-host Ainsley Earhardt responded to Kilmeade's arguments, saying that the administration simply wants to make sure that people coming into the country do not pose a serious threat.
"He just wants to make sure we vet who's coming across the border in case it's MS-13 or drugs," she said.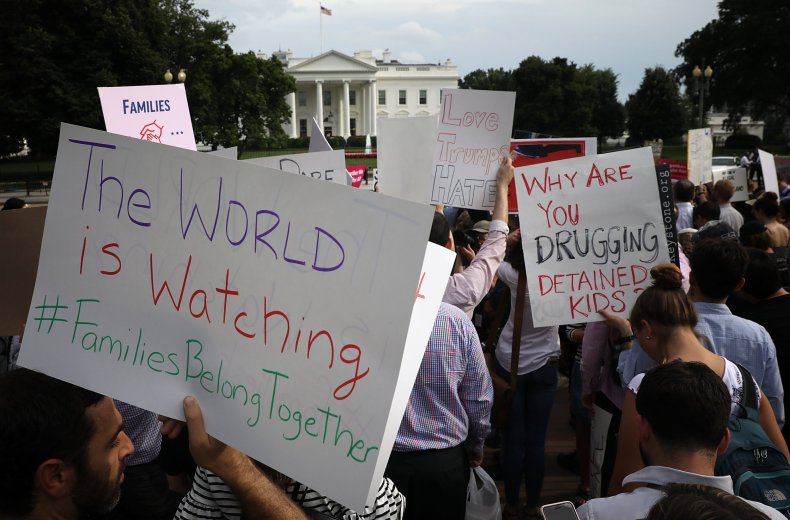 The White House has been under fire from the public for it's "zero tolerance" policy that has resulted in families being separated at the border. Photos and videos of children being forcibly removed from their parents and sent to shelters across the country caused so much controversy that the president signed an executive order on Wednesday halting the practice of separating children from their parents.
But Trump has made it clear that he expects Congress to do it's part to clean up immigration legislation as quickly as possible and especially before the midterm elections.
"It is unfortunate that Congress's failure to act and court orders have put the Administration in the position of separating alien families to effectively enforce the law," Trump wrote in the executive order.
"Somebody has to deal with this issue. It doesn't matter who the president is. If you don't like his policy, he's also open to your policy, rather than just criticizing his," Kilmeade said.
The Friday Fox & Friends show also featured guest Michael Anton, Trump's former National Security Council spokesperson, who the previous day wrote an op-ed in The Washington Post titled "why do we need more people in this country anyway?"
"That's the fundamental question that ought to drive the debate," Anton told Kilmeade. "But we're not really having a debate. We're having a kind of argument where one side says 'if you're good you want more immigrants and if you don't then you're bad and you're evil and let's shut down all discussion.' We need to have a discussion about what's best for the country."
But Congress is having a hard time finding a middle ground between Republicans and Democrats on immigration and has already failed to pass one bill. The group of lawmakers were supposed to vote on a compromise immigration bill Friday, but they have delayed the decision until next week.
After the morning Fox & Friends broadcast, Kilmeade took a moment on his own show to clarify his comments.
"All kids are important, all kids are special," he said. "What I'm just trying to say in this country when they come that as a president of the United States you can only do so much for so many."
Kilmeade also tweeted that he didn't "mean to make it seem like children coming into the U.S. are less important because they live in another country."
"I have compassion for all children, especially for all the kids separated from their parents right now." he added. "Nobody wants to see children in these circumstances and glad they are on their way to being reunited with their parents."
Update: This story has been updated to include a response from Brian Kilmeade.