Fox News Channel opened up a streetside kiosk Monday morning during Fox & Friends in order to sell branded hats, bags and coffee mugs that will "help Make America Great Again."
The on-air Fox & Friends advertorial segment saw recently named Senior Vice President of event marketing and entertainment host Michael Tammero "doing my best QVC audition" to promote the Fox News apparel and merchandise website. In addition to encouraging viewers of the top-rated morning show to purchase camouflage Fox & Friends hats and insulated coffee flasks for Mother's Day, Tammero and the bubbly morning show co-hosts tied in the president's own marketing slogan.
"Do you feel that you're giving America what they want? This is all of a sudden a necessary thing? asked Fox & Friends co-host Brian Kilmeade.
"America has been wanting this, this is what they need!" an exuberant Tammero replied before quipping, "This will help make America great again! This merchandise!"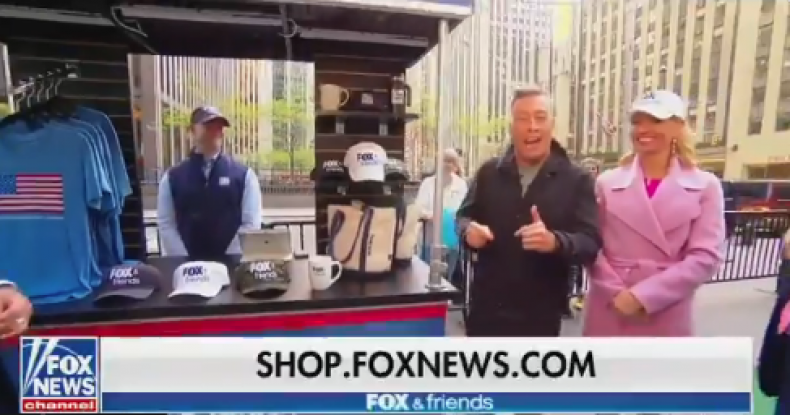 Monday morning's Fox & Friends show saw each of the co-hosts showing off branded apparel sporadically throughout the hours-long program.
"And if you order today you can get it in time for Mother's Day," added Tammero, a longtime member of the Fox News Channel's marketing team.
Later in the Monday show, Fox & Friends co-host Steve Doocy would also suggest viewers purchase the "perfect gift for Mother's Day": the cable news network's $5.99 a month subscription streaming service, Fox Nation. Included in that service is a Doocy-hosted cooking program and Kilmeade's history program entitled, "What Made America Great," for the network's nostalgic viewers.
At one point in the outdoor kiosk sale, Kilmeade appeared to question how successful a sale could be given the onlookers shown in the background were forced to stand "behind barriers" as they recorded the program at News Corporation's 48th street Manhattan headquarters along 6th Avenue.
"There's only 233 until Christmas -- stop here at the Fox shop!" the Fox News VP added.