Fox & Friends Mocks Global Climate Strike Then Immediately Pivots to Tropical Storm Imelda Deaths From 'Catastrophic Flooding'
On Fox & Friends Friday morning, hosts Brian Kilmeade, Ainsley Earnhardt and Steve Doocy seemed to mock the global climate strike, but only minutes later switched to covering the devastating effects of flash flooding in Texas.
While discussing the global climate strike taking place across the world Friday, Fox& Friends hosts reported on the decision to allow school children an excused absence from school to participate in the strike, with parental permission. After showing a series of clips of Democrat presidential candidates views on climate change policy, Kilmeade referenced Democrat Bernie Sanders, saying, "There's nothing better than Bernie Sanders screaming at you about climate change."
Kilmeade continued, pointing out that, "... a lot of people are deciding not to have children until we solve this problem."
After Doocy asked if this was because of climate change, Earnhardt chimed in with, "Or cheeseburgers. Good thing its not National Cheeseburger Day."
The comment by Earnhardt was in reference to studies showing that beef and milk production are a large contributor to greenhouse gases. According to the United Nations Food and Agriculture Organization (FAO), the livestock sector globally contributes to 14.5 percent of all man-made greenhouse gas emissions.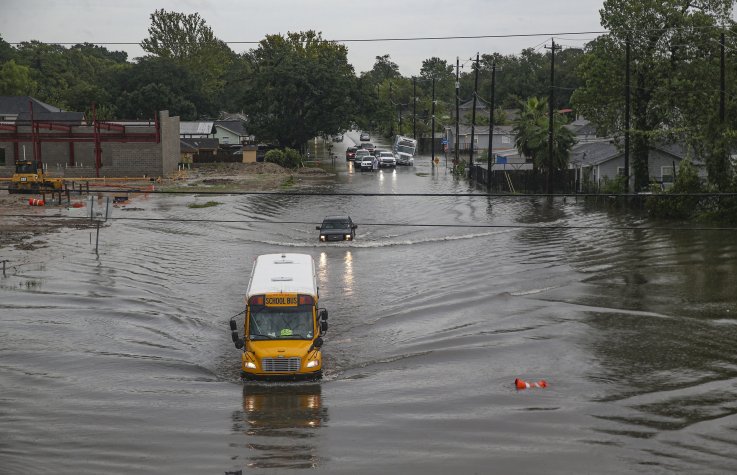 After the short exchange, the show switched to the news of Tropical Storm Imelda and the devastating effects it has had on Texas.
Texas has declared a state of emergency as it was hit with 43 inches of rain in 72 hours. Two people have already died, including a teenager who was electrocuted. Three people were also injured when a post office roof collapsed.
The show ran a clip featuring pictures of rescuers wading through chest deep waters past cars almost completely submerged.
Imelda is hitting the same area that was devastated by Hurricane Harvey two years ago, and could end up being more destructive. Harvey flooded 150,000 homes in Houston and caused $125 billion in damage.
According to the Center for Climate and Energy Solutions, it is unclear if climate change will increase the number of hurricanes, but it is believed that rising ocean temperatures will lead to an increase in the intensity of hurricanes. Models project that there has been 45-87 percent increase in the frequency of category 4 and 5 storms, though overall frequency has gone down.
There have been 10 named hurricanes so far in the 2019 Atlantic hurricane season, including Hurricane Jerry, which was recently upgraded to a category 1 storm and is expected to hit Bermuda early next week, after Hurricane Humberto knocked out 80% of the island's power earlier this week.
Fox & Friends Mocks Global Climate Strike Then Immediately Pivots to Tropical Storm Imelda Deaths From 'Catastrophic Flooding' | News