Newt Gingrich Worries Judge Sullivan Has 'Life and Death' Power Over Michael Flynn Sentencing
Former Republican Speaker of the House Newt Gingrich joined the hosts of Fox & Friends Wednesday in claiming the judge in Michael Flynn's case, Emmet G. Sullivan, is biased and is unfair to Flynn.
The Wednesday morning Fox News crew took aim at Sullivan for going off the "deep end" after several Trump backers on the network had predicted he would go easy on Flynn during sentencing this week. Instead, the judge lobbed "treason" at Flynn, prompting Gingrich, Brian Kilmeade and Ainsley Earhardt to explain how the nearly quarter-century veteran of the U.S. District Court in the District of Columbia is "just winging it" behind the bench. Gingrich repeatedly noted how "scary" the situation is because the judge's decision power is a matter of "life and death."
"I could not believe what took place yesterday," Fox host Brian Kilmeade complained. "[The Flynn hearing] opened up with an eight minute rant by the judge as he reads out all of Flynn's transgressions, he mistakenly says that his conduct was treasonous, he betrayed America and they were going to defy the recommendations of the prosecution."
"It looks like he was heading towards incarceration" Kilmeade added. "How do you explain the behavior of Judge Sullivan?"
Gingrich's remarks on Judge Sullivan begin at the 5:45 mark in the Fox & Friends video below
Gingrich responded by expressing his fears for Flynn's life, suggesting the former Trump White House adviser could be sentenced to death or solitary confinement due to Judge Sullivan's "attitude" problem.
"I have no idea what happened to the judge," Gingrich said. "That was not his reputation. And I think a lot of people who admire him were shocked by that performance. And a lot of what he said was just nonsense."
"And it's a little worrisome to have a judge go off the deep end," Gingrich continued. "And [to] think this guy has power of virtually life and death. Who knows what he's going to do to Gen. Flynn now. But I thought it was pretty frightening if you have prosecutors who are overzealous and they're pushing the limit, putting people in solitary confinement for months on end, and you have a judge who goes off the deep end, I think that's pretty scary about the nature of freedom for most Americans."
"Fox & Friends" host Steve Doocy chimed in to say the "judge got the timeline wrong" in regards to Flynn's time working as a foreign agent for Turkey. Gingrich remarked that Flynn's defense lawyers should "move to take the case away from [Judge Sullivan] because when a guy comes and says that kind of stuff and then says, 'you know, I really didn't mean it,' I wouldn't want to have him judging me or anybody I know with that kind of attitude." But Gingrich went on to clarify he doesn't actually know if you even can change federal judges.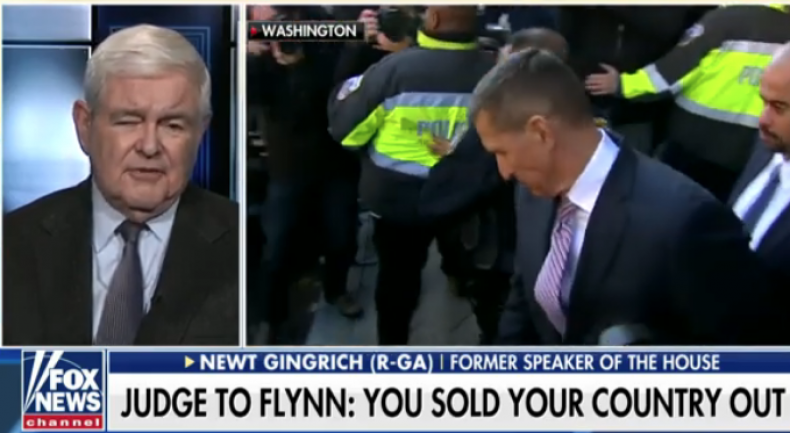 "What is this guy just winging it?" Kilmeade asked of the judge who received appointments from former presidents Ronald Reagan, George H.W. Bush and Bill Clinton.
"He must have had a bad morning," a resigned Gingrich added. "But it's scary if it's a person who has the power of life and death."