On 'Fox & Friends,' Sarah Huckabee Sanders Calls Mueller Investigation 'Hoax and a Waste of Time'
White House press secretary Sarah Huckabee Sanders appeared on Fox & Friends to call the investigation of special counsel Robert Mueller "a hoax and waste of time."
Sanders's comments Monday came after days of criticism against the White House for Trump's meeting with Vladimir Putin, and last week's announcement by the Justice Department of indictments against 12 Russian agents for interfering with the 2016 presidential election last week. The indictments, stemming from Mueller's investigation, accuse the Russians of hacking the Democratic National Committee and the campaign of Hillary Clinton.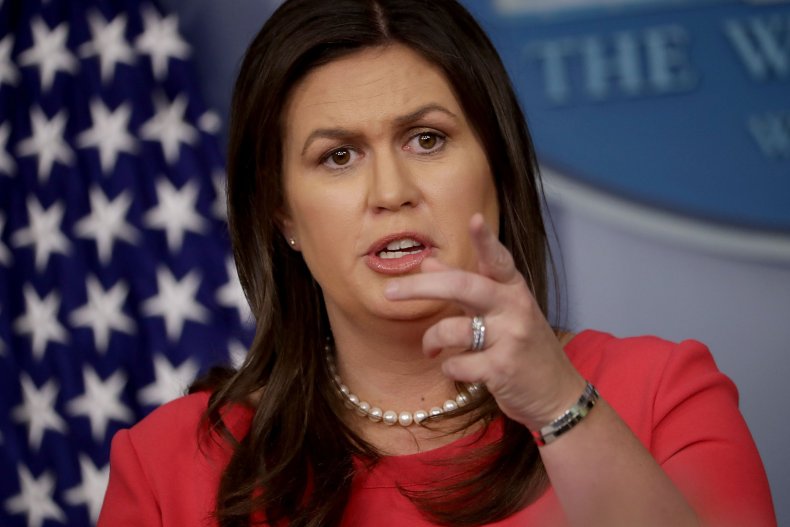 "We'd all be a lot better off if we could get this out of the way, and that Congress and the special counsel could come to the same conclusion that the rest of America has: that this is a hoax and a waste of time," Sanders said of the investigation into Russian election interference and possible ties between the Trump campaign and Russia.
Trump has often disparaged the investigation, calling it, among other things, a "witch hunt." The president tweeted Monday morning about another Fox & Friends guest, conservative activist Tom Fitton, president of conservative watchdog group Judicial Watch. In his appearance on the program, Fitton discussed the FBI's investigation into former Trump campaign aide Carter Page.
Trump and his supporters said the Justice Department and FBI shouldn't have investigated Page. The warrant to surveil him, secured through the Foreign Intelligence Surveillance Act (FISA), in part used the controversial Steele dossier as evidence that Page may have been compromised by Russia. The Steele dossier was funded by the Democratic Party as opposition research against Trump during the presidential campaign, and contained an unverified salacious allegation about a videotape of the president made in Russia involving urine and prostitutes.
"So we now find out that it was indeed the unverified and Fake Dirty Dossier, that was paid for by Crooked Hillary Clinton and the DNC, that was knowingly & falsely submitted to FISA and which was responsible for starting the totally conflicted and discredited Mueller Witch Hunt!" tweeted Trump on Monday.
Several heavily redacted applications to FISA to wiretap Page were released Saturday. It is the first time that documents of this nature have been released since the law governing the wiretaps was enacted, according to The New York Times.
Last week, Trump appeared to go against U.S. intelligence accusing Russia of meddling in a press conference with Russia's president. He later backtracked on the statement, saying he misspoke, but then indicated that he would invite Putin to Washington, D.C.