Fox Business Host Says Nancy Pelosi 'Whipped' Donald Trump Over Government Shutdown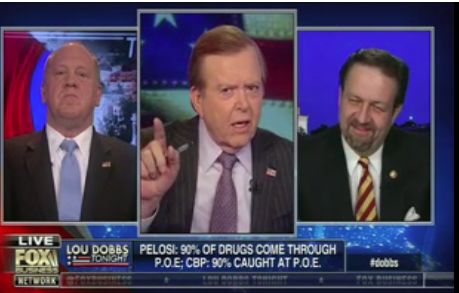 One of President Donald Trump's favorite Fox personalities, Lou Dobbs, declared that Democratic House Speaker Nancy Pelosi "whipped" President Donald Trump in the government shutdown saga.
Dobbs pushed back against his pro-Trump panel of former White House adviser Sebastian Gorka and former acting ICE director Thomas Homan after Gorka tried claiming the president's shutting down of the government was a "masterstroke." The Friday Fox Business panel took a break from labeling Pelosi "an imbecile or a liar" and Dobbs said "the queen of the hill" has every reason to believe she came out the victor in Trump's border wall standoff.
Dobbs repeatedly said Trump withdrew on his vow to secure the funding for the border wall and labeled his government shutdown stunt a failure.
"I mean, she has just whipped the president of the United States," Dobbs began, as Gorka attempted to chide him for breaking rank. "No, no, stop, stop, and then I'll let you finish. You know I'm an animated, energetic supporter of this president...But you've got to call it as it is," Dobbs added.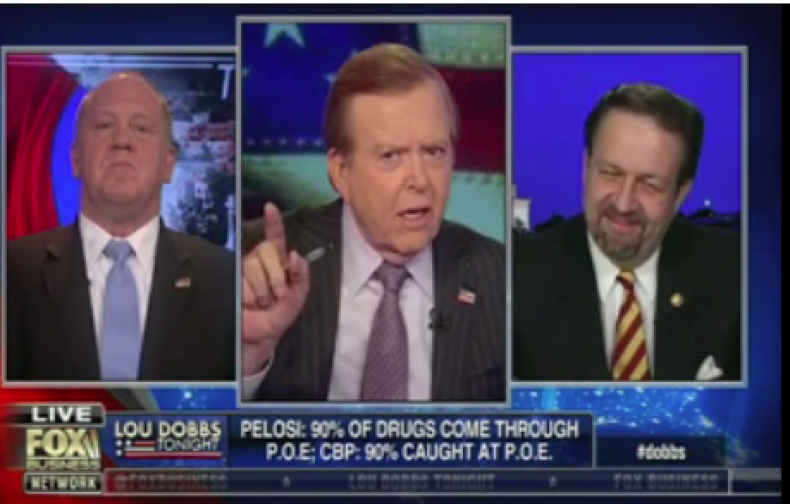 Pointing out a shallow political point, Dobbs said that judging by appearances only Trump's capitulation against his own government shutdown looks bad in the national news media circuit.
"This president said it was going to be conditional, border security, building that wall, and he just reversed himself. That's a victory for Nancy Pelosi. It will be perceived as such on every television monitor and screen in the country—and to deny it is to try to escape from reality, and that we ain't going to do here," Dobbs said.
The Fox Business host has frequently been touted by Trump in tweets and been given shout outs during times when he offers high praise to the president. In November, Trump name-dropped several right-wing news figures during a campaign rally in Missouri, drawing a rebuke from Fox News as he congratulated "the great Lou Dobbs" on-stage for using the term, "the Dims" to refer to Democrats. Trump also mentioned Tucker Carlson, Jeanine Pirro and Laura Ingraham as part of his all-star supporting cable news cast while he and Fox News host Sean Hannity embraced to cheers in front of supporters.
Gorka, one of Trump's most loyal supporters, rebuked Dobbs' claim Pelosi had "whipped" the president, instead telling viewers to "ignore what Nancy said."
"It may be perceived as such, but Lou, remember, this is for three weeks. As far as I'm concerned, this is a masterstroke, because this is a standoff that has been extended for three weeks. The government will shut down again, but the president—ignore what Nancy said today because that's just garbage, the president gets his State of the Union address," Gorka responded to Dobbs.
Dobbs feigned shock as he appeared to chastise Gorka for his comment. "You are talking about the woman who's the queen of the hill, partner. You know what?" Gorka responded by calling Pelosi delusional, "In her own mind, in her own mind, Lou."
"The president of the United States made a condition precedent that that border funding would be there, he withdrew that condition precedent," Dobbs stated firmly. "The government is opening and he is turning this issue over to the conference committee."