Fox Host Compares Trump Doctor's Briefings to North Korean 'Propaganda' After Weekend of Conflicting Information
Fox Business host and Fox News commentator Lisa Kennedy Montgomery—who goes by just Kennedy—compared the conflicting information shared by President Donald Trump's doctor and the White House to North Korean "propaganda."
Trump was diagnosed with COVID-19 last week and was transferred to the Walter Reed Medical Center for treatment on Friday. The president's physician, Navy Cmdr. Dr. Sean Conley, briefed the press multiple times over the weekend, at first suggesting that Trump had not required oxygen. Then later on Saturday, he admitted that the president had been given oxygen.
During the Fox News program Outnumbered on Monday, the panel discussed the president's health and the conflicting information that had been shared with the public throughout the weekend.
"I think we just had a sense that things were worse than they were letting on," Kennedy said. "If there's one thing I don't like, it is a lack of transparency. And everyone has been touched by the virus, either personally or they know someone who's contracted it and God forbid, has succumbed to it," the Fox Business host continued.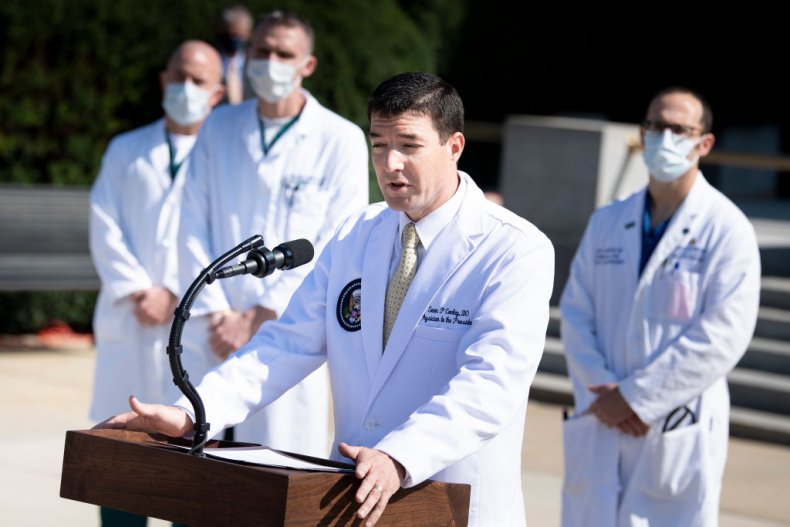 "We know how quickly the virus can turn. And I think it's really important to be straightforward with the American people," Kennedy said, "because we're not living in North Korea and we don't have to be fed propaganda about the dear leader's condition. So if he is deteriorating, if he is requiring oxygen, I think it's OK to tell people that.…"
Newsweek reached out to the White House for comment, but it did not respond by the time of publication.
Many criticized the lack of information, as well as the conflicting information coming from the White House and the president's physician. In an op-ed for The Washington Post, Patti Davis, the daughter of former Republican President Ronald Reagan, compared the lack of transparency to how her father's administration reacted when her father was shot in an attempted assassination.
"When you're president, privacy is not an option—including, and maybe especially, privacy about your health. That's a lesson my father's administration understood, and that President Trump and his advisers still need to learn," Davis wrote.
Reagan's daughter argued that being transparent was important for Americans to "trust" the government. "And that trust is being eroded—at the worst possible time," she wrote.
Although Trump may have been dealing with more serious complications due to COVID-19 than his physician and the White House admitted on Friday and Saturday, he appears to have improved significantly during his short stay at Walter Reed. On Monday afternoon, he said he would be leaving the hospital later in the day.
"I will be leaving the great Walter Reed Medical Center today at 6:30 P.M. Feeling really good! Don't be afraid of Covid. Don't let it dominate your life. We have developed, under the Trump Administration, some really great drugs & knowledge," the president tweeted. "I feel better than I did 20 years ago!"