Fox News Host Grills GOP Lawmaker Dodging Question About Trump's Ukraine Conduct: 'Please Stick' to the 'Simple Question'
Fox News host Arthel Neville grilled Republican Congressman Guy Lorin Reschenthaler this weekend after the lawmaker attempted to evade a question about whether any impeachment testimony into Donald Trump has left him concerned over how the president has conducted himself in relation to Ukraine.
Over the past few weeks, several witnesses have publicly testified before the House Intelligence and Judiciary committees after House Speaker Nancy Pelosi launched a formal impeachment inquiry into Trump in late September. A July phone call made between the president and his Ukrainian counterpart, during which the U.S. leader pressed President Volodymyr Zelensky to probe the family of 2020 candidate Joe Biden, is at the heart of the proceedings.
During Reschenthaler's Sunday appearance on Fox News, Neville asked the GOP lawmaker whether there was "any testimony provided during [the House Intelligence] or [Judiciary Committee] hearings that concerned you about how President Trump conducts himself and conducts business as president?"
In response, the congressman attempted to deflect attention to Biden's family. "What concerns me is Hunter Biden was getting paid $50,000," he said.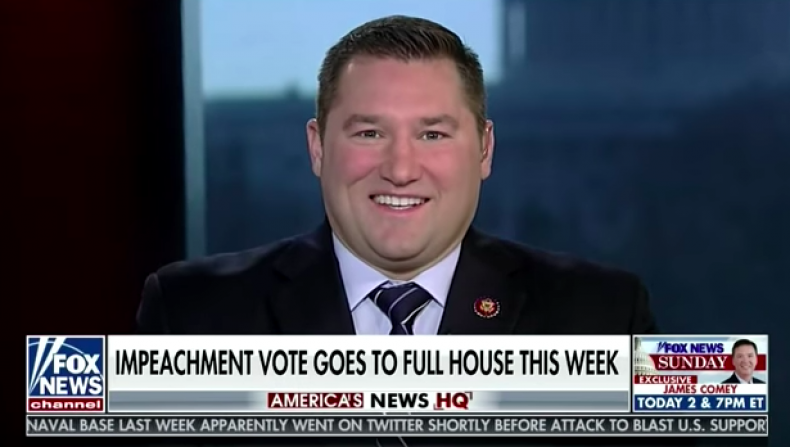 "I asked you about President Trump," Neville interrupted. "Please stick to President Trump. He's the one who's on trial, sir."
"There's nothing about President Trump that concerns me," the Pennsylvania congressman said. "Aid [to Ukraine] was released and aid was released in the form of Javelin missiles. Obama sent well wishes and blankets."
The impeachment inquiry was initially sparked by an official whistleblower complaint about Trump's phone call with Zelensky. Following fierce televised debates in the House Judiciary Committee in recent days over the consideration of impeachment articles, two articles—abuse of power and obstruction of Congress—were passed by the committee on Friday.
Later in the segment, Neville shut down Reschenthaler after he criticized House Democrats for rejecting his request to subpoena the whistleblower. "You know there are reasons and laws in place to protect whistleblowers," the host said.
When Neville pressed Reschenthaler on Trump blocking former National Security Adviser John Bolton from testifying "about the inner-workings of the Trump White House," the congressman asserted that Bolton didn't testify because Democrats failed to file the correct paperwork.
"Does any of that prompt you to ask, why?" the Fox News host said. "Come on, Congressman. You know that President Trump could have allowed [former White House attorney Don McGhan] and Mr. Bolton to testify. He didn't."
As Reschenthaler began refuting the claim, Neville firmed said: "I just asked a simple question."
"Does any of that prompt you to ask why?" she continued. "I mean these are the people who would be—they have the most intimate knowledge of what's happening and if nothing is going on that should not be revealed to the American public then we want those people to go out and defend the president. Wouldn't you?"
Trump and his staunch Republican supporters have repeatedly denied that the president committed any wrongdoing in his dealings with Ukraine and accused Democrats of engaging in a sham investigation.
Watch the Fox News segment below: